Apple has announced that their next big release for macOS is going to be released in the Fall of 2018. It will be called Mojave,  macOS 10.14. This is a big update so it is coming with a lot of new features. 
Apple demonstrated new features including Dark Mode, improvements to Finder, better Quick Look, changes to the way users can take screenshots, ways to use the iPhone and Mac seamlessly, some new built-in apps, a redesigned Mac App Store, and more.
Dark Mode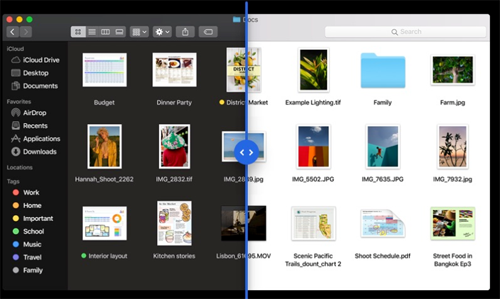 This is a welcomed update, esp for dark theme fans. Even though the mode was introduced in El Capitan, now it becomes the true theme everyone has been waiting for. The previous version can only change the appearance of menu bar and Dock.
New native apps
There are some new apps which will come with released Mojave. They are News, Stocks, Home and Voice Memos.
Improvements to Finder app
Apple is adding a new gallery view to the macOS Finder. This new change in Finder makes viewing photos easier without having to open them up separately in Preview. In gallery mode, a new sidebar is displayed to show full meta data for an image or video.
Desktop stacks
Files can be organized into groups on your Desktop.
Quick Look gets markup
Thanks to the new Markup tool, user can add signatures to documents, or modify photos and videos with basic tools like cropping, rotating and trimming.
Redesigned Mac App Store
According to Apple the store was redesigned from the ground up. Apps now showcases via videos and new UI. They are auto played so potential buyers can understand better the app's intention before buying.
FaceTime with up to 25 people
Users can drop in and out videos call whenever they want. FaceTime conversations can be held on any Mac devices, including Macs, iPhones, iPads, andApple Watch and up to 25 people.