The Lenovo Ideacentre Stick 300 is a PC in a stick that you plug it into a TV or any monitor through HDMI. With this, you have an affordable and pocketable device that runs Windows 10. The PC Stick 300 comes with portability which other devices will not offer. It is a PC that you carry in the palm of your hand practically. It looks like a flash drive, but little do we know that this is capable of just more than that! With this in your possession, you can rely on taking your computer anywhere you go without the fear of missing your work. This PC stick gives you the opportunity of staying in touch with all the computing without the hassle of carrying your heavy pieces of equipment.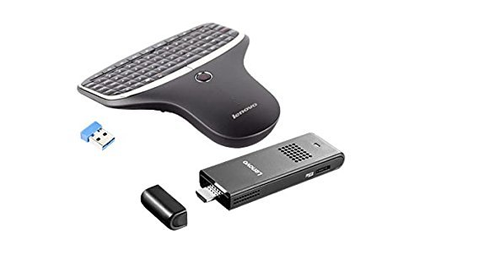 Lenovo Ideacentre Stick 300 Review
The Lenovo PC stick comes with a micro USB cable and an HDMI extension cable, an AC adaptor, and a holder as well. There are no options for configuration settings for the stick 300. The specifications of the PC stick include an Intel Atom 1.33 GHz processor, 2 GB of RAM, an inbuilt HD Intel Graphics, 32 GB for storage, and 4.0 Bluetooth. The Ideacentre PC Stick fits into your pocket with ease measuring just 12.1 x 7.2 x 3.2 inches and weighing 2.36 pounds. The body is plastic made, and it comes only in black color.
The PC stick includes a 2.0 USB port and a micro USB slot for charging purposes. It also includes a micro SD slot for expanding the storage memory. The front face of the stick has an indicator for power and has a fan inside as well to cool the PC stick while in use. The HDMI connector is located on the top and is used to plug it directly into a television or into any screen that has an HDMI port. Even if your monitor does not have an HDMI port, the stick includes an HDMI adaptor from which you can connect it to the monitor. The stick is pre-installed with Microsoft 10 as well. This model is a Signature PC Edition which means that there will be no pre-installed bloatware and apps from Lenovo.
Setting up the Ideacentre stick is not difficult, and after connecting it to the monitor or TV, a keyboard can be connected to it via Bluetooth.
So, given the brief description, let me recap the pros and cons:
Pros:
Cost-effective: This has value for money as most PC sticks that offer the same configuration probably cost more.
Great functionality: This is an excellent device for watching movies over long periods of time and for performing simple word-processing tasks.
Expandable Memory: The SD card slot provides you with the freedom to add additional memory to your stick.
No Software bloat: Because this is a signature PC Edition, there will be no useless apps installed in it.
Cons:
No dedicated graphics card: This would mean that playing 'Call of Duty' should be suspended.
Lag: While watching and streaming movies work completely fine, the problem arises while switching between apps. This is attributed to low RAM.
Conclusion:
In conclusion, the cons of owning this PC stick can be ignored as the primary purpose of owning an Ideacentre Stick was to be able to work from anywhere. So, this would be a terrific bargain and a significant investment.