Do you use your laptop for long periods of time, whether it's for work, watching a movie, or playing a game? If so, it's likely that your laptop will become hot on the bottom. This is because the laptop is working hard and the heat generated needs to be released.
The cause of that heating is due to a lack of air circulation and not good for the laptop. Good news! A cooling pad is invented to bring you some relief in this case. If you are looking for a good cooling pad you can buy today, consider KLIM Airflow.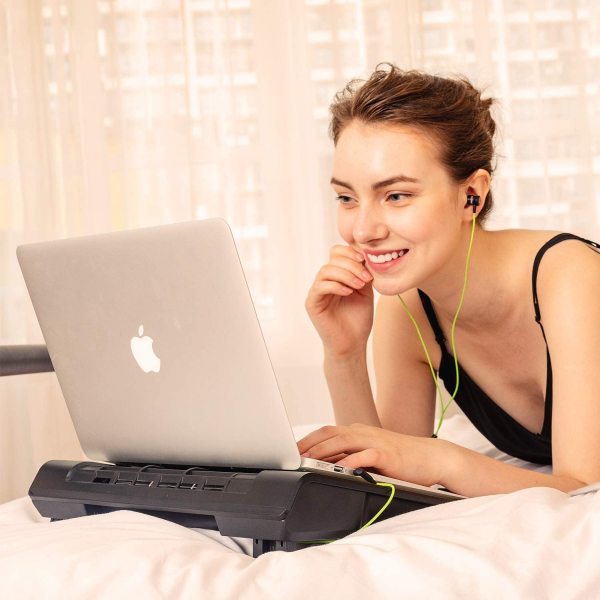 This cooling pad comes in a big size to fit laptops in different sizes. The slim cooling pad boasts its four silent pads at the rate of 1,400 rotations every minute and high-capacity ventilation. The four fans guarantee even cooling action that covers every area of the laptop.
KLIM Airflow Review
Pros of KLIM Airflow
Here are some of the good things that come with buying this laptop cooling pad:
It does not slip off
The KLIM Airflow cooling pad sits robustly on the laptop, Macbook, or notebook without slipping off. On top of that, it can be utilized along with PS4, Xbox One, and Wii.
The accessory comes in various colors
Another good thing about it is that the accessory comes in three-color combination options. It includes black and green, black and blue, and black and red. The KLIM accessory is perfect for individuals who would want to utilize it with laptops of different sizes and gaming consoles too.
LED lights
The LED lights included make the pad a wonderful choice for users who want to have their desks illuminated every time they work.
Built to last
You can rest assured your laptop will stay cool because it is powered by four big fans, which run at a generous 1400 rpm.
Cons of KLIM Airflow
What are the drawbacks of KLIM Airflow? Check out a few of them below:
Limited height adjustment
The height adjustment has two levels only. That limits the ergonomics of the device. What's more, the height adjustment is supported by pegs, which makes it not suitable for resting on the lap.
Made of cheap plastic
Users do not like the plastic shell of the item. Some claim it's made of cheap plastic.
Conclusion
Overall, KLIM Airflow provides efficient cooling, portability, and style at a cost, which deserves a mention. The cool angular design is balanced by the four visible fans with LEDs and a metal grille.