Kissral wireless sport earbud is mainly created for phone use, and that is the point where the multifunctional key comes into play. If you are looking for excellent earbuds that sound excellent for daily use and run according to your budget, then Kissral wireless sport earbud is best for you.
They are widely known for their vast competence and offer the best quality and an incredible audio experience which is beyond measure with other challenging earbuds. They are simple to use and provide the same benefits as wired earphones without having to deal with cords.
Kissral wireless sport earbud has one large button management which is easy to turn off or on, and play or pause the music through a multi-use button on the earphone. It is well-known for its ability to convey great low frequencies. It is lighter in weight which adds extra comfort while wearing it and less likely to fall out during workouts or exercise.
Kissral's wireless sport earbud is slim and lightweight, perfect for any ear size. It is incredibly easy to connect to any device that has Bluetooth enabled. With an iOS battery display, you can easily check your battery life and it can be connected to any Bluetooth-enabled device, whether it's an Android or iOS operating system. The micro USB charging port is discreetly hidden within the main body of the earbud and allows for fast charging.
Kissral wireless sport earbud has the following specification: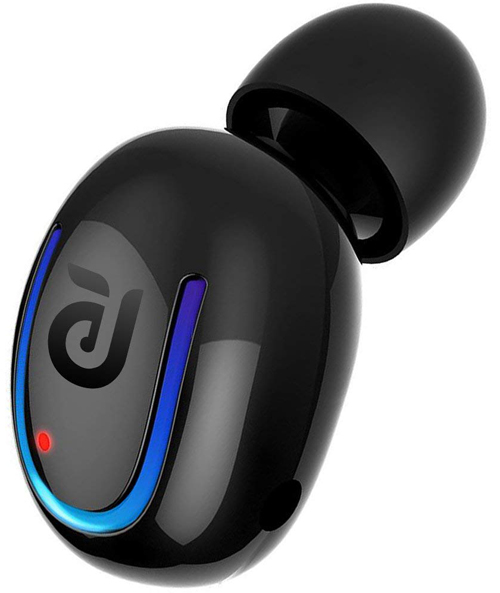 V4.12 Bluetooth version.
Support: HFP/HSP/AVRCP/A2DP
DC 5V Charging Voltage.
60mAH capability Battery
Bluetooth size: 14*25*13mm
10 meters Transmission distance
Pros
It is affordable, tiny, light, comfortable to wear, and fits any ear size or shapes. It stays in place well and doesn't fall off.
The device pairs well with both Android and IOS units.
It has an extensive battery that has up to six hours of music time, eight hours of talk time, and 120 hours of standby time taking into consideration its size of it.
It has one huge button handle which is very easy to operate.
It has high-quality voice and sound and has a CVC 6.0 noise reduction.
It has an iOS battery display function.
Volume is controlled on the phone instead of the headphone which no longer needs to remember whether to press once or twice for different commands.
Cons
It has only one earbud and cannot use two earbuds at the same time.
It is not waterproof.
It is so small that it becomes difficult to find it if you drop it.
They can cause danger to health as they are worn in the ear, and they block the ear canals of the persons wearing them.
Conclusion
If you're searching to buy wireless or wired headphones, you must make sure that they are compatible with various audio units ahead of time. Wired headphones minimize the possibility of meddling that otherwise could influence sound excellence. The Kissral wireless sport earbud 8 still has an enhanced diameter speaker than other earbuds but isn't big and broad like a great deal of the earphones found in the market now. Bluetooth headphones provide the apparent benefit of wireless convenience. Therefore, the best choice for you is Kissral wireless sport earbud 8 as it can keep up with daily wear and tear in our budget and offers impressive features.