Price: FREE | Developer: | Download: App Store, Play Store
If you're looking for an action RPG that delivers in terms of graphics, violence, and combat, then you need to check out Iron Blade. This game has it all, and then some. Keep reading to find out why we think Iron Blade is worth your time.
The Iron Blade: Medieval RPG has been appreciated by the gamers as an action RPG development with the best graphics. It is also more than just interesting to play. All you have to do is to press right part of the screen for attack or left for defense. Swiping towards will release an arrow.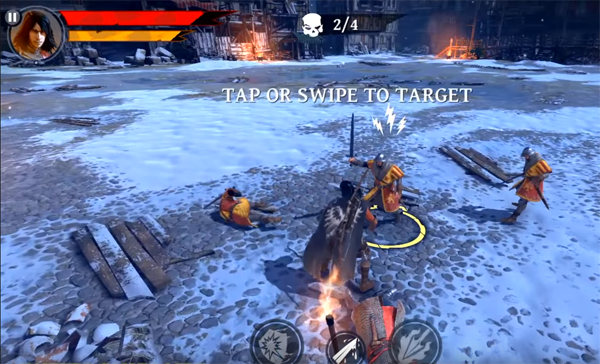 All battles are based in arenas, different of course. Here, you will have to fight as long as you can, or until you defeat all your enemies. Once done, you will either have to restart the level or you will move to another one.
Almost all weapons come from the medieval ages, which is obvious. However, there are plenty of differences between the weapons, shields, and possibilities. Swords are probably the best weapon of choice in the game, but other weapons are desirable as well.
There are a lot of additional, also interesting features. For example, you can upgrade and improve your weapons and also get a castle defender, which will keep your castle safe while you are away, battling. In addition, spells are available as well. They should be unlocked though and the same applies to the skills. They must be developed and properly implemented into the character. In a nutshell, the game will stay interesting for a long period of time.
The good
First and foremost, the graphics in this game are top-notch. If you're looking for a reason to play Iron Blade, the graphics should be it. They're some of the best we've seen in recent memory, and they really bring the game to life. The animations, effects, and overall level of detail are all superb.
There's plenty of violence to go around. This isn't a child's game by any stretch of the imagination – it's an actual game for grownups. As such, violence is more than just present throughout the game – it's actually a central component of the gameplay. So if you're looking for a little (or a lot) of bloodshed, Iron Blade will deliver.
The combat in this game is solid. It's fast-paced and loaded with linear movements that are sure to please even the most hardcore gamers out there. In other words, if you like hack-and-slash games, Iron Blade should definitely be on your radar.
The bad
The main issue in the game is the camera, which fails to accompany a character as it should. It is a bit annoying, yet usual for games of this kind. Then we have the targeting system. It isn't very accurate, which may be an issue for gamers who seek perfection.