It is time for an upgrade, for a new iPad. You have selected the brand and now you are looking for a model that suits you the best. Here we will compare iPad Pro 2018 vs iPad 2018 and see which version is more suitable for which type of users. At first sight, these devices may look similar, but they are very different!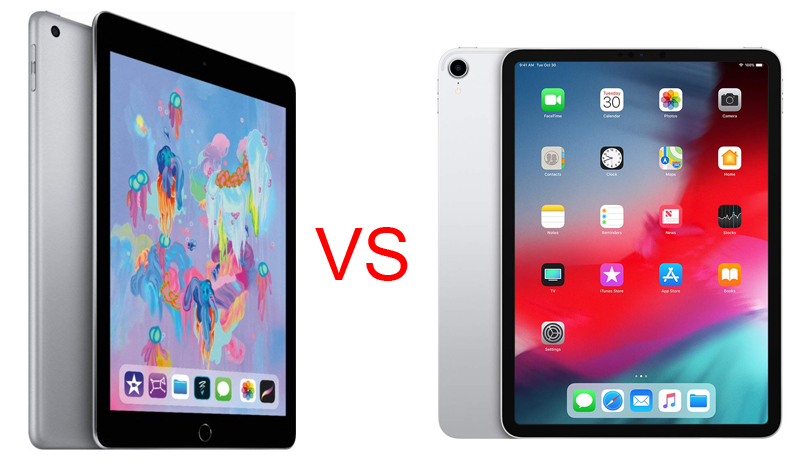 Display and size
The main difference is in the size. Ordinary iPad is 9.7 inches in diameter and has a resolution of 2,048 x 1,536 pixels. At the front, you can see the Home button, a Lightning port for charging and a bit large bezels. The design is obsolete in the lack of a better word and looks more like older iPads from the past. You can choose between silver and space grey color options.
iPad Pro comes available in two sizes. The first one is 11 inch in diameter with 2,388 x 1,668 pixels resolution. A bigger is 12.9 inches with 2,732 x 2,048 pixels. Both versions have PPI of 264. The bezels are much smaller and there is no Home button. It is replaced with Face recognition system. These models are also available in space gray and silver colors.
Specifications
Under the ''hood'' we can see a massive difference. The iPad Pro has all-new A12X Bionic processor which is super-fast and comes with enhanced Ai capabilities. It will push to the limit all the games, apps and meet all your expectations. The camera is 12MP and you can record in 4K resolution. Storage options include 64, 256, 512 GB and impressive 1TB version, which is very expensive by the way.
iPad comes with more basic specifications. The A10 processor is used, which surprisingly still works great and you won't have any issues with conventional apps and games. The camera is 8MP and it records in 1080p resolution. The storage options are 32 and 128GB.
Additional features
Additional features reveal additional differences. The iPad Pro is paired with all-new Apple Pencil which is charged wirelessly. The iPad works with first generation Apple pencil. Both models run on 12 OS and the battery life is 10 hours when streaming videos using Wi-Fi. It is 9 hours if you use a cellular connection.
There are some additional advantages iPad Pro offers. The display comes with Tru Tone which will adjust white balance perfectly. ProMotion is available as well. It enhances the refresh rate and adjusts it more accurately.
iPad Pro 2018 vs iPad 2018: Which tablet to choose?
After reading iPad Pro 2018 vs iPad 2018 comparison, which device is more suitable for you? If you are a user who uses iPads occasionally and for basic operations, iPad will be a better choice. It will meet all your expectations and comes at a lower cost. If you are a tablet addict who wants the best performances, iPad Pro is the only option. You get better display, more powerful processor and a new Apple Pencil. Of course, you will have to pay for that.