The Intel Compute Stick CS125 is a single-board computer developed by Intel that can be used in a media center application. Just by plugging it into your home entertainment unit, it can transform any HDMI display into a fully functional computer.  It is also pre-loaded with fully licensed Windows 10, and you got yourself a portable PC all you need now is an HDMI display, a mouse, and a keyboard.  You can now have access to any tasks that require a Window. You can now stream movies or music online, browse the internet, play online games, tweet, and many more functions. It is indeed a mini PC; it plugs into any HDMI TV or monitors and transforms it into a smart display.
The price of the Intel Compute Stick CS125 is around $100, which is a pretty good bargain compared to what it is capable of. It runs on 32-bit Windows 10 with Bing. It is also packed with a Quad-core Atom x5-Z8300 processor and has 2GB RAM which makes the speed fast and running. It has a 32 GB eMMC and a MicroSD slot. The combo wifi and Bluetooth wireless are powered by Intel, so it also supports 802.11 ac and Bluetooth 4.0. The addition of another port USB 3.0 with USB 2.0 is an improvement over the previous models. The slim black stick is 4 inches, 1.5 inches wide, and .5 inches thick.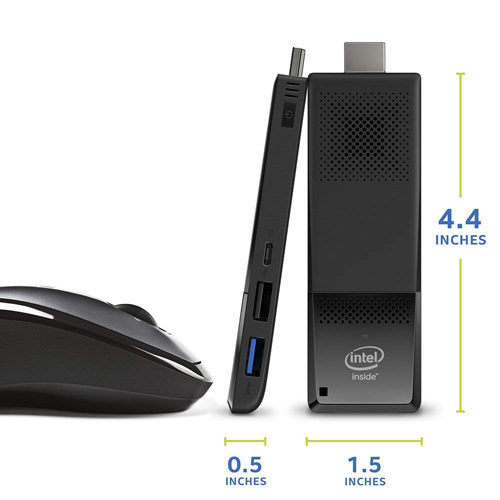 The Intel Compute Stick CS125 is a small pocketable PC that you can take anywhere you want and access a mini PC with an HDMI display. For best performance, it is recommended you get a wireless keyboard and mouse combo so that you can free the USB ports for other tasks. The micro USB port is only for power.
Even with 32GB storage and an additional microSD card slot, the storage space may still be a problem for hardcore users. After running all the new Windows 10 updates and deleting all backup files, you are left with less than 12GB of space for usage which is again used up by installing benchmark apps. However, with the two USB ports, you need not carry an additional USB hub. You can directly use the USB ports for your external hard drive. The 802.11ac wireless connectivity can be a little weak in places where the network is not strong.
The Atom x5 Z8300 processor is a slight improvement over the previous Atom Z3745 processors. Playing a 3D game on this computer stick is not fun as it will not run very smoothly. You can only play a 2D game too with little glitches once in a while. You can play basic flash games.
There is no problem in surfing the net using the Compute stick CS125 until you start opening multiple browser windows. The Compute Stick is not capable of handling websites that are content-rich.
Conclusion
The Intel Compute Stick CS125 is excellent for doing one task at a time. Although there is much need for a portable PC, it will not be possible to find a spare HDMI display easily. It is best suited to store movies, music, and other files which you enjoy at home and enjoy live streaming of videos.