Sony unveiled its Xperia XZ2 smartphone with the Snapdragon 845 chipset during the annual Mobile World Congress event held in February.
A new leak has offered up some more specifications of the soon-to-be-released Xperia XZ3 phone, which will also have the Snapdragon 845 chipset. The smartphone will also have a dual camera that can be seen on the Xperia XZ2 Premium phone. It's believed this phone will be seen during the 2018 IFA tech trade show in Berlin, happening in September.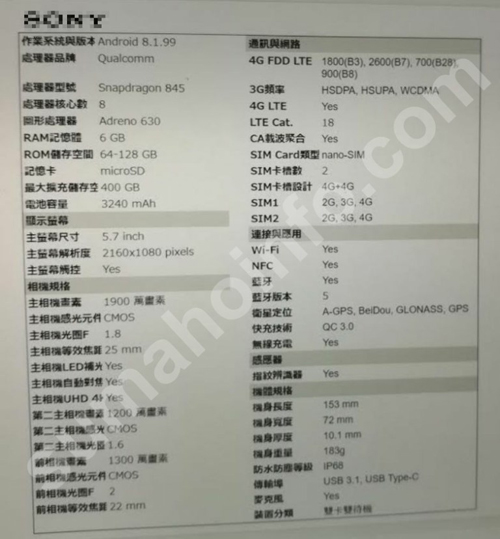 According to the specs, the Xperia XZ3 will weigh 183 grams and has a measurement of 153x72x10.1mm. It's about onemillimeter thinner and 15 grams lighter than its predecessor – Xperia XZ2. It will also have the IP68 certified chassis for its cover (something seen with other the premium Xperia phones). It has a 5.7-inch screen size that includes full HD+ resolution 2160×1080 pixels. It will also come with the 18:9 ratio display.
Other noteworthy specs of the XperiaXZ3 include the Snapdragon 845 chipset, 6GB of RAM, microSD card slot, 3,240mAh battery that allows for Quick Charge 3.0 charging. The Xperia XZ2 phone had a 3,180mAh battery. Consumers who want the Xperia XZ3 smartphone can buy it in either 64GB or 128GB storage space.
The XZ2 phone camera was 19MP with an f/2.0 aperture. The XZ3 phone is equipped with both two rear cameras with the same 19MP sensor a second 12MP secondary sensor with an f/1.6 aperture. This specification can be seen on the Xperia XZ2 Premium smartphone. The leaked information reveals the XZ3 will have a 13MP front-facing camera that has specs similar to the XZ2 Premium smartphone.
The Android 8.1 Oreo operating software will be loaded onto the phone.