Price: FREE | Developer: HappyGiant | Download:  Play Store
HoloGrid: Monster Battle Tango is all-new type of game, which collected $100.000 on Kickstarter. In essence, it is a mixture of board and card game. You will have to download the game and get a card deck in order to start. Playing versus AI, a friend or online players is supported. The main characteristic of the game is the fact it is a hybrid of AR (augmented reality) and holographic.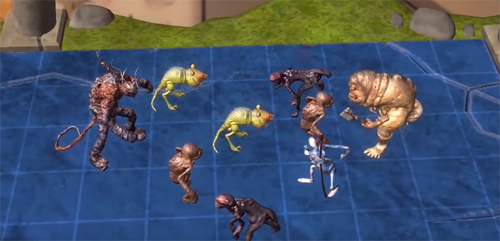 The power of the game is on its decks. Each one comes with 3 monsters, 9 minions, and 5 spells. The game will start by you placing the card in front of a device (smartphone or a tablet). One, themain deck has one monster champion, 2 spells, and 3 minions. The goal of the game is to create a powerful deck. Collect up to 17 cards which will provide you 6 different options.
The man behind the graphic development is Phil Tippett. He was responsible for developing Jurassic Park, Willow, Start Wars and Dragonheart. The bottom line, when it comes to thegraphic is that you have beautifully designed monsters, great visual effects, and tons of details. Shadows and glares are at a high level as well and we must say that they are among some of the best in this game category.
The good
The game is very interesting to play. It also offers superb graphics, well-designed monsters and using AR in a new way must be treated as an advantage, compared to similar games. Visual effects are another advantage that must be mentioned. Let's not forget the option which allows you to play versus online gamers or your close friends.
The bad
The number of cards is limited, while the gameplay is generally slow. These are the biggest cons of the game. We must add that the story and gameplay miss details.