Hi-Rez Studios, mostly known for their PC games and console such as the third-person MOBA Smite game, are currently branching out from the market and getting into mobile gaming. Its first mobile game is called Paladins Strike.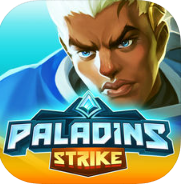 And, if the name is familiar to you, there's a reason for that – the developer made a hero shooter game called Paladins: Champion of the Realm for the PC and console. The Paladins Strike release just imports the characters and lore from the Champion of the Realm game into the mobile game.
With the mobile game, you'll have 5v5 battles and a pick of over 15 characters. Combat occurs in real time,and it's easy to join with friends through the Siege model or ask for a juggernaut in the game's Summons gameplay more.
Like the majority of MOBAs, players play it from a top-down view. Controls are on-screen virtual analog sticks that are used for shooting and movement. Players who want to tap and move should stick to the Vainglory game. There are some lagging issues with the game players, which is noted in many reviews in the Play Store.
Paladins Strike can be downloaded for free, which means there will be several in-app purchases players can make, which can range up to $89.99. There are three kinds of in-game currency that people can use to buy an array of items such as loot boxes, consumables, skins, etc. Similar to other FTP games, just one currency can be earned in the game. Players who were looking for a game similar to the PC and console will be disappointed.
Players who like MOBAs and hero shooting games will enjoy Paladins Strike. It also comes from a highly-respectable studio that offers high-quality free-to-play games. While some people may be put off by the high prices and number of items that need to be purchased, the game is still a great way to past the time.