Hearthstone: Heroes of Warcraft is an online collectible card game developed and released by Blizzard Entertainment. It is one of the most enjoyable card games online. It is available for PC, Android, iOS, and many other platforms. To play the game, you need a Battle.net account. Here is a detailed review of the game.
Gameplay
The game is quite simple and the goals are easy to understand. Your enemy has thirty life supply points, and you will win once you defeat your enemy by depleting their life supply points. You will be given a deck of thirty cards just like your opponent. These cards represent creatures, magic spells, and other equipment. The cards are categorized into neutral cards and special cards. Only specific heroes can use the special cards, while anyone can use the neutral cards. I liked this aspect of the game as it makes it more interesting. The interface is quite attractive; it has Easter eggs, the cards are in 3D, and they flourish with style. I liked the way the developers have made everything clear and well-detailed in 3D.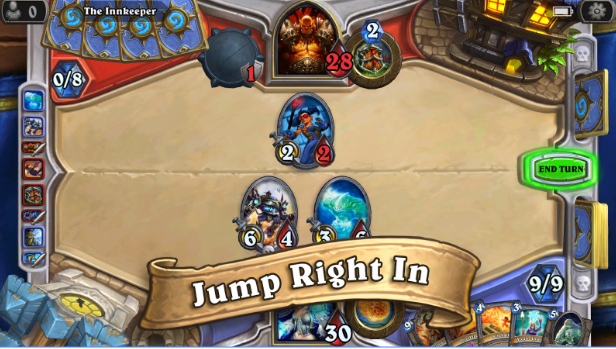 Whatever action you take in the game has a cost. Mana crystals are used to measure the cost of actions in the game. Every turn, you get one mana crystal. Make sure that when you play the game, you choose the cards carefully. To defeat the enemy, you can allow your minions to charge, which means that they can attack in the same turn when they enter combat, which saves crystals. You can also use the hero's abilities to defeat the enemy. Each hero has a different ability.
The feature that I like about the game is the use of the same card in multiple decks. Of course, like many other games, it also has in-app purchases. What I like is that if you do not want to buy cards with money, you can destroy the cards to get Arcane Dust and use it to make new custom cards. It makes the gameplay more interesting. Also, when you unlock achievements, you receive an additional pack of cards.
The game also offers a lot of playing modes. You can play the game in wild style as well as in the standard style.
The Good
Easy to play
Beautifully crafted environment
Excellent interface
Lots of game modes
Smartly balanced card selection
Available for all platforms
Online play with friends
Free
Verdict
Among many other games available, Hearthstone: Heroes of Warcraft is a fantastic game to play. With a lot of strategies, cards and players, it is interesting to see how you defeat our enemy. It is a free game full of fun and interactive features. It is one of the best cross-platform card games you will ever play. The game's interface is brilliant. Overall, it is an enjoyable game to play online with other Hearthstone players.