Regardless of whether you "cooked up" your own custom HTPC or are using a mini Android computer, Apple TV, Amazon Fire TV, or just have a laptop hooked into your television through HDMI, you're probably looking for a tool that lets you control your media PC from the couch.
That there are a ton of different options out on the market today, but very few of them are better than the Hausbell Mini H7 wireless entertainment keyboard with included touchpad.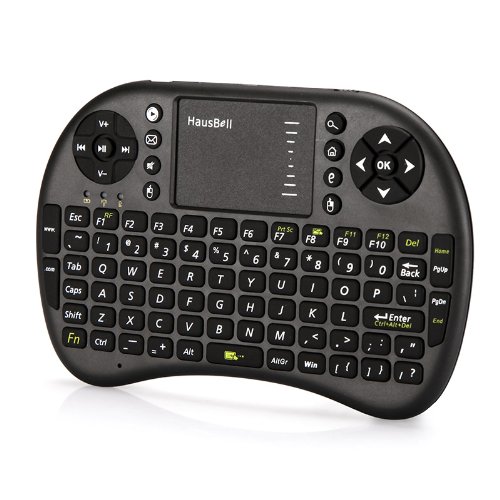 Initial Impressions
The first thing that is going to surprise you will about the Hausbell Mini H7 set up is that it looks like a calculator and a gaming controller were somehow fused together.
With a small form factor that fits comfortably into your hands, you're going to have a full keyboard (complete with function keys) and all of the standard buttons you would find on a remote control integrated nicely with one another.
On top of that, the QWERTY keyboard (though on the smaller side of things – obviously) is easy enough to manipulate comfortably. It's just like you were texting on your phone excavation point
Pros
It's hard to imagine a more optimally designed QWERTY keyboard for such a small form factor than this one. Having the advantage of using a complete keyboard for your HTPC setup (especially if it's more of a traditional computer or laptop hooked up to the big screen with an HDMI cable) is a big plus, and something that a lot of other options out there lack.
The Bluetooth connectivity also makes this a formidable device, just because it can connect to just about anything and everything out there with zero hassle or headache at all.
Finally, the price point is something that will really shock you. For less than the cost of a dinner for two at a chain restaurant, you'll be able to use one of the better a wireless entertainment keyboards with an integrated touchpad!
Cons
The only thing that we really were hung up on was the fact that the rechargeable battery this unit comes with needs to be removed before it can be recharged. It would have been nicer to see a nonremovable battery just for the sake of convenience. But even still it's not something that should stop you from purchasing the Hausbell Mini H7.
Final Verdict
There are a lot of wireless entertainment keyboards for Android devices out there, but few come with an integrated touchpad or the kind of connectivity flexibility that the Hausbell Mini H7 brings to the table. This is definitely a recommended addition to your home theater setup.