It looks like it comes from the future, it is packed with all the features you will ever need and it costs quite reasonable with lots of features compared to similar gaming controllers. In short words, this is the definition of the new GameSir G4s Gaming Controller.  Of course, there are a lot of additional features we will have to include. After all, this is far more than an ordinary gaming controller.
Supports all operating systems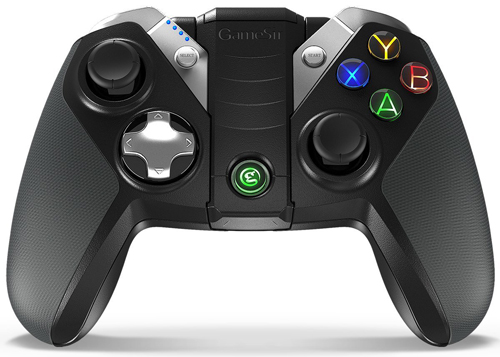 The main aspect of a gaming controller is the usability it provides. This one here is exceptional, simply due to the fact it supports phones, tablets and computers, running on all operating systems. Android 4.0 and newer will work without an issue, iOS devices are fully compatible as well (will be needed to install additional third party app) and even Windows XP is supported. A nice addition is the fact this device supports Samsung VR headset.
Fully adjustable USB dongle
G4s comes with another feature that is essential. It is a fully adjustable USB dongle It operates between 110 and 150 degrees and it can accommodate each device from 3.5 inches up to 6 inches. For the best experience, place it at 45 degrees. In addition, dongle is made from high-quality plastics, so it can withstand everyday use.
800 mAh polymer lithium battery
In the game controller, manufacturer implemented an 800 mAh battery. It is based on the latest generation technology and it can be recharged, obviously. The running time is 10 hours (max mode) and 320 hours (min mode). Standby time can last up to 12 months. Despite being equipped with this battery, the entire gamepad is still lightweight (8.8 ounces). None of the practicality nor functionality have been compromised.
360-degree analog sticks
Analog sticks built-in the device are exceptional no less. They can last more than 2 million presses and they are designed to be as accurate as possible. Yes, they are also firm and pleasant to use.
Overall
GameSir G4s will cause some difficulties for some, hardcore gamers, but for all others, it will be a perfect gaming controller. If you like playing a game for more than a few hours per a day and you want to have a gamepad that will withstand all that torture, this model is for you.