Twenty years of innovation pays off, and there's more than DOSS can offer. The company is a pro in the audio industry due to its state-of-the-art products.
Do you want to have a cutting-edge Bluetooth speaker? Don't look further! The DOSS SoundBox Bluetooth Speaker is an excellent choice. DOSS SoundBox has 12-watt speakers that give quality sounds and of course – deeper bass.
DOSS SoundBox is portable due to its size and weight. The metallic design makes the SoundBox an excellent companion, whether you're outdoor or indoor. Control the speaker using the sensitive touch button that has a Laser Carving finish. Users can switch among 3 options easily: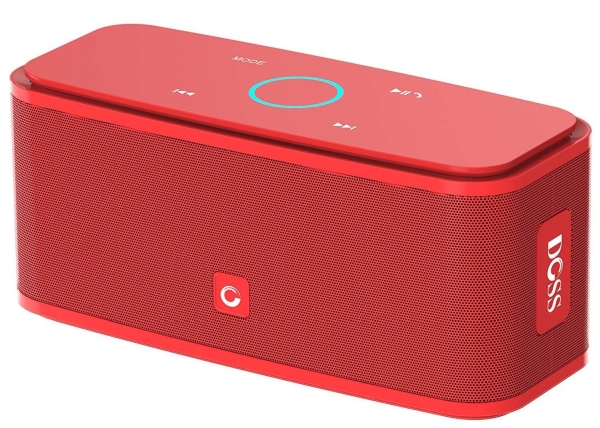 Aux-In
Micro SD
Bluetooth
You can easily adjust the speaker volume by rotating the top ring. The clockwise rotation would increase and volume while a counter-clockwise rotation decreases the volume.
That's easy, do you think?
That's not all.
Are users comfortable using the speaker?
Yes, they are!
Why?
You can slip the Bluetooth speaker in your bag or backpack. Whether you're at home or enjoying a picnic outside, bring the speaker with you to make your listening experience awesome. The less 1% harmonic distortion offers you superb fidelity and clarity.
But, you would be amazed at the pros and cons of the DOSS SoundBox Bluetooth speaker.
Let's dive in and find out these pros and cons.
Pros
Excellent Bluetooth 4.0 Technology – Experience an enjoyable listening experience through the Bluetooth 4.0 Technology of DOSS SoundBox. The speaker is compatible with any device that makes listening terrific.
Extended and Enjoyable Playtime – DOSS always satisfies their clients due to the extended playtime of the speaker. The 2200mAh battery allows you to listen to your favorite tracks for up to twelve hours.
One-Touch Controls – DOSS SoundBox offers not only fun but also comfort as well. The One-Touch controls enable users to adjust the speaker's volume easily.
Enhanced Bass – Everyone loves to hear the deep bass, and the DOSS SoundBox has that. Feel the good vibe and energy of the music with the bass of the speaker.
Cons
Long Charging Hours – Unlike other Bluetooth speakers, users need to charge the DOSS SoundBox for 3 to 4 hours.
Only has 75% Volume – if you want to listen to music up to 12 hours you have to set volume at 75%.
If you want the best Bluetooth speaker in the market, the DOSS SoundBox is one of the awesome speakers you can afford. The $27.95 price tag isn't bad, and most buyers can afford it. So, let the DOSS SoundBox Bluetooth Speaker change your listening experience!