Cool new tech gadgets are available in the market almost daily. It is hard to keep up-to-date with all these new ones so we curated a list of the best ones which have been available recently.
There are many cool tech gadgets on the market right now, but not all of them are worth your time or money. Especially when you're trying to kick a technology habit, it can be hard to know which gadgets will help and which ones won't.
Luckily for you, we've done the research so that you don't have to! Here's a list of our favorite new inventions that might just be what you need. Looking for the cool new tech gadgets to buy? Do not look any further! Here are the top ones just for you!
Cool New Tech Gadgets
Adaprox Fingerbot Plus – a smart switch
You can turn your normal switch into a smart one with this little gadget. The Adaprox Fingerbot Plus is a device that can help you control buttons and switches without any wiring. It comes with a Toolpack that can help you control even rocker switches and toggle switches. You can select different modes in the app and trigger your button whenever you want.
Setting up the Fingerbot Plus is easy. You just need to link it to your phone via Bluetooth and tape it next to the button or switch you want to control.
With the Adaprox HomeHub, you can control the Fingerbot Plus from anywhere in the world as long as you have an internet connection. You can also use voice control with Amazon Alexa, Google Home, and Siri.
The Fingerbot Plus also has a timer/schedule feature that allows you to set a countdown or weekly schedule to trigger the device. This can be useful when you are busy, away from your phone, or sleeping.
The Fingerbot Plus has a fun feature where you can create customized loops with different arm movements and waits. The device will repeat the loop for as long as you want.
Steam Deck – a Linux handheld gaming PC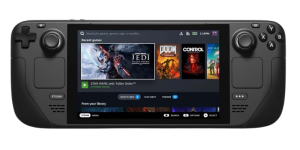 The Steam Deck is a handheld gaming PC that you can hold in your hands. It's been really popular since it was first announced. You can take it with you wherever you go and play your favorite computer games on it.
The handheld is powered by Valve's SteamOS, an operating system built on Linux. This opens up a world of possibilities, as you can install any software that's compatible with Linux onto the Steam Deck.
The Steam Deck has a 7-inch touchscreen display with a resolution of 1280 x 800 pixels. The device is powered by an AMD APU that combines a quad-core Zen 2 CPU with an RDNA 2 GPU. It also has 16GB of LPDDR5 RAM and can have up to 512GB of NVMe SSD storage.
The Steam Deck is a cool tech gadget because it allows you to play your Steam games anywhere. It has a sleek design and is very portable. The device has been designed to be comfortable to hold for long periods of time and has been optimized for gaming. The Steam Deck also has a built-in gyroscope and accelerometer, which allows you to use motion controls in games.
The Steam Deck is not just a gaming device – it doubles as a regular PC! This means you can connect it to an external monitor or TV to use it just like you would a desktop computer.
MINISFORUM Venus Series UM773 Lite – mini PC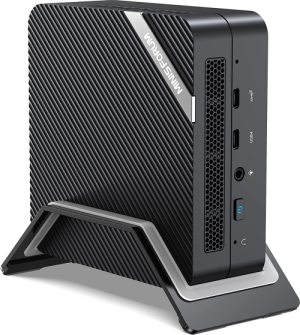 In today's fast-paced world, having a reliable and efficient computer is essential for productivity, work, and even gaming. Traditional desktop PCs have long been the go-to choice, but what if we told you that there's a compact and powerful alternative that can replace your PC? Enter the MINISFORUM Venus Series UM773 Lite Mini PC – a game-changer in the world of computing.
At the heart of the UM773 Lite mini desktop lies the latest AMD Ryzen 7 7735HS processor. With its 8 cores and 16 threads, this processor delivers exceptional performance in a compact form factor. Boasting a base clock of 3.2 GHz and the ability to reach up to 4.75 GHz, the UM773 Lite ensures a seamless experience in productivity tasks, office routines, and even mid-range gaming.
Efficient heat dissipation is a crucial aspect of any computing device, and the UM773 Lite excels in this department. The use of a premium liquid metal compound on the CPU ensures optimal thermal conductivity, enabling the processor to perform at its best without overheating. Complementing this is the Airway Design120 fan blades and 2 heat pipes, which not only maximize cooling performance but also operate at a lower noise level, creating a quiet and comfortable environment for your computing sessions.
ASUS ROG Ally – a Windows handheld gaming PC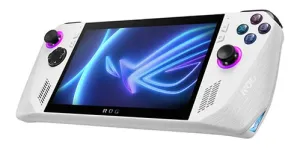 The Asus ROG Ally is a handheld gaming PC that is being compared to the Steam Deck. It is considered to be a strong competitor in the market. The ROG Ally runs on Windows 11 Home, providing a familiar and versatile operating system optimized for gaming.
Equipped with an AMD Ryzen Z1 Extreme Processor based on the Zen 4 architecture, the ROG Ally offers impressive performance. The ROG Ally features the RDNA 3 GPU, boasting 12 Compute Units (CUs) with a clock speed of up to 2.7 GHz. With 8.6 TFlops of power and 4GB of VRAM, the device delivers stunning visuals and supports demanding games.
Featuring a 7-inch IPS panel with a glossy finish, the ROG Ally offers an immersive gaming experience. With a peak brightness of 500 nits and a 7ms response time, the display ensures vibrant colors and smooth visuals. The touchscreen functionality adds an extra layer of convenience.
The ROG Ally is equipped with a 40 WHrs battery, providing sufficient power for extended gaming sessions on the go. The included 65W USB-C PD 3.0 power supply ensures fast and convenient charging.
With its impressive specifications and thoughtful design, the ROG Ally by Asus aims to offer gamers a powerful and portable gaming device capable of delivering an exceptional gaming experience.
DJI Avata – a drone with first-person view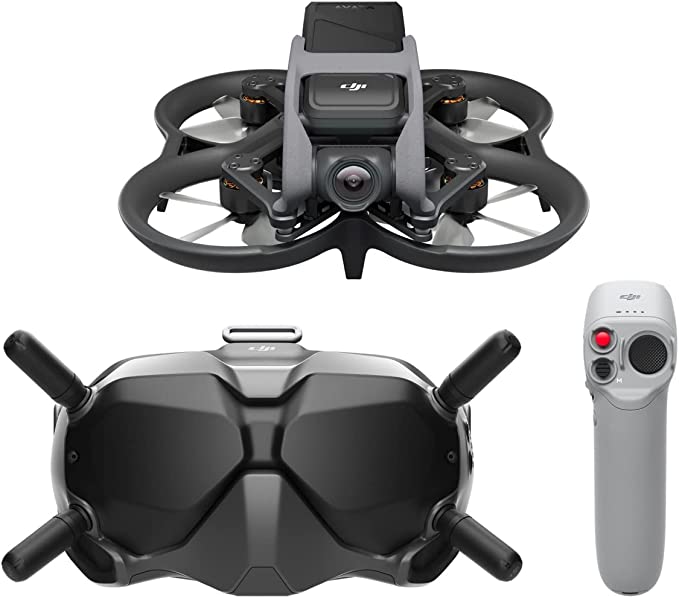 The DJI Avata drone offers an exciting flying experience that's easy to control. With the addition of goggles and motion controllers, anyone can enjoy the thrill of flight. The motion controller allows for intuitive flight control, with the ability to quickly move forward or turn with a simple wrist movement.
The Avata also features an upgraded camera system, with a 1/1.7-inch sensor, 155° field of view, and flagship stabilization, providing ultra-smooth 4K footage without the need for additional attachments. The Avata's camera can also be tilted up and down remotely, giving you even more control over your shots.
The DJI Avata's design is compact and portable. It can easily be folded up and carried in a backpack, making it perfect for outdoor adventures or travel. The drone's battery life is also impressive, allowing you to fly for up to 26 minutes on a single charge.
The DJI Avata also has a range of safety features to ensure that your flight is as safe as possible. It has obstacle avoidance sensors on the front and back of the drone, as well as on the bottom, which helps prevent collisions. The drone also has an automatic return-to-home feature, which brings the drone back to its starting point if it loses connection with the controller or if the battery level gets too low.
Geneverse 1210Wh LiFePO4 Solar Generator Bundle – a portable generator with solar panel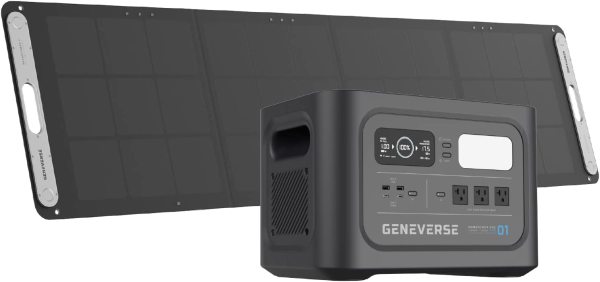 his bundle includes the HomePower ONE PRO Portable Power Station with 3 AC outlets, 2 USB-C outputs, and 2 USB-A outputs, along with a 200W Solar Panel.
The HomePower ONE PRO portable power station is universal, versatile, and capable, with 7 total outlets including 3 AC outlets with pure-sine wave output, supporting 1200W rated power and 2400W surge power at 120V/60Hz, 2 USB-C outputs with PD 100W, and 2 USB-A certified by Qualcomm Quick Charge 3.0. It is compatible with 99% of common home appliances, DIY electronics, and emergency medical devices.
With 1,210Wh of power, a single charge can power a refrigerator for up to 17 hours, a CPAP machine for 2-7 days, or your home's Wi-Fi router and modem for over 7 days. The solar generator can even be used while it's charging, ensuring an uninterrupted power supply whenever you need it most.
Safety is paramount with the Geneverse 1210Wh (1×1) LiFePO4 Solar Generator Bundle. It is certified energy efficient and safe, designed with ultra-high efficiency LiFePO4 (LFP) batteries, allowing over 3,000 charge cycles. Every unit undergoes 52 reliability and safety tests and is covered by an industry-leading 5-year warranty.
The Geneverse PRO Series solar-powered generator also features a built-in Maximum-Power Point Tracking (MPPT) charge controller, allowing it to recharge 6 times faster than competing generators. With its dual ultra-fast recharge, the Geneverse PRO Series can be charged as fast as 3-4 hours with our SolarPower 2 Panels or 1-2 hours with an AC wall outlet. The Geneverse mobile app enables remote control and monitoring of the battery and status.
Ekster Parliament Smart Wallet – a wallet that can hold over 10 cards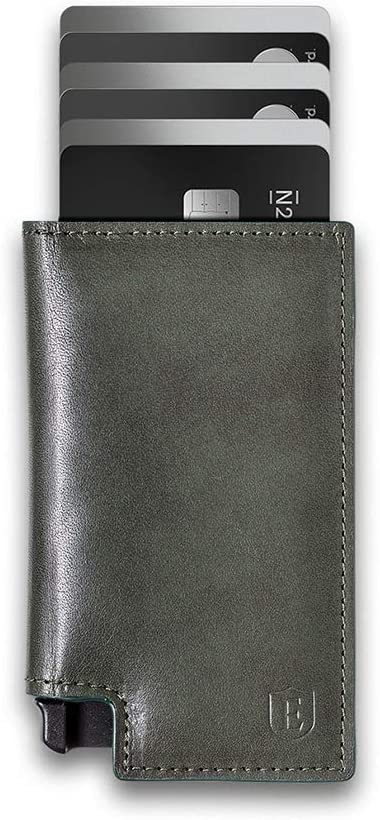 The Ekster Parliament Smart Wallet is a hand-made English leather wallet that holds 10+ cards in total, and the aluminum cardholder stores 4-6 torn cards. It's beautifully designed with premium materials – including 6063 T5 aluminum, which has been anodized to create a beautiful space grey finish under gold-rated LWG certification protocols.
Ekster protects your valuable credit or debit card information from 'skimmers' using RFID blocking technology – keeping you safe from electronic pickpockets in today's world of increased exposure to cyber theft.
SAMSUNG Galaxy Z Fold 4 – the best Android foldable phone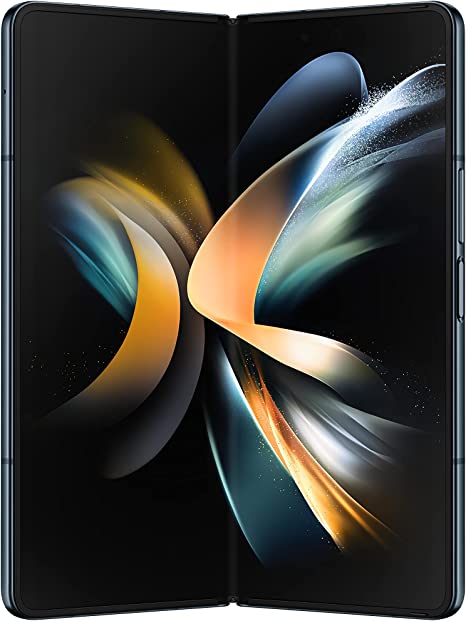 Samsung has been at the forefront of the folding smartphone market, despite initial skepticism from others. The latest addition to their lineup, the Samsung Galaxy Z Fold 4, represents a significant step forward in this technology. With four iterations under its belt, Samsung has refined its design to create the most impressive folding smartphone yet.
The Samsung Galaxy Z Fold 4 is a smartphone that offers a unique foldable form factor, making it stand out from other devices on the market. With Flex Mode, you can free up your hands and use the phone hands-free during conference calls or when following instructional videos in real time. The phone also boasts a multi-view window, which makes it easy to attend virtual work meetings and capture important notes simultaneously, or catch up on your favorite shows while answering texts.
The Galaxy Z Fold 4 also offers S Pen compatibility, which is great for taking notes during virtual meetings or dragging and dropping content. You can even customize the way your apps are displayed on the edge-to-edge screen. Plus, the phone can be connected to a Galaxy Watch, allowing you to snap hands-free selfies and switch between your watch and phone seamlessly.
The phone has impressive audio capabilities, making it a great device for listening to podcasts or music on the go. You can even slide the phone into your pocket and keep listening with your Galaxy Buds, which work seamlessly with the phone.
Gocycle G4 – a premium electric bike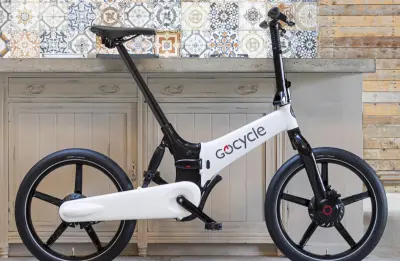 As the world moves towards more sustainable modes of transportation, electric bikes are becoming increasingly popular. The market is inundated with a plethora of options, each offering unique features and benefits. However, for those living in cities, the ability to easily transport a bike is of utmost importance, making foldability a key factor. This is where the Gocycle G4 comes in, offering a premium electric bike that can be conveniently and quickly folded down.
But the Gocycle G4 isn't just a foldable bike. It is powered by a powerful motor that delivers an excellent riding experience, making it a reliable choice for daily commutes, weekend adventures, or leisure rides. Furthermore, riders can connect the bike to an app that enables them to start the bike remotely, monitor their speed, track their battery life, and more, adding a layer of convenience to the experience.
The bike offers a good traction control system, which makes it suitable for various terrains, including roads, grass, and other challenging surfaces. The bike also comes equipped with different modes, allowing riders to put out more power where necessary, whether they are tackling steep hills or cruising along flat roads.
In conclusion, the Gocycle G4 is a premium electric bike that combines power, convenience, and versatility in one package. If you're looking for a reliable electric bike that can easily be transported, this is an option worth considering.
Rocketbook Smart Reusable Notebook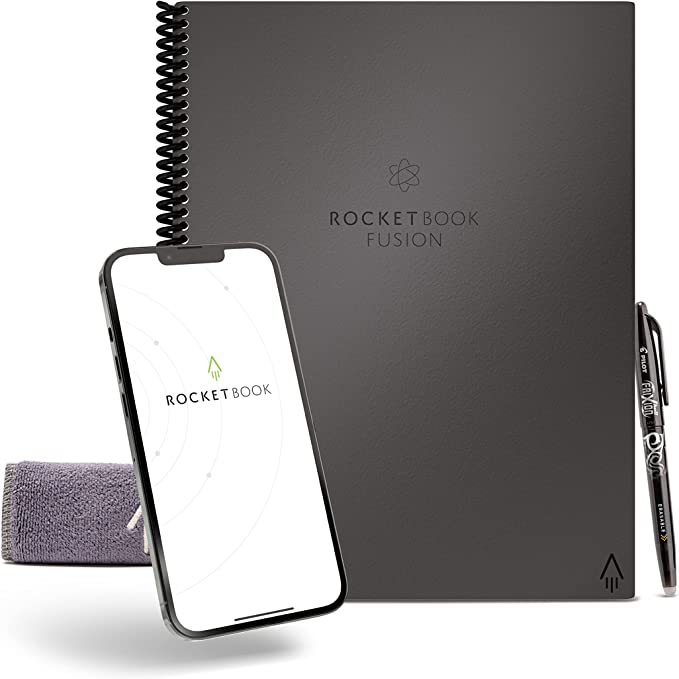 The Rocketbook Smart Reusable Notebook is the ultimate solution for those who love to take notes and plan their lives. With its endless reusability, this notebook is perfect for those who want to keep their notes and plans organized for years to come. The Rocketbook Fusion is a 42-page, erasable spiral notebook and planner that allows you to create endless plans, notes, lists, and more, making it the perfect planner for 2023 and beyond!
Using the Rocketbook Fusion is simple and easy. All you need to do is allow 15 seconds for the ink from a Pilot Frixion pen, marker, or highlighter to dry in order to bond to Rocketbook's specialized polyester composite paper. Once you're done taking notes, simply use the QR code in the bottom corner to scan your notes to the Rocketbook app. Then, wipe away the ink with a damp cloth, and you're ready to start again!
The Rocketbook Fusion is also cloud compatible, which means that all your handwritten notes can be saved to the free Rocketbook app and easily transferred to your cloud service of choice, including Google Drive, Dropbox, OneNote, iCloud, and more! With the free Rocketbook app, you can easily name, search, and send your notes and plans, making it the perfect tool for those who want to stay organized and productive.
The Rocketbook Fusion comes with 7 different page types, making it perfect for budget planning, daily, weekly, and monthly planning, note-taking, list creation, task organization, and so much more!
Baseus 160W USB-C Car Charger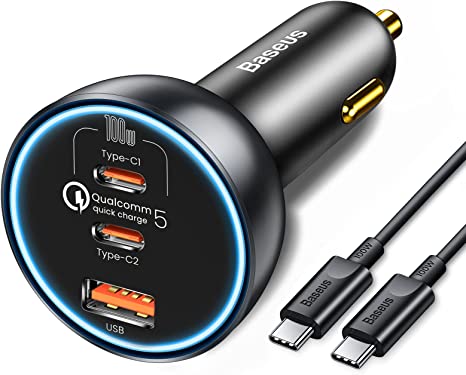 The Baseus 160W USB-C Car Charger is an innovative and versatile gadget that is designed to make your life easier and hassle-free. It features the latest and unique QC5.0 Quick Charge technology that supports PPS PD3.0 QC5.0 fast charging, making it possible to quickly charge up to three devices simultaneously.
This charger for cars can power up to three devices at once through its USB ports, with a total output of 160 watts. With 3 ports with 100W+30W+30W independent fast charging technology, the power of each port does not decrease when all three ports are in use. This ensures that you get a consistent and fast charging experience regardless of how many devices you are charging.
Safety is a top priority when it comes to charging your devices, and that is why the Baseus car charger adapter is built with an intelligent circuit design to protect against short-circuiting. It is RoHS, CE, and FCC certified, which means it is safe to use and will not damage your devices.
It also features built-in protection against overheating, over-currents, overcharging, and short circuits, ensuring that your devices are always protected while charging. The charging will automatically stop when the battery is full, thus preventing overcharging and other potential hazards.
In terms of appearance, the Baseus car charger has a stylish and modern design that complements any car interior. The advanced PC material body is scratch-resistant, ensuring that the charger always looks new. The soft LED light is another excellent design element that makes it easy to find the charging port in the dark.
The Baseus cigarette lighter USB charger is widely compatible with a range of devices.
Samsung T7 Shield – the best portable SSD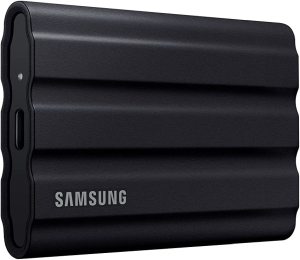 The Samsung T7 Shield Portable SSD is a tough and compact device that can withstand water and dust with its IP65 rating. It has a lightning-fast data transfer rate of 1050.0 megabytes per second, which means you can transfer massive files in seconds.
It has USB 3.2 Gen 2 and PCIe NVMe technology that enables soaring sequential read/write speeds of up to 1,050/1,000 MB/s. This allows you to edit directly from the drive, making it ideal for giant projects.
The T7 Shield is also designed with a high-tech rubber exterior that has a Dynamic Thermal Guard to control heat and maintain steady performance. You can take it anywhere and feel confident that your data is secure, even if you drop it from a height of 9.8 feet. The T7 Shield is compatible with various devices, including PC, Mac, Android devices, and gaming consoles.
It comes with USB Type C-to-C and Type C-to-A cables for added convenience. You can choose from 1 TB, 2 TB, or 4TB in sleek colorways of blue, beige, or black. The stylish rubberized grip prevents slips, so it stays in your hands. Bring everything with you and look great doing it with the Samsung T7 Shield Portable SSD.
What to Look For When Choosing a Tech Gadget?
When choosing a new tech gadget, there are a few things you should consider before purchasing.
First of all, what do you want to use the gadget for? If your answer is "everything," then it's okay to buy everyone! However, if you have a more specific use in mind, think about which gadgets would be most useful to you.
For example, you might be interested in buying a virtual reality headset to explore new worlds and immerse yourself in 360-degree views. If that's the case, then maybe you should also invest in a pair of wireless headphones so you can listen to music without interrupting other people around you.
Maybe your answer is something like "to keep track of my kids," or "for fun." In this case, it may be more important for you to think about gadgets that are user-friendly and simple to use if they're for children.
Or perhaps an affordable fitness tracker would work best for your lifestyle! Again, what do you want the gadget for? And how much do you want to spend? It's okay not to break the bank!
In addition to your specific purposes for buying a tech gadget, there are other factors you should consider as well.
It's important to remember that every new toy comes with a learning curve. It's going to take time and practice before you get good at using a virtual reality headset or a drone, so don't expect an instant transformation into a pro.
You'll likely need patience and persistence. But if you have those two things now, then great! There's nothing stopping you from being the best tech person around!
In terms of considerations about whether or not to trust what products can do, please be aware that products that haven't been out long enough to get customer feedback may not be entirely trustworthy.
If their social media is new, for example, there might not be enough people talking about them to give you a full picture of how good or bad they are.
It's also important to check the return policy at any store where you buy tech gadgets! We all know that sometimes things can go wrong, and it's always nice to have an end-around plan in case your new toy turns out to be defective.
Don't forget that if you're buying something like virtual reality glasses or a new smartphone that has extra cool features (like wireless charging), you'll need compatible cables! So keep some charging cords on hand!