The Clash of Kings is one of the best online multiplayer strategy games developed and published by Elex Wireless. It is available for all platforms. It is free to download and has in-app purchases. If you are looking for a fun game in which you can build your empire, this is the game you should play.
Gameplay
The goal of the game is to create your own army, use it to attack your enemies, gather resources, research goods, become the most powerful player, and build an empire. It is a PvP action strategy game.
The visual effects of the game are excellent. I like the way the castles and the entire area is designed, and it entices you to play the game and defend your land. The graphics are not too demanding but enough to detail everything going on.
When you start the game, you have a small castle with some fortune. You need to gather resources to build the castle and make it stronger. I found the gameplay quite easy. You need to gather troops, train them, defend your territory and expand. There is a vast collection of buildings that you have access to; you can upgrade these buildings and defend them.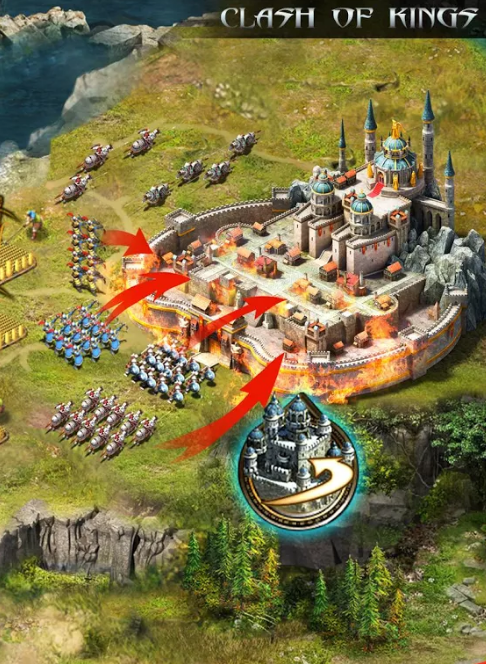 What I like about this game is that as you build your kingdom, expand it and gather allies, you will also create enemies. It means more battles to fight and expand your empire. Individual strategies are required to attack the enemies and defeat them. The landscape is vast; it is like a never-ending landscape which you can conquer.
Features of the Game
Build an empire: Build a city and an entire empire.
Join an alliance: I like this feature which allows you to make an alliance with other players. They can help you with construction as well as battles. The best part of the game is where one alliance fights with another alliance. This feature makes the game more interesting.
Research trees: Send out troops to look for resources and use them to develop your city, build other resources, and create defense structures and military branches just like a real king.
The Good
Easy to play
Real-time strategy war game
Beautifully crafted environment
Excellent interface
Available for all platforms
Online multiplayer
Free
Verdict
If you want to play a strategy game which allows you to build your own empire, be a king and defeat enemies, then look no further. The Clash of Kings is the best strategy game with an abundance of features. The game allows you to create your own empire and defend it from the enemies. Although it is not so different from other strategy games available and has mostly the same story, the interface and game design are different. With its multiplayer feature, you can play for or against your friends online. Overall, the game offers an excellent gameplay and players will enjoy playing it.