Racing games can be empowered, and boosted with a sense of realism with a few useful accessories. A headset, to make the sounds of the game more realistic, as well as a steering wheel to completely make you feel like you are driving a car are good ways to start off towards fully immersing yourself. There are a lot of gaming steering wheels out on the market, with some of them being surprisingly cheap.
Logitech G920 Driving Force Racing Wheel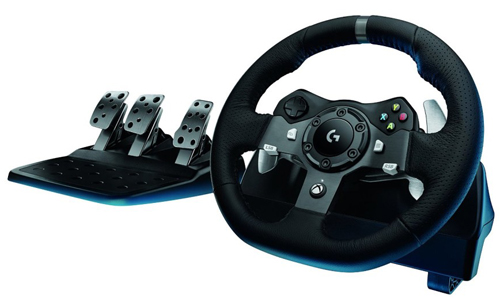 Features:
Supporting Windows 7, Windows 8 and Windows 8.1.
It requires a stable Internet connection and 150 MB of free storage space
The steering wheel can only be used in games which are supported by the Logitech Force Feedback Wheel
The rotation of 900° is adjustable, and the wheel comes with a Dual Motor Force Feedback feature
The steering shaft is made out of steel, while the shifter paddles are made out of brushed stainless steel.
Pros:
Sleek and quiet, the steering wheel can perfectly simulate a realistic driving session.
Built out of sturdy yet comfortable materials that are bound to last
Supports the Windows platform, and can be used for Xbox One
Cons:
Doesn't support the PS4 console, nor the Mac OS
The shifter needs to be bought separately
Some  games are actually not supported by the Logitech Force Feedback Wheel
Fanatec Forza Motorsport Wheel Rim
To make you feel a racing game up to every bump and turn, the best accessory to consider would be a steering wheel. Fanatec Forza Motorsport Wheel Rim For Xbox One is a new useful accessory that will be guaranteed to bring your experience to an entirely new level.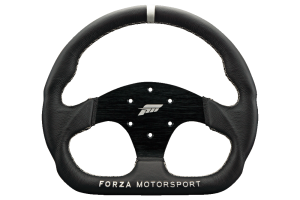 Features:
Genuine, smooth leather design for maximum comfort
A perfect replica of a classic GT race car
The wheelbase can be connected and it is fully Xbox One compatible
The shifter paddles can be fully adjusted in terms of distance, width and angle
Comes with 4 button boxes containing 3 buttons per box
Special, trademarked FunkySwitch with a 4 way direction pad and a 2 way turning function
Pros:
Built for comfort
Extremely flexible and ergonomically optimized
Amazing GT Race Car replica for maximum realism
All of the buttons are fully programmable
Cons:
Might be considered a little expensive
If you are able to make a larger investment for a powerful accessory, this model is at the very least worth considering.