Wireless earbuds are a great alternative to wired headphones. They offer convenience and freedom, which is perfect for people who have an active lifestyle. Whether you're working out at the gym or running on a treadmill, wireless earbuds will not get in your way!
What to Kook for When Buying Wireless Earbuds
The sound quality is very important. Check out reviews for feedback on the bass, trebles and volume levels!
Comfort of fit – try to find earbuds that are made of silicone or vinyl so they can be worn over long periods without any struggles especially if you have a larger ear canal size. If possible, use the wireless speakers with foam covers when traveling because this allows them to sit more securely against your head while blocking external noise from interfering with your listening experience.
Connectivity – the level of connectivity is dependent on how far away from your device you are and it's important to know this because if you're working out or outdoors, having a longer range will be necessary.
Waterproofing – some wireless earbuds are not waterproof so make sure they can survive different levels of sweat by choosing one that has IPX rating for water resistance as well as being resistant against dust particles too.
Price – We only look for earbuds of which price is under $50.
7 Best Wireless Earbuds Under $50
Over-ear headphones are more comfortable than their in-ear counterparts, but they tend to be quite bulky which makes them less portable. Earbuds are easy to carry around, but wearing them for too long can be rather uncomfortable. Fortunately, there is a wide range of wireless headphones to choose from, with a variety of features and price tags.
TOZO T6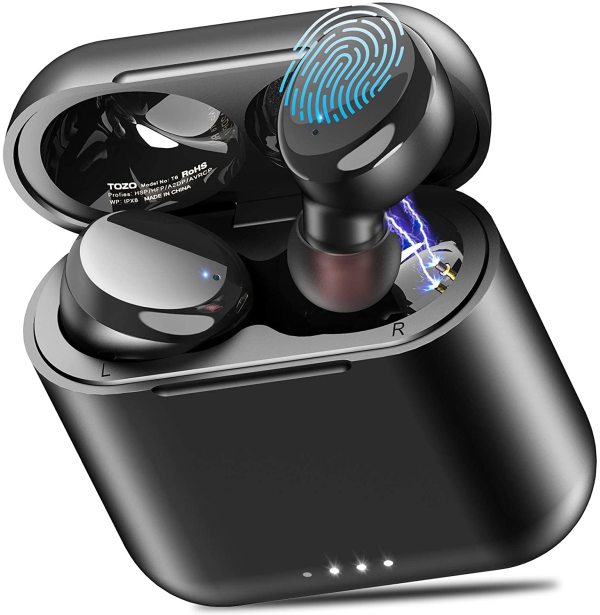 TOZO T6 is designed by taking an ergonomic approach to provide the best wearing and listening experience. With its unique design, this Bluetooth earbuds can get stable a firm fit with any type of ear without falling off, even during your most intense work out.
You will also find that it has very minimal noise pollution so you can enjoy clear audio on all occasions. It's extra-long battery life allows you to use the device for more than 6 hours straight from just one charge.
Together with the charging case, it offers total playback time up to 30 hours without interruptions thanks to a speedy recharging function which only takes about 45 minutes from 0% battery level in order to achieve 100%.
TOZO T6 is made with an advanced Bluetooth 5.0 technology, so you'll never have to worry about interference or sound quality ever again. This sleek and compact design will make it easy for you to walk around campus with only one earbud in while still being aware of how many feet are between yourself and the nearest person thanks to their press touch function which can be used for answering calls, skipping music tracks, adjusting volume levels,…
Anker Soundcore Life Dot 2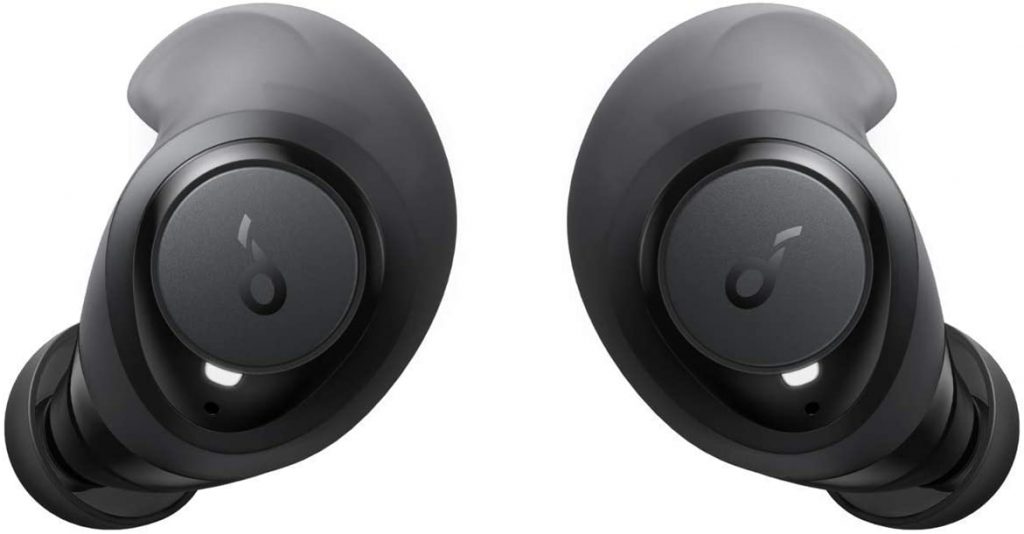 The Anker Soundcore Life Dot 2 wireless earbuds come with a charging case that has 4x the battery capacity of other charging cases'. The innovative design provides you with an 8 hour playtime and enables your earbuds to last for 100 hours, making it one of the most powerful pairs on the market. With crystal clear sound quality and added bass, these headphones are bound to be everyone's next favorite accessory. With everything these wireless earphones have to offer at such an affordable price, what are you waiting for? Get yourself a pair today!
Anker SoundBuds Curve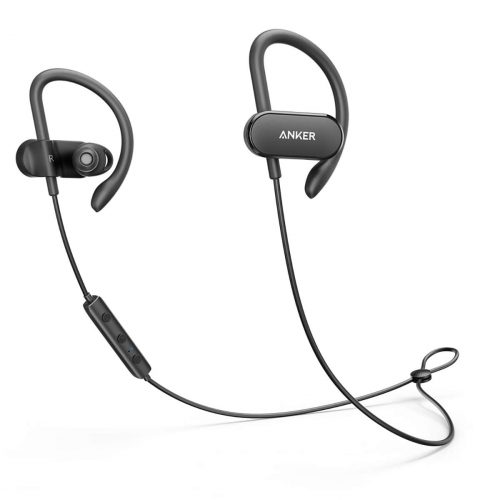 Anker SoundBuds Curve are the best wireless earbuds currently on the market. Their EarWings and customizable EarTips make for a comfortable ear-hook design, but the downside is that they don't isolate noise as well as other models. Anker wireless headphones provide a well-balanced sound, although a little heavy on the bass, as well as a great battery life of up to 18 hours of listening at 80% volume when fully charged. More specifically, you will be able to enjoy 14 hours of conversations and 12.5 hours of music. Charging them for only 10 minutes gives you 3 hour of earbuds use.
And with a fully waterproof casing (based off a submarine), these sweatproof earbuds don't just make your workout accessible to you anywhere – they keep it protected too.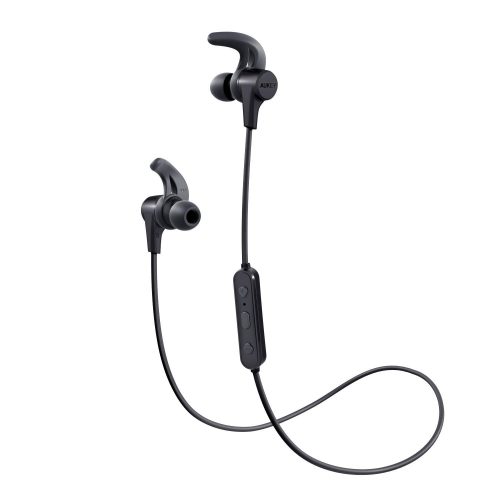 AUKEY Bluetooth Headphones provide wireless music enjoyment in new dimensions. You'll hear deep and rich bass, giving you a sense of motivation throughout your workouts. These earbuds are designed for dependable use with sealed casing and internal nano coating design to protect against sweat or rain during tough workouts at the gym or outdoors. With 8 hours of playtime, find one more reason to skip that turn today with this reliable headset. One 15 minute charge gives an hour of playback time- plus it's USB compatible if you're always on the go.
These wireless headphones go deeper into the ear canal which means they don't provide the same level of comfort as the Anker SoundBuds Curve, but are considerably better at cancelling noise. Battery life is a bit short, lasting a little over 7 hours when fully charged. AUKEY Latitude bring out the bass, so they are great for listening to hip-hop music.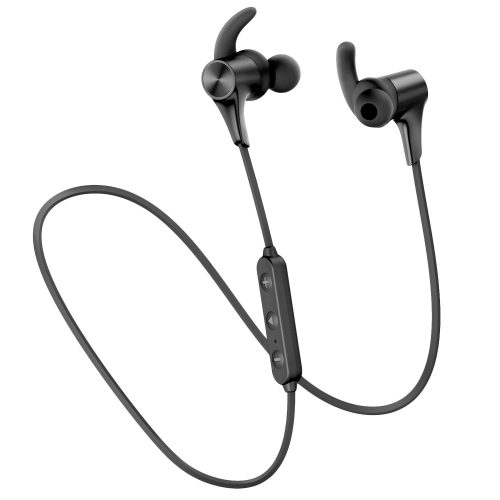 These in-ear headphones have no wires at all, making them the best choice if you wish to go truly wireless and pay less than $50. They feature a compact design and fit nicely, even though they have no ear-hooks. SoundPeats TrueFree are good at isolating noise, so that you can listen to your favourite music without outside interruptions, and at the same time, without bothering others if you crank up the volume. The battery is quite poor, lasting a little over 3 hours but on the bright side, their standby mode helps save power if you keep the headphones on even when not using them.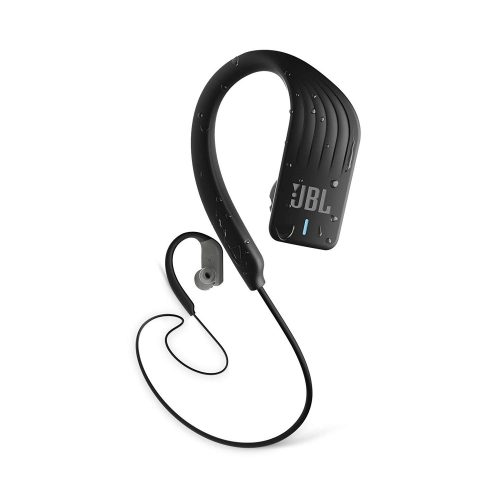 Unlike the previous models, this product is sweat and water resistant and features an improved sound quality so that you can listen to most musical genres. The ear-hooks stay in place due to the magnetic base, making these JBL earbuds perfect for sports practice. The battery lasts 8 to 9 hours, and there is a useful auto-off timer to save power. Note that these headphones also tend to turn themselves on automatically, whenever you touch one of them.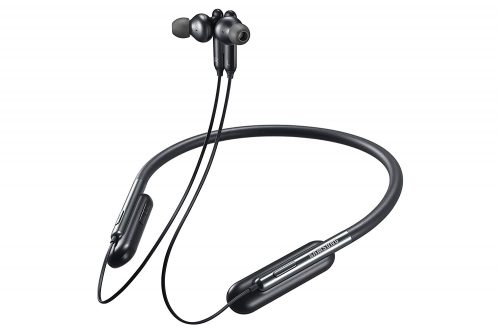 These in-ear headphones are customizable with your Samsung device and you can enhance their sound on your smartphone or tablet with the Samsung Level app. The battery lasts 11.5 hours, and takes under 2 hours to charge. Better yet, you can actually listen to music while they are charging.
Conclusion
As long as you can deal with the minor issues sometimes affecting Bluetooth wireless technology, you are bound to find the perfect headphones for your needs and within your budget.