Science is a hard subject for some kids, but with the right telescope it can be fun. In this post we will discuss what to look for in a good telescope and which ones are best suited for different ages of children. We hope that by reading the following information you will have a better understanding of how to choose the best telescopes for your child's needs and interests!
How to Choose the Best Telescopes for Your Child
Know your child's interests
A telescope is a great gift because it allows kids to get up close with objects in space and explore them at their own pace. It may be difficult, however, to decide which type of telescope will suit your child best if you don't know what they like. Find out about potential interest areas by asking questions about favorite TV shows or movies that featured telescopes (e.g., Star Wars), hobbies such as bird watching, photography, etc., and favorite books or magazines with pictures of things outside the earth's atmosphere (National Geographic). This will give you an idea on where to start looking when shopping for a telescope from the outset! If you don't have a clue, consider the price range and features that are best for your budget.
What is your child's age?
Kids of varying ages will enjoy telescopes because they come in different sizes and shapes depending on their abilities. A few examples include toy-size models ideal for younger children, "keeper" or beginner level scopes with lower magnification if you're not sure what kind to get yet, intermediate level instruments designed for older children who may be ready to use something more complicated but still like an easy user experience, up through high quality advanced type telescopes capable of impressive viewing options at higher magnifications.
If there isn't a telescope out there just right for your kid then it's time to create one!
How to Choose the Best Telescopes for Beginners
The best telescope for beginners is the one that will suit their needs and budget. A good way to find out which telescopes are best suited for you, is by looking at factors such as magnification, aperture size, and focal length. However, it's important to remember that there are many factors to consider when choosing a telescope; these three just happen to be the most common in terms of beginner telescopes. In order for your new hobby of stargazing to lead you into a lifelong passion for astronomy with all its wonders, it's important not only that you get the right equipment but also know how to use it correctly.
When it comes to buying telescopes for beginners, the sky is literally the limit (no pun intended). With so many different brands, models and features on offer, it can be hard to know where to start. The first thing you need to do when choosing a telescope for beginners is figure out which kind of scope would work best for their experience level and their budget.
Best Telescope for Kids and Beginners
Celestron 21061 AstroMaster 70AZ Refractor Telescope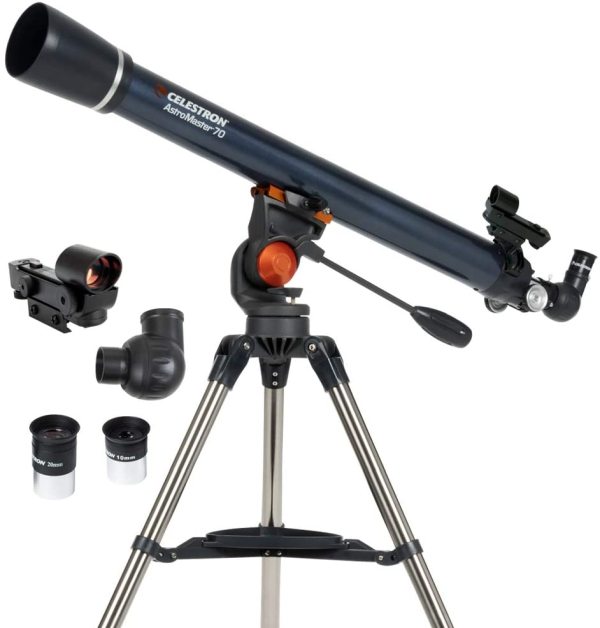 Explore the night sky by day or night with the Celestron AstroMaster 70AZ telescope! Now you can find your way across galaxies and explore deep space all without leaving Earth's atmosphere! With this handy AstroMaster Planetarium planetarium projector, you have everything you need to bring real astronomical events in line with your location on earth.
The Celestron 21062 AstroMaster 70AZ telescope is a powerful and user-friendly refractor telescope with fully coated glass optics. Take your astronomy experience to the next level with this high quality, Erect Image Optics refractor telescope that allows for great viewing of both celestial objects and landscapes. You can enjoy the night sky or discover terrestrial targets like wildlife from a range up to 76 feet away. This sturdy yet lightweight frame has two high magnification eye pieces as well as an adjustable height tripod meant to keep you comfortable while stargazing for hours on end.
This is a powerful refractor telescope that features fully coated glass optics, sturdy yet lightweight frame and adjustable-height tripod for use during both day and evening hours. The 70mm optic lens has erect image optics to make viewing celestial objects at night and terrestrial targets during the daytime an easy task. Two eyepieces are included for comfortable observations of a broad field of view.
Emarth Telescope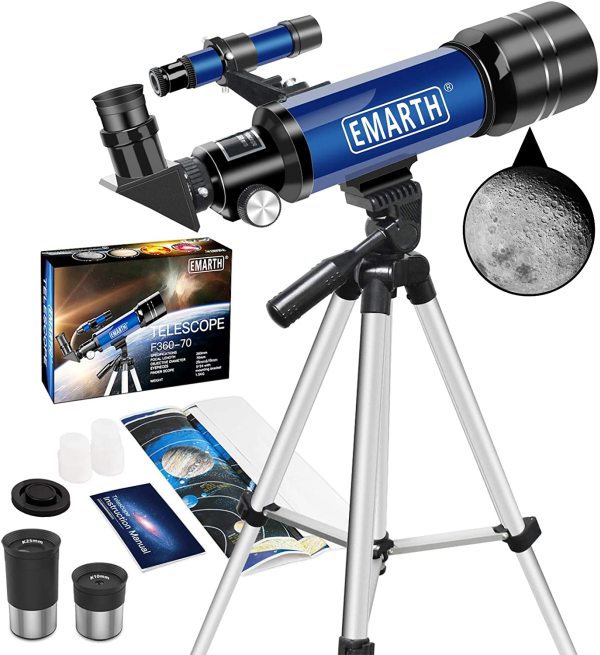 The Emarth Telescope is an excellent telescope for beginners or kids to explore sky. It has a 360mm(f/5.1) focal length and 70mm aperture, fully coated optical glass with high transmission coatings that create stunning images with increased brightness and clarity, protecting your eyes as well.
With its large aperture and high transmission coatings, you can look towards galaxies close to home as easily as you could those that are across the galaxy cluster.
The interchangeable eyepieces are reducing time spent on adjusting- this great telescope comes complete with the manual in order to make locating objects easy. The 5×24 finderscope helps locating objects easier, erect-image diagonal helps achieve a true planar image at prime focus. With its quick set up and versatile use it will be your must have appliance!
Zhumell – 50mm Portable Refractor Telescope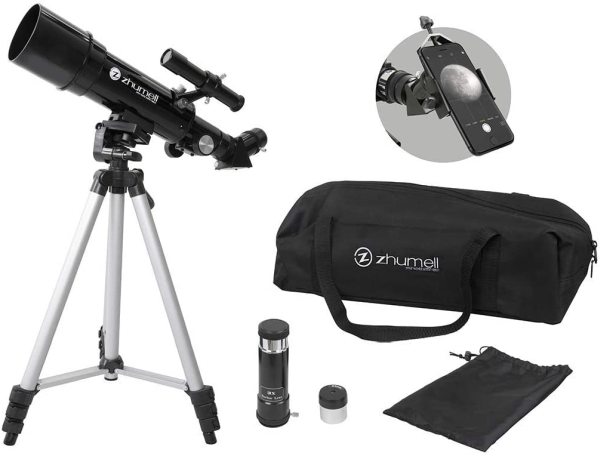 The 50-millimeter Zhumell telescope is perfect for both kids and veteran stargazers. The Zhumell's lightweight frame and custom carrying case make it an easy item to bring with you on camping trips, hiking excursions, or vacations. With this portable refractor telescope, you can rub shoulders with sparkling stars anywhere—just add darkness!
The 50AZzhumells includes a powerful eyepiece (20mm) for view of celestial objects at night and two high-quality 20mm eyepieces (8mm) that provide low- and high-power views of terrestrial objects during the day. The objective lens is made from high quality glass providing bright views of all shapes.
This telescope is user-friendly and easy to set up, so your children can enjoy observing astronomy with our whimsical 90 degree eyepieces. It's powerful refractor lens will give them a bright view of celestial objects at night and terrestrial objects during the day, as well as an awesome aesthetic experience. The best part? Included in this bundle are two high-quality 20mm and 8mm eyepieces that work perfectly for long distant views or close up viewing; giving your child more power than ever!
AstroMaster 130EQ Newtonian Telescope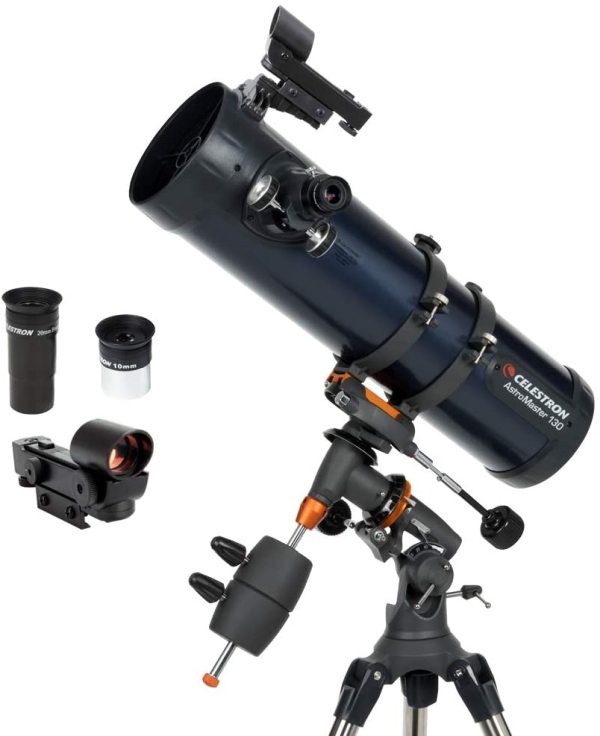 If you are looking for a beginner telescope that will not break the bank, but still provides a high-quality experience without sacrificing performance, then the Celestron AstroMaster is your best bet.
Their 130mm glass optics offer more flexibility and resolution to really bring out the details in planets like Saturn's rings or Jupiter's moons.
It features fully coated optics with two eyepieces as well as an adjustable tripod legs so you can set up on any surface and have enough stability to safely observe all night long with big views of deep sky objects such as galaxies and nebulae.
The StarPointer finder scope makes it easy to locate objects by displaying a red dot which shows right where they are on our Earth.
It features the ability to be easily assembled and adjusted, while offering a clear view of celestial objects deep in space. The long-lasting design makes this an investment for both kids and adults with everything they need included in one kit.
Orion 10015 StarBlast 4.5 Astro Reflector Telescope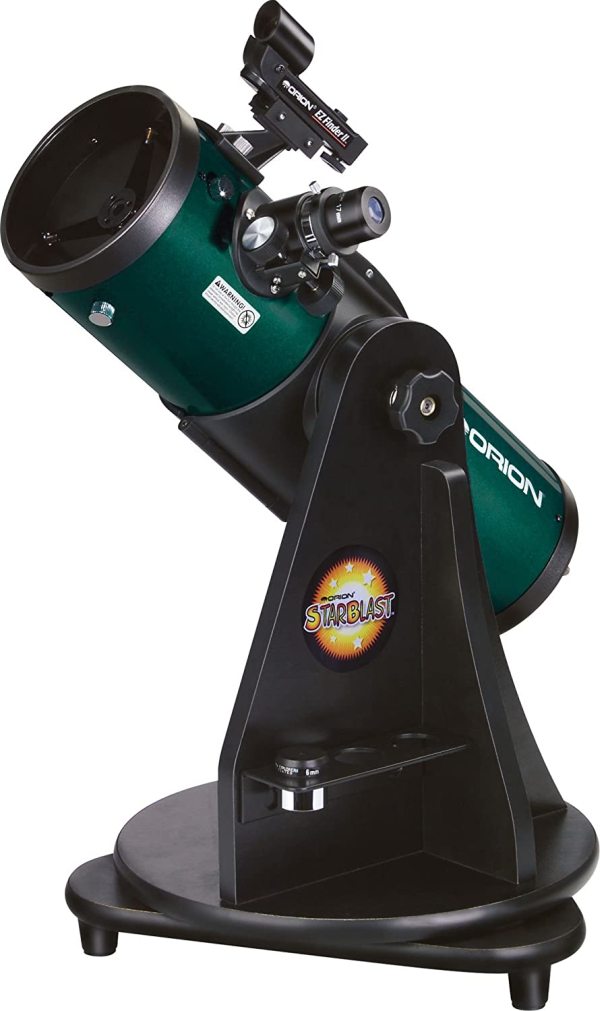 A great first step into astronomy with a grab-and-go telescope, the Orion 10015 StarBlast 4.5 Astro Reflector Telescope is your very own entry-level assistant for nighttime explorations of solar system targets like the Moon and planets, as well as wide-field celestial objects like nebulas and star clusters.
This telescope is a must-have for beginner to intermediate astronomers. The stable tabletop base provides smooth motion in both azimuth (left/right) and altitude (up/down), so you can track even the most elusive deep sky objects with its easy-to-use manual controls. With a substantial aperture of 450mm and focal ratio of f4, it provides bright views of solar system targets like the Moon and planets as well as wide field celestial objects like nebulas or star clusters
This 4.5 inch telescope comes preassembled, including an altazimith mount that keeps your target centered in view, no matter which way up you happen to be looking at it from! From the box to your backyard or patio – it's that easy!
The telescope ships with six individual 1¼ inch eyepieces allowing for various magnifications up to 371x.
Weighing in at just 16lbs., it sets up quickly, so you can spend more time exploring than setting up, while its stable tabletop base provides smooth manual tracking of all your favorite astronomical objects with simple altazimuth motion (left/right).
The right choice for anyone beginning their exploration of the wonders above us; you create a trove of fond memories that will last through many nights to come.
Conclusion: When you buy a telescope, it is important to consider what age range your child falls in. Telescopes for children can vary from simple inexpensive telescopes that are great for kids up through more complex models with additional features and accessories. We hope this post has given you some insight into the different types of telescopes available on the market today so you can make an informed decision about which one will work best for your child's interests!