Sony Xperia Z2 proves that Sony is at the top for their quality product. This post will introduce the best accessories for the Xperia Z2.
Best Xperia Z2 Cases and Covers
Protect your Sony Xperia Z2 investment with a case that keeps it secure. Not sure which case to get? Try out one of these top sellers.
Hyperion's Explorer protective case and cover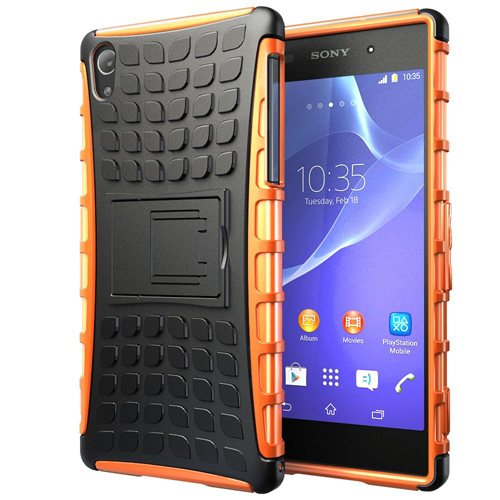 Hyperion's Explorer protective case and cover offers a hybrid design with their two piece system.  The silicone core inside and the titan style hard shell outside gives your phone extra protection from bumps and drops.  With extra cushion in the corners, this phone will be secure – no matter how it hits the ground.  A hassle-free two year warranty stands behind their confidence in the durability of the product.  All ports and openings are accessible from within the case.
Terrapin Leather Wallet Case
The Terrapin Leather Wallet Case has a cash compartment and card holder, giving this phone case a sleek look that can be used as an organizer as well.  Made of a stylish black leather and soft tan interior, the tab closure keeps everything in place.  The plastic housing holds the phone tightly inside the case, and all the slots and buttons are easily reached.
Poetic's Flip Cover case
Poetic's Flip Cover case is made with a polycarbonate shell that is shock resistant and sturdy.  The soft microfiber interior is safe for the phone and protects it from scratches or fingerprints, while still allowing the phone's features to be used.  Snap on protection in a stylish synthetic leather case gives this case appeal for all users.
Minisuit Ultra Thin case
If you're looking for a sleek and minimal case to show off your phone's natural beauty, the Minisuit Ultra Thin case is just what you need.  A clear back made of durable and sturdy polycarbonate plastic; it lets your phone shine while keeping it safe from drops and scratches.  Fully accessible features let you enjoy your phone without removing the case.
TUDIA Ultra Slim Melody gel silicone case
Keeping your phone safe from scratches and dings, the TUDIA Ultra Slim Melody gel silicone case offers an easy to install case that feels soft while maintaining its durable protection.  With a raised edge to protect your phone from scratches while face down, the modern back design gives your phone a contemporary look.  There's no reason to remove the case – all features are fully usable with precision cutouts.
YESOO Ultra Slim Fit Case
Tired of wrestling with bulky phone cases trying to get your phone out of your pocket? The YESOO Ultra Slim Fit Case is a hard, polycarbonate shell that molds to your phone.  With a sleek exterior surface, the phone glides in and out of your pocket easily. Translucent in color, it allows your phone to look exactly the way you want it to – like a phone.  The raised edges protect the surface of the phone when laid on a surface, and all the buttons of your phone are able to be reached with the customized cutouts.