College is a time where you can experiment with new things, and technology has made it easier than ever. One of the best ways to use your smartwatch in college is to learn about how it works. You don't have to be an expert right away, but understanding some basics will help you get the most out of your device. In this blog post we'll cover 5 different watches that are perfect for a college student!
Why Students Use Smartwatch
Smartwatches are great for time management. Paired with your phone's calendar, you'll know where you need to be and when without carrying around a book or paper planner.
One of the best features is what happens when someone calls your phone while it's on silent mode; the watch will vibrate so that you can answer quickly! For those who hate missing important work emails in their inboxes, this feature makes sure no notifications go unnoticed!
A common misconception about smart watches is that they're only good for telling time – but there are so many more benefits than just knowing what hour it is! Some people may find them too bulky or heavy depending on how big one person prefers their watch face to be (for a woman, this may be an issue due to smaller wrists).
The latest smart watches are also compatible with your favorite fitness apps like Strava and Runkeeper! This means you can track how many steps you've taken throughout the day or see all of your stats for a long run after it's done.
Another pro is that they're not as expensive as people might think; there are plenty of models on the market right now for under $200. For those who plan to use their watch at work or in other situations where they'll need access to both hands, having one hand free will make life much easier – no more holding up traffic while trying to check what time it is when running late!
Of course these aren't all the benefits of owning a smartwatch. What more could you ask for from this gadget? Fitness, convenience, and even style – it's all packed into one product!
5 Best Smartwatches for college students
For those looking to purchase their first watch or upgrade on an old model, these are some great options worth considering.
Apple Watch Series 5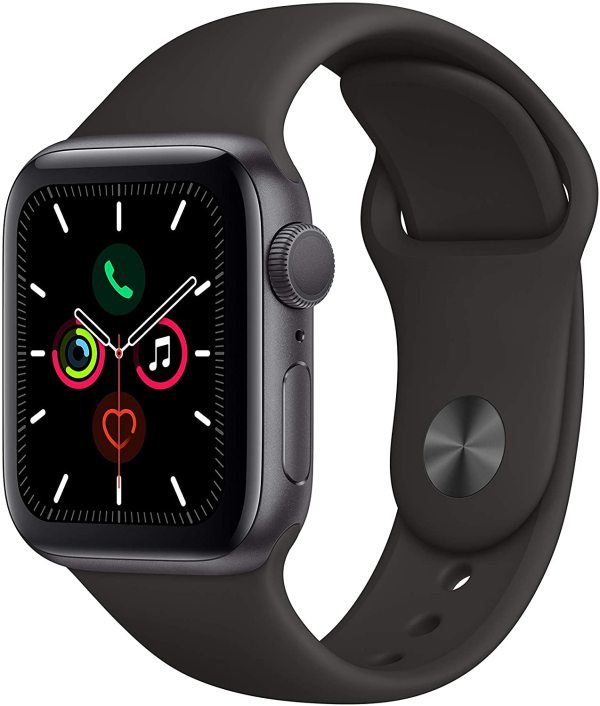 This Apple Watch Series 5 watch is one of the most popular watches for students. It has a lot of good features, and stylish to wear one in the campus.
The latest Apple Watch Series 5 is worth every dollar. With built-in GPS and Glonass, this watch can find your location anywhere on Earth. The Barometric Altimeter also allows you to track elevation with its 32GB storage capacity for saving important workouts. It's also water resistant for up to 50 meters.
Oxygen saturation (blood oxygen levels) and heart rate monitor gauge how hard you're really working so that you gain a competitive edge in races or are aware of health issues if they arise.
Plus the accelerometer and gyroscope activity measurement, light sensor for searing direct sunlight, buttons for even more control over features—let's just say it's a companion that'll never leave your side!
Samsung Galaxy Watch 3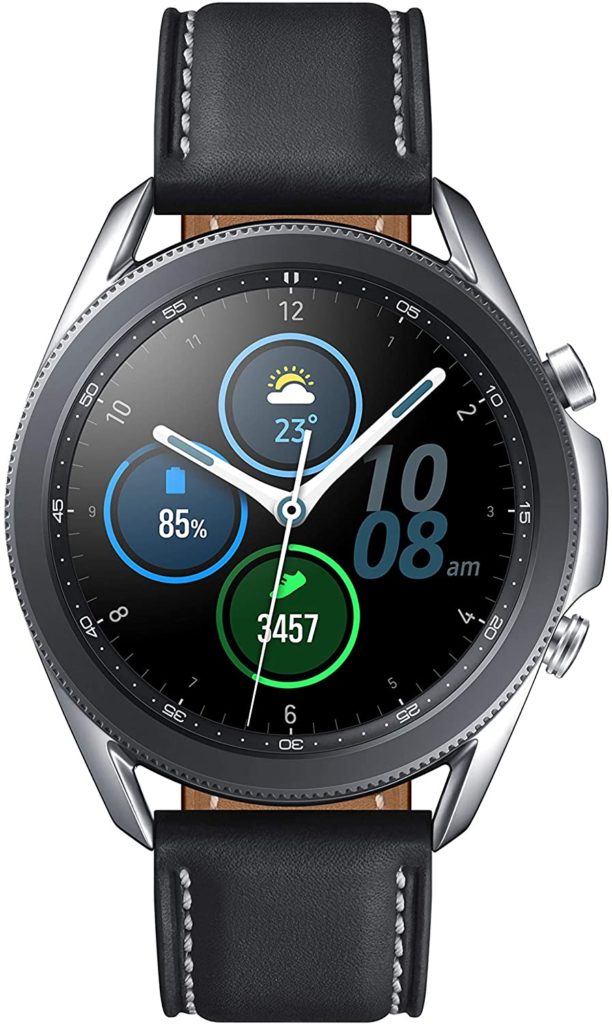 The Samsung Galaxy Watch is the perfect match for those who want to look good as well as feel smart. Imagine never having to worry about charging your watch ever again. The wireless charger lets you power up without slowing down (Average expected performance based on typical use; Results may vary). And when it does finally run out of juice, don't repeat the same old process to charge it back up – we've got a quick and easy way for that too!
It's time for goodbye knotted cables and hello sleek design with one simple software update. This is a quality product you can trust because it not only meets but exceeds our rigorous standards for battery life and personal safety. Simply put, this will last so long that you'll forget all about those other watches once and for all!
You're never without a fashionable wristband, since it comes with interchangeable bands so you can start a collection that's all your very own. Best of all, this watch will work with androids or other smartphones running on Android OS 5.0+, iOS 9.0+, or an iPhone 5+.
Fossil Gen 5 Carlyle Stainless Steel Touchscreen Smartwatch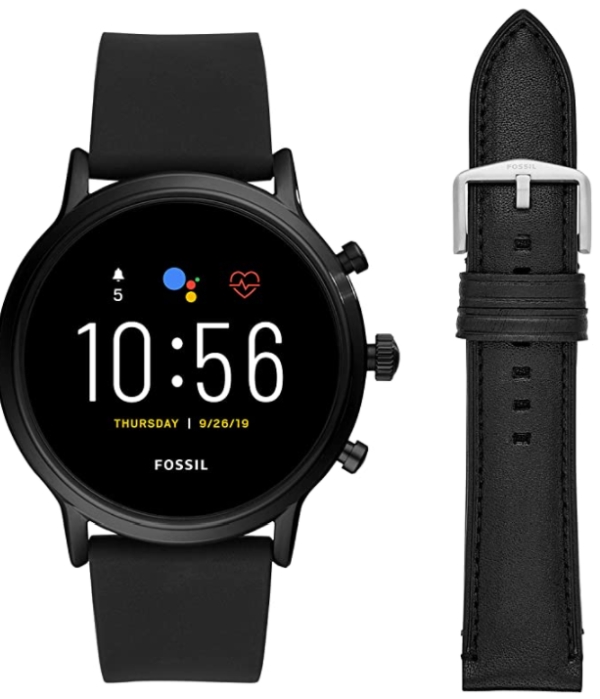 The newest Fossil Gen 5 Carlyle Smartwatch is a perfect blend of style and function. Stylish design and features designed to simplify your life! Powered with Wear OS by Google, the Fossils are compatible with iPhone and Android Phones. The watch features a battery that provides 24 hour smart functions or multi days in extended mode. It's also USB chargeable so you don't have to worry about carrying around your charger anymore!
The health and fitness capabilities can measure heart rate, track your activity levels, distance traveled from GPS on your phone taken care of automatically- all seamlessly synced to Google Fit for ultimate accuracy.
Track how much sleep you get each night which will detail restful level- even set sleep goals if desired. There is no shame in missing out on that workout last night- Fossil's fitness tracker will remind you to stay active if your steps are low.
Fitbit Versa 3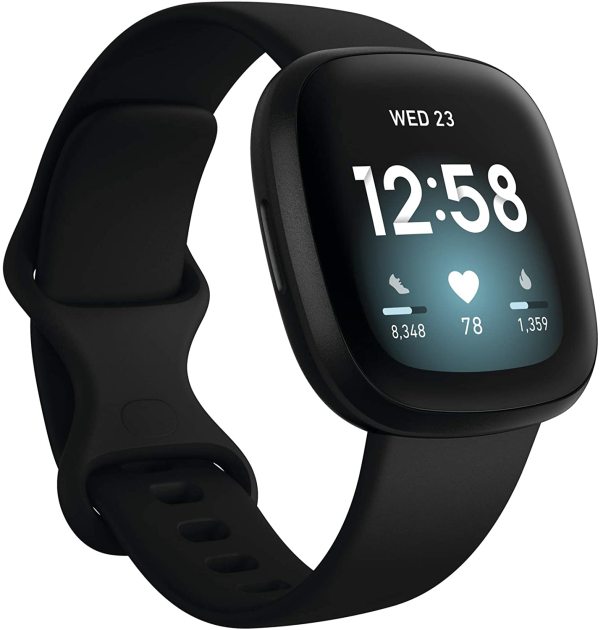 Fitbit revolutionizes the way we work out while staying connected to our phone-free life. With built-in GPS and PurePulse 2.0, you'll never miss your next fitness goal and can maintain a more active lifestyle without forgetting about all the other aspects of daily life that are important to you like sleeping well with Fitbits newest technology where you can now see accurate sleep information on display during daylight hours using their SpO2 clock faces.
The Fitbit app lets you check out workout intensity maps of intense minutes in Active Zone Minutes. It can track your heart rate 24×7 with the fresh PurePulse 2.0 technology. Operate at -4° to 140° F for all seasons' tracking or choose one of our SpO2 clock faces for added features during sleep hours!
Finding your perfect workout was never easier than counting steps thanks to Active Zone Minutes, getting notifications when increasing intensity levels occur is easy too! Whatever activities entice you throughout your day whether it be running errands or mountain biking through meadows, Fitbit Versa 3 will keep up with you every step of the way with a battery life up to four days, auto exercise recognition and more.
TicWatch Pro 2020 Fitness Smartwatch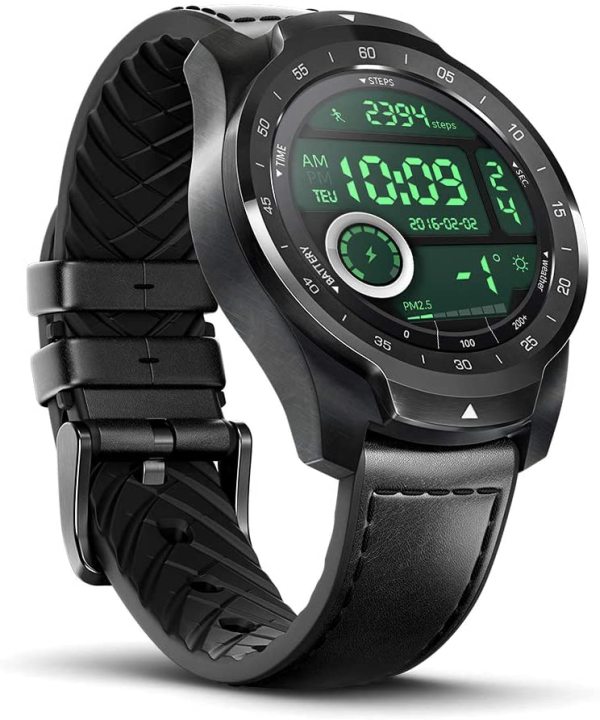 The TicWatch Pro 2020 fitness smartwatch is the perfect companion to your active lifestyle. Get 24-hour heart rate tracking, GPS, and calorie counter so you never miss another opportunity for a workout! It is a good watch for students, because it has many helpful features that students need.
It's lightweight, durable design means it won't fall off during any of your rigorous activities. The double layered battery makes sure you're powered up at all times without worrying about charging by planning ahead with Smart Mode or Essential Mode to extend your battery life depending on what you need most!
Its long lasting power doesn't stop there: the fully featured Google Wear OS allows easy installation of apps as well as Google Assistant dialogue. This device has everything needed before reaching that finish line – either with a personal goal in mind or cheering somebody else on!