While smartphones today get bigger and bigger, the SIM cards get smaller and smaller than their original size. SIM cards are essential accessories to smartphones, which you can now get in SIM card adapters you can buy for a cheap price.
With a SIM card adapter, you can use your SIM card in any device carrying a SIM, whether it's the standard, micro or nano size. The size of the SIM cards is one of the common issues in mobile phones today, especially when you want to use a single SIM card with different models and brand of devices.
It is where SIM card adapters are useful, allowing you to switch and use your SIM with any devices easily. For instance, iPhone and Samsung phones, it's unlikely for you to be able to use one SIM card for both devices.
In this case, you need a SIM card adapter which is a must if like to use multiple smartphones and tablets. Fortunately, you have many different types of adapters to choose from, but not all of them are great. To help you find the best adapter for your SIM, here are the 6 best SIM card adapters today.
6 Best SIM Card Adapters
iSYFIX SIM Card Adapter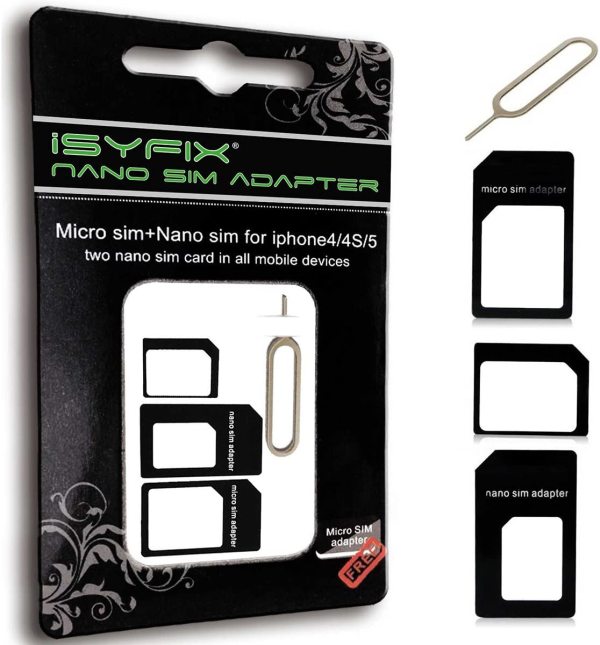 Sometimes you need a new SIM card for your phone and sometimes your old one just needs an upgrade. The iSYFIX Nano Sim Card Adapter Kit is perfect for that with plenty of versatility to go around! With the ability to convert both micro sim cards into standard size, as well as the reverse, what will this do? Accessorize all of them of course!
The iSYFIX Nano Sim Card Adapter Kit helps you convert a NANO SIM CARD into either a MICRO SIM or STANDARD SIM CARD for any cell phone or tablet. It is completely reversible, the nano to micro sim adapter is very handy to switch the sim card between different devices from cell phones and tablets. High-quality materials and CNC carved fit all older phone models; compatible with all manufacturers.
The adapter allows for more efficient usage without having to worry about switching out phones or minutes in between. Space-saving and simple can be found right here…precision made using aluminum materials – it's not going anywhere anytime soon. This kit includes 2 adapters: 1 nano-to-micro card adapter and 1 micro-to-standard card adapter which come packaged neatly in a custom case making.
Samdi Brand SIM Adapter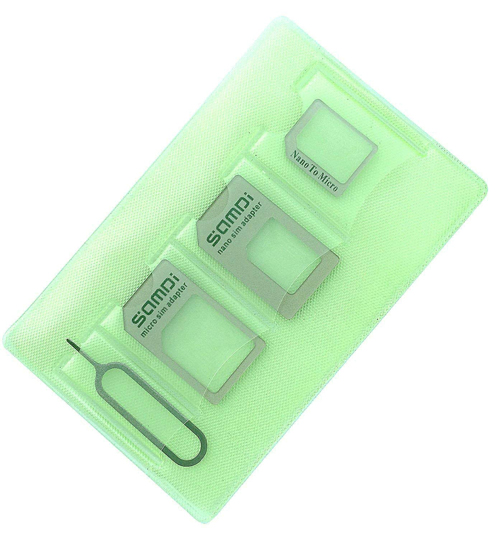 Most phones today use nano-SIM cards, particularly iPhones. But older phones don't support, and that's when SIM card adapters will be of use for you. The Samdi SIM Adapter is among highly rated adapters to use if you want to use nano-SIM cards with another phone or tablet that don't support this size.
It's an excellent choice for converting nano-SIMs to standard or micro sizes since it is easy to use and comes in a kit with the actual adapter, a PVC storage sheet, and a needle. For an excellent price, you can get a complete kit to use when you want to switch onto another smartphone and change the SIM.
Samdi is a popular SIM card adapter used for iPhones. It's made of high-quality material that ensures the durability of the adapter. It also helps that the SIM card adapter is transparent, which allows you to see the card clearly and therefore, never worry about misplacing it.
TechRise SIM Card Adapter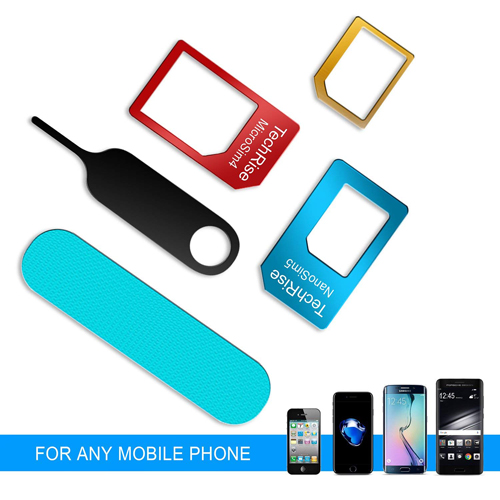 If it's an affordable SIN card adapter you're looking for, TechRise offers one of the cheapest ones around. This kit includes 5 pieces of use for converting your SIM card – 3 adapter pieces to switch the SIM from smaller sizes to the standard size, a sandbar, and a needle bar.
The best feature of TechRise SIM card adapter is it comes color-coded. The 3 adapters are in red, blue, and yellow colors, which don't only look pretty but practical as well. It isn't like the boring white or black adapters ad it makes it easy to spot the SIM when you need to use it.
When it comes to the material, this SIM adapter is excellent. The SIM is sturdy for it's made of stainless steel while also ultra-lightweight. Each element of the kit is precisely cut, ensuring your SIM will fit snugly, and the SIM adapter fits snugly into your device, as well.
Aerb Adapter Converter Complete Kit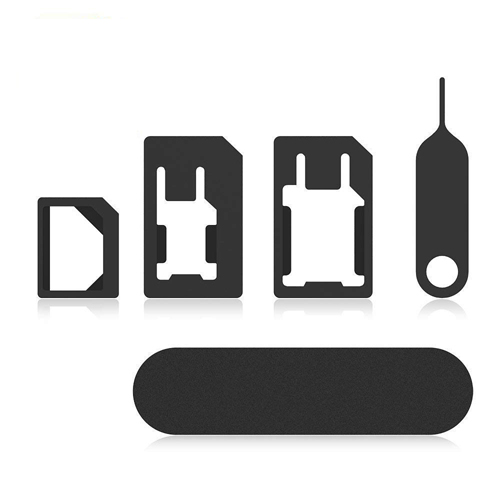 The most notable feature of Aerb Adapter is that it looks cool with the elements cut in precise shapes, not to mention it uses a high-quality material. Aerb Adapter is a complete kit of affordable SIM adapter that helps you convert any small SIM card into standard sizes so that you can use it to any device.
Of course, the use of this SIM adapter/converter is reversible. That is, you can use it to change nano or micro SIMs into standard SIM and then change it back. As a kit, it includes a sandbar and a needle, which ensures you won't lose the SIM while you convert them.
iCoolkit Nano, Micro, Standard SIM Card Adapter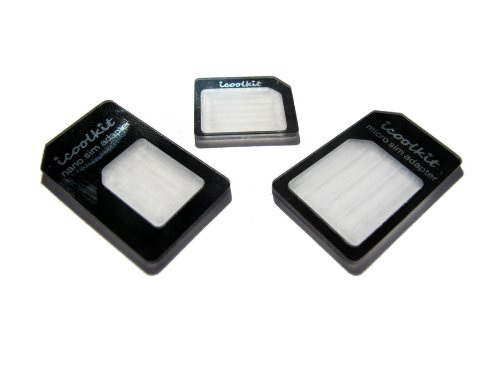 The iCoolkit SIM card adapter is worth a couple of bucks and is definitely worth to buy if you want to be able to use a single SIM into different devices. This kit also includes 3 adapters – 1 nano to a micro adapter and 2 nano to micro to standard adapter.
It offers an easy way to convert your nano-SIM card so you can use it in any type of mobile device. Along with the adapters, the kit also includes a size guide just in case you're confused about what to do. Each adapter is durable and precisely cut, ensuring no slip when you use them.
Mobi Lock 3 in 1 SIM Adapter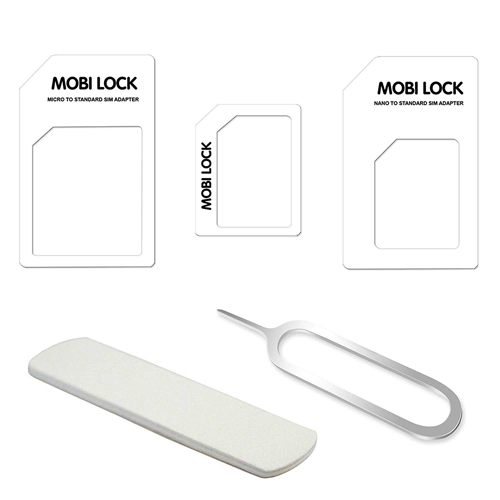 Of the many SIM card adapters you can find in the market today, Mobi Lock 3 in 1 adapter is one of the smoothest, stylish ones. Like all of the adapters mentioned in this list, it features different adapters – a nano to micro SIM, nano to standard SIM, and a micro to standard SIMs.
Besides the adapter, the kit also includes a needle to make the use of the kit easier. The material used to make the adapters is durable, designed never to break or bend. These shiny cards are carved precisely, so they fit perfectly for your SIM card and into the SIM slot of any device.