Is your desk space feeling a little cramped? Do you want to maximize the productivity of your office and make it as ergonomic as possible? If so, then you need to invest in a quad monitor stand. There are many different kinds on the market today, but not all of them will meet your needs. To help you find the right one for you, we have put together this list of five great options that can be found at various price points. Read on below for more information!
VIVO Quad Monitor Desk Mount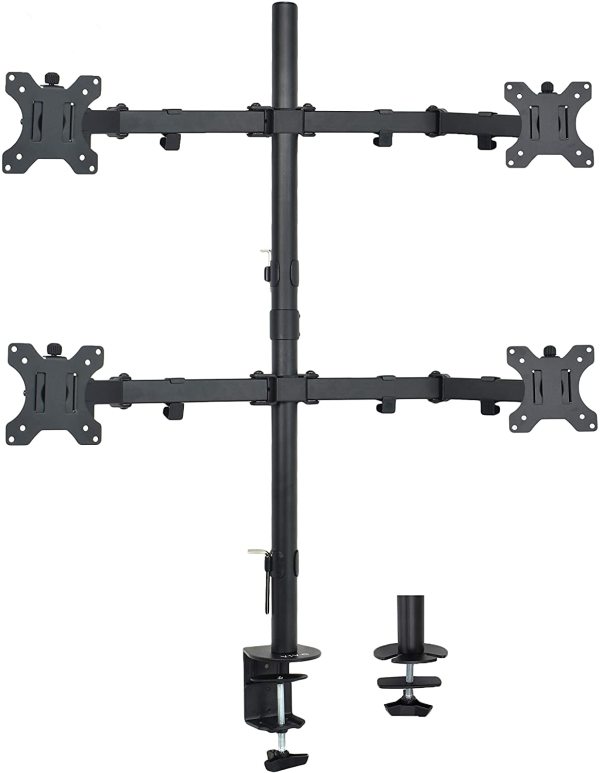 With its compatibility with a variety of arm accessories, this VIVO Quad Monitor Desk Mount is perfect for anyone looking to create an eye-catching desktop display. Coming in four colors and three shapes, the many adjustment options allow you to change the arrangement when needed too!
With mounting plates that detach and height adjustable supports compatible with VESA mounting holes 75x75mm and 100x100mm, it will fit most displays. This desk mount's two-stage locking system C-Clamp and 4" diameter Grommet Base both connect to your desk thick (up to 4″) ensuring safety while also fitting effortlessly into any office setting. 
At first glance, you may think this product only does one simple job but there are so many more nuances. The Quad Monitor Desk Mount not only lets you mount your monitors on the desk but it also allows you to switch between landscape and portrait modes.
WALI Quad LCD Monitor Desk Mount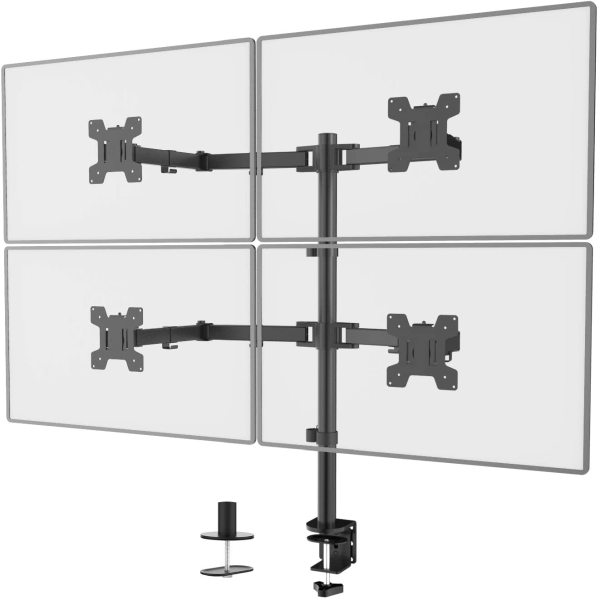 With a set of four monitor arms and two mounting options, this WALI Quad LCD Mount from its wide range of compatibility and adjustability will be perfect for your office or home.
The high-grade stainless steel frame arm is extendable from 12" to 47", and is fully adjustable across the arm. It also has antiskid rubber pads on all 3 legs to grip to surfaces while preventing scratches. With multiple tilt angles moving across parts of 270°, you are sure to find the position that suits your needs.
This mount can even switch between landscape mode or portrait mode thanks to its rotation feature — which makes it perfect for homes with video editing computers. Two-stage locking system C-Clamp plays well with VESA 75x75mm and 100x100mm.
You may be worried about the weight but don't worry-we've got you covered with 22lbs worth of support per arm. If stability or mobility are uppermost concerns then look no further than the WALI Quad LCD Monitor Desk Mount.
HUANUO Quad Computer Monitor Mount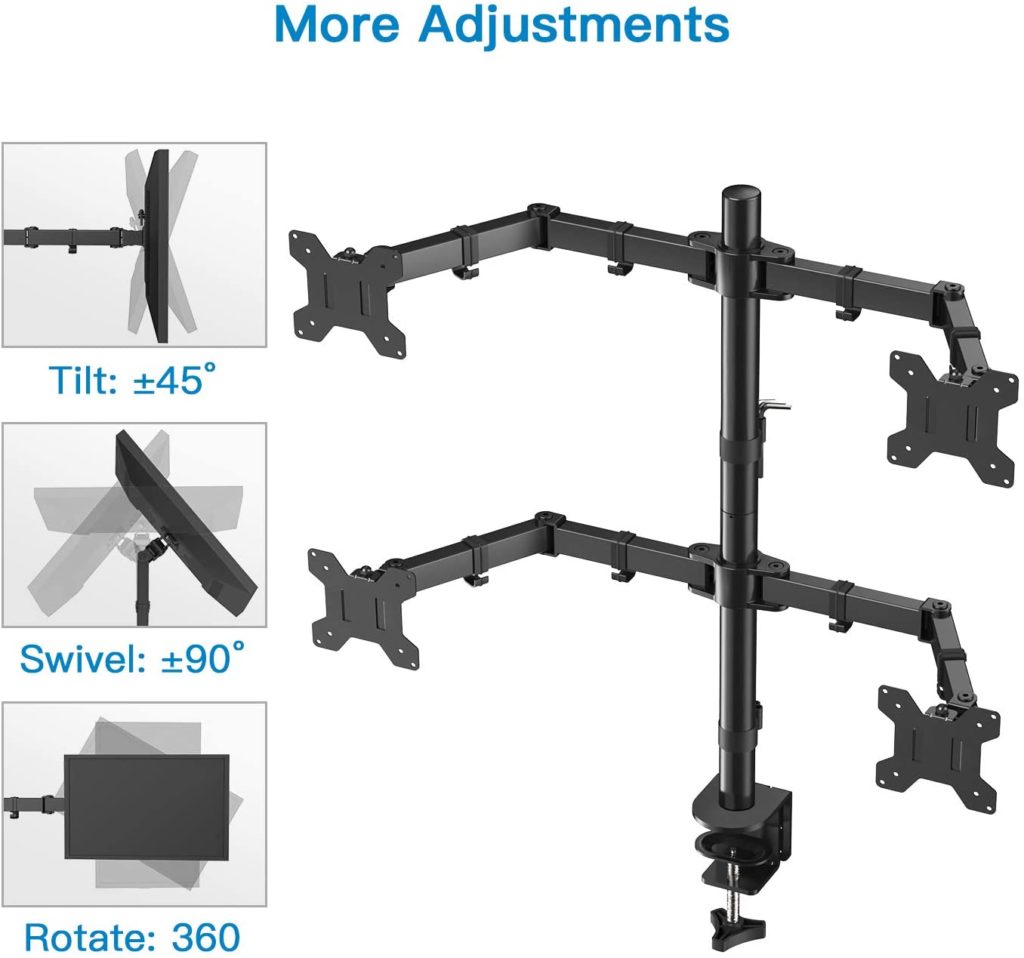 Most of us have desks that take up way too much space. Imagine having four screens on your desktop, instead of just one or two. The HUANUO Quad Computer Monitor Mount makes this possible with its ability to securely hold four monitors ranging between 13-27 inches and weighing up to 17.6lbs each without a problem!
The HUANUO Quad Monitor Mount is the perfect solution for computer techs with four screens to set up and optimize. The stand can hold four 13″-27″ monitors (up to 17.6lbs) with VESA mounts, so that you can save space on your workstation and work more efficiently, all without sacrificing ergonomics!
You have plenty of flexibility to angle the screen however you need it- -45°to +45°tilt, -90°to +90°swivel and 360°rotation- as well as removeable VESA plates that raise or lower monitor height slightly in order to align everything nicely. What's not to love?
Stand Steady Freestanding 4 Monitor Mount Desk Stand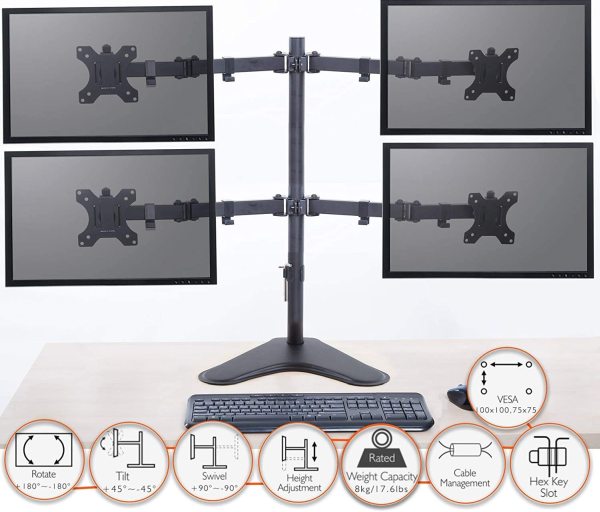 Set your monitors to your correct ergonomic height with the Stand Steady Freestanding 4 Monitor Mount Desk Stand! Easy to maneuver, this monitor mount is perfect for long-lasting use and will fit monitors 13 – 32 inches.
It will save you time every day by providing articulation of plus 90° and -90° on all four screens, just in case you need to readjust quickly. When your team needs a strong computer monitor stand but are running low on space, this package comes complete with fast installation capabilities that won't take up much room!
With its easy adjustments, this mount will adapt to suit any standard office desk or home workstation. Get full motion articulation of up to 34.5 inches, 180° tilt and 360° rotation options for three screens from 13-32″ in size and 17 pounds each per monitor on a stand steady monitor mount!
Krieger Quad Monitor Mount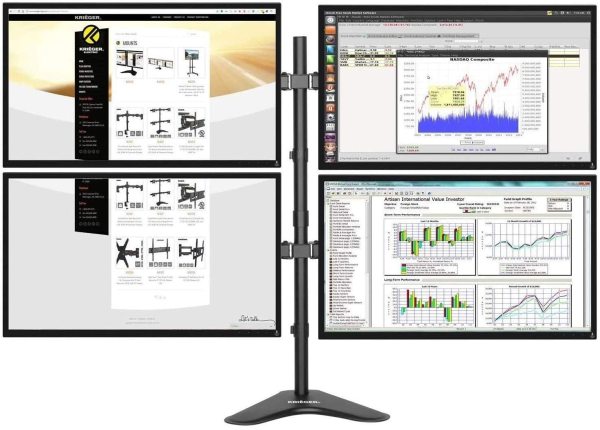 The Krieger quad monitor mount is carefully designed to hold 4 computer monitors, 13″ – 32″ in size. It uses high grade materials with a heavy duty base that will provide support for the screens and its 17.6 lbs maximum weight capacity per monitor.
Detachable VESA bracket plates allow for easy installation and have no attachments to your desk which allows you more flexibility during installation. Its rotating mounting heads extend and retract as well as tilt to change reading angles or rotate from landscape-to-portrait mode, whatever is needed most by you at any given time!
This heavy duty, VESA compatible, and easily adjustable option provides a safe secure fit for 4 monitors of any size – making it perfect for corporate offices or home business owners alike. This mounting system is also designed to be attractive, light weight but sturdy- so you can't go wrong!
Conclusion: Whether you are looking to save money or invest in a higher quality monitor stand, there is something for everyone on this list. Take the time to look over each one and see which will work best for your office. You can't go wrong with any of these options as they all have great reviews from customers who used them! We hope that our article helped you find the right quad monitor stand so that you can maximize your productivity at home or at work today!