Without the right headset, chances are your gaming experience is far from reaching its full potential. When the sound is right in your ears, there are no doubts that some games become way easier, not to mention the entertainment. At the same time, a headset allows a deep communication with your crew. If you are the hardcore type, this aspect is mandatory for a top-notch result. The truth is that PS4 does come with a standard headset, but it does not do too much. Instead, it translates the chat only. The sound quality is far from dominating the market too. Fortunately, there are a few options that can seriously enhance your style.
When looking for the best PS4 headsets, make sure that you do it with your overall necessities in mind. So, what are the front running units in commerce? What are the features that make them so widely appreciated?
Turtle Beach Ear Force P12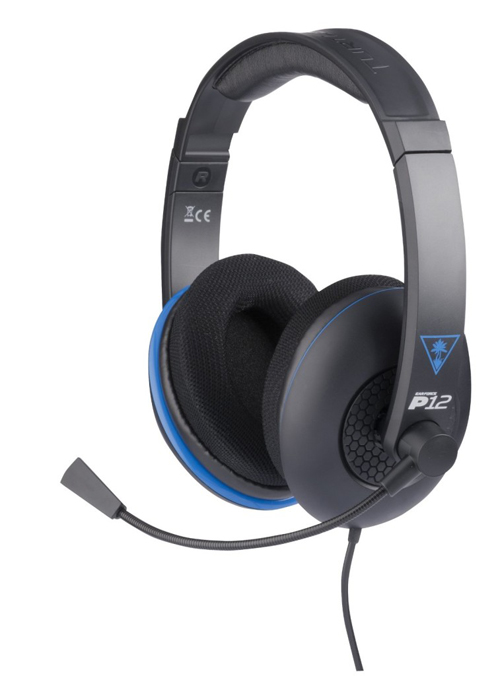 Turtle Beach headsets are extremely popular and for an obvious reason – they offer the best rapport for price and quality. The Ear Force P12 model makes no difference either. Apart from PS4, it also works with PS Vita and other devices. It comes with an amplified stereo sound, which is excellent when you play some music or engage into the game of a lifetime. You got high quality chat capabilities as well. The microphone is quite sensitive, but it is also fitted on a flexible boom for a more comfortable adjustment.
The microphone monitor allows you to hear your voice in the headset, only to prevent the instinct of shouting. Plus, the setup is piece of cake – connect the USB and enjoy both audio and chat.
Tritton Kunai Stereo Headset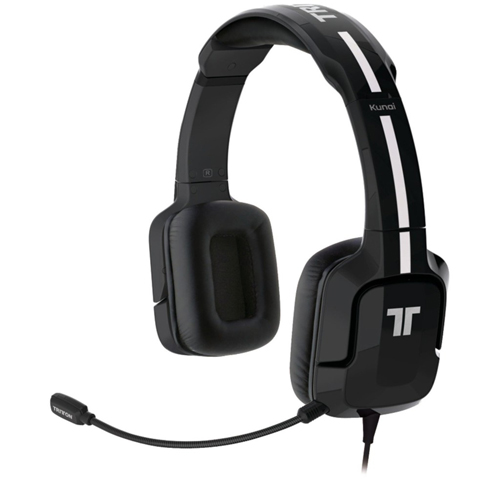 The Tritton Kunai headset is not just affordable, but it offers an over-the-ear experience. It comes with the classic 3.5mm jack, so it is compatible with pretty much any device that can play audio, including laptops, smartphones, tablets and other gaming consoles. It is widely used for PS4, yet it is compatible with PS3 and PS Vita as well. The fact that it works with other devices makes it a general headset that will prevent farther expenses in the future.
The overall design does not seem too bulky, like most other over-the-ear headsets. In fact, it has an ergonomic and adjustable design. It is elegant and stylish, so you can take it outdoors without worrying that you might look awkward. When it comes to the frequency response, it floats between 20Hz and 20kHz. It is powered by the controller though. In other words, it contributes to draining the battery as well. This is a slight inconvenient if you play your favorite games at home anyway.
Kingston HyperX Cloud II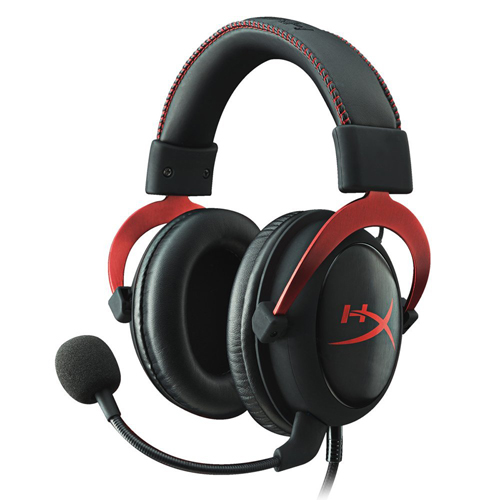 Built in Sweden, the Kingston HyperX Cloud II headset is the primary choice for the world's elite gaming clans. It has everything you might expect from a headset. It is large and covers the ears with bulky cups, yet it is lightweight and extremely comfortable. Ear cups are fitted with leatherette memory foam for extra comfort. They isolate noise like no other set. The microphone is great for gaming teams. However, it is detachable, so you can also go outdoors with this headset without feeling embarrassed.
The frequency response ranges at 15-25kHz due to the 53mm drivers. Controlling the volume is piece of cake due to the in-line buttons, while the mic-mute button adds to your convenience. Cables will never cause any trouble as they are tangle free. What makes this unit one of the best PS4 headsets? Funny, but its popularity is also given by its outstanding compatibility – PS4, MAC, PC, tablets, smartphones, Xbox One and so on.
PDP Afterglow Kral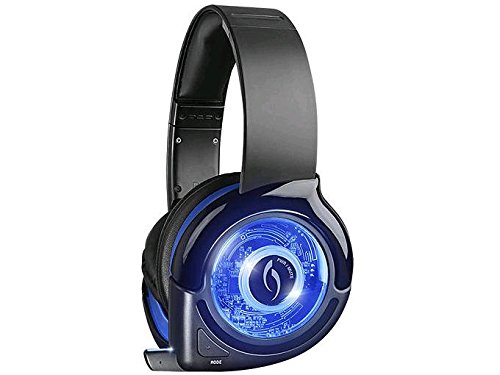 This product is among the best PS4 headsets with its exquisite capabilities, as well as the unique design. It is compatible with most devices that can play music, including computers and mobile devices. The connectivity is flawless for around 100 feet. Go farther and you risk facing issues. It is wireless and embraces the Avnera technology, as well as a mini USB transmitter.
Controlling the headset is a breeze with the volume control on the cup. As for its noise canceling capabilities, you can leave yourself in good hands. Communication has never been more efficient. Ear cups are anatomically contoured for a more comfortable experience. The cool blue glow might be disturbing if someone else is trying to sleep in the same room, yet it adds to the futuristic profile. The bass boost mode and the good battery life add to its features, as well as the incredibly easy setup. Basically, you can use this headset out of the box, without going through any sophisticated features.
Turtle Beach Ear Force PX4 Wireless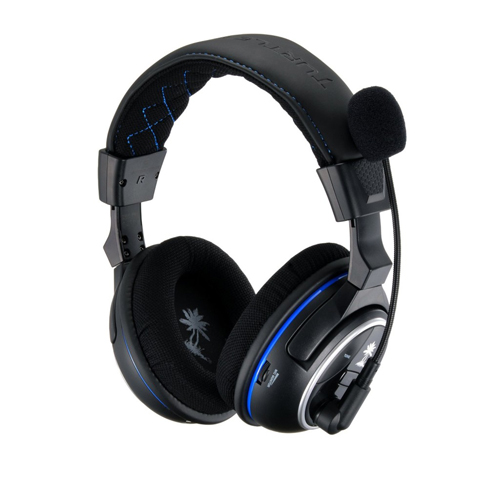 When browsing the best PS4 headsets over the Internet, you will inevitably run into this model as well. It provides a crystal clear 100% Wi-Fi connectivity, but it is also compatible with both PS4 and PS3. When it comes to PS4, the chat is wired to the controller, while the audio is wireless. The Dolby Digital Surround Sound is one of the most attractive features about this headset. Whether you play or you watch a movie, the sound is extremely clear. When playing music, you will hear sounds that you have never noticed before.
The dual-band Wi-Fi technology prevents interferences, but it also adds to the quality and clarity. On the other hand, dual pairing works in several directions. In simple words, you can answer mobile phone calls without quitting or leaving the game. The two activities can be thoroughly combined without any inconvenience. Finally, enjoy the comfort associated with thick pads, breathable meshes and the adjustable headband.
Polk Audio Striker Pro P1 Universal Gaming Headset
Guaranteed quality at an accessible price is definitely what you can expect from the Polk Audio Striker Pro P1 Universal Gaming Headset.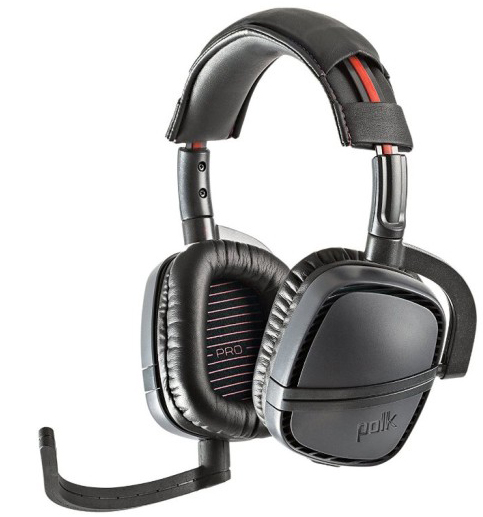 Features:
Very flexible and compatible with PlayStation 4, Windows XP and Vista, Mac, Nintendo 3DS and Wii, as well as Android devices.
There is a built in remote with controls for the master volume and the microphone
There is a special microphone attenuator switch, to prevent loud voices from becoming distorted
It comes ready with three detachable cables
Polk's sound quality audibly present in all sorts of environments
Pros:
Supports a vast amount of different platforms
It is a high quality, limited edition headset
Amazing quality at a very low price
If you are in need of a good quality headset, but you can't afford to spend too much for the really luxurious high end products, this is a really good deal, combined with the premium quality you wouldn't expect at this price.
Turtle Beach Ear Force Recon 50P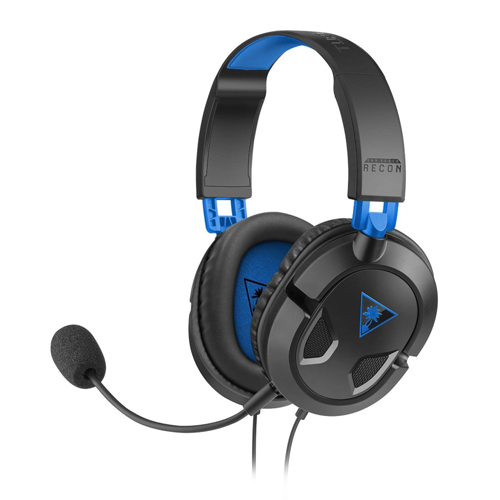 Features:
This is a fairly new series, coming up with an adjustable boom mic and neodymium speakers
Sleek controls help you adjust the master volume at any time, or mute the mic
They have comfortable leather cushions and is considered to be fairly light to wear
Pros:
Very affordable and the quality is good
Comfortable to wear, and aesthetically pleasing
The microphone is very good, as is the layout of the controls
Two different versions available for PS4 and Xbox One gamers
Conclusion
As a short final conclusion, no one will ever force you to stick to the standard headset coming with PS4, especially since its capabilities are limited. Those who truly care for their experience will spend some more and invest in a solid unit with the optimal features. Make sure that you know what you are buying, so research each feature when considering the best PS4 headsets in commerce.