You're in the market for a new scanner, but you have no idea which one to buy. We can help! In this blog post we will introduce you to five of the best portable scanners that are currently available on the market, and give you a little bit of information about each one so that you can make an informed decision.
If you're going to be scanning documents or receipts on the go, then it's important that your scanner is compact and lightweight. You want something small enough that you can just slip it into your laptop bag when not using it so as not to have any unnecessary weight dragging around with you.
In addition, you want to make sure that your scanner is made of durable material so that it can withstand the bumps and bruises of a busy day on the go without breaking down. Finally, you'll want something with great battery life in case you're out scanning for long periods at once – especially if using this as an option instead of a desktop scanner.
5 Best Portable Scanners
Ready to buy one now?! We have links below so you can learn more about each scanner, read reviews from previous buyers that have experience with it, see what peripherals are available for it if any – all without leaving this page! Let's go through these five scanners in detail.
Canon imageFORMULA R40 Office Document Scanner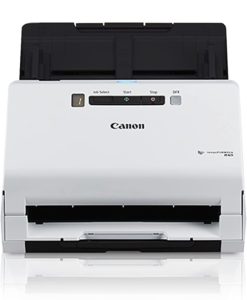 Get a clear snapshot of the world around you with the Canon imageFORMULA R40 Office Document Scanner. This document scanner is fast and efficient; scanning both sides of a sheet at the same time with professional quality color scans up to 40 pages per minute from a 60-sheet automatic feeder.
It has an automatic feeder for quickly converting stacks of files, and is compatible with Windows and Mac computers as well as various document types like receipts, photos, business cards, reports, contracts. This scanner also comes packaged with some easy-to-use software like Canon CaptureOnTouch for quick scanning on the go.
Brother DS-740D Duplex Compact Mobile Document Scanner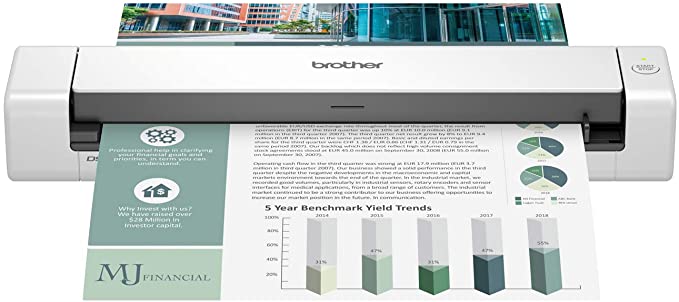 The Brother DS-740D Duplex Compact Mobile Document Scanner is a fast and effective way to scan double sided documents in a single pass, at up to 16 pages per minute. With 1 touch scanning you can easily scan back and front of your document or business card with built in OCR.
Using the DSD function you will save 11 inches of desk space while not sacrificing quality or speed. In addition, it's lightweight shape allows for easy portability wherever needed! The device is powered by USB network cable which makes it usable where there are no outlet plugs available.
This ultra-thin scanner's design lets you store it practically anywhere while saving 11 inches of desk space. Whether you're on a bus or your house is being renovated, never worry about not having access to quick scanning again: just grab this tiny device out of its bag pocket or purse when needed!
Fujitsu ScanSnap S1300i Portable Color Duplex Document Scanner

The Fujitsu ScanSnap S1300i Portable Color Duplex Document Scanner is the easy and portable way to scan all your important documents. The 50 page automatic document feeder scans 12 double-sided pages a minute, meaning you can quickly complete all your tasks with one touch scanning while still holding 10 pages in memory for quick backup!
Quick Menu options are available either on PC or Mac to best suit your workflow – it couldn't be easier. You'll have access to intelligent automatic image processing including color detection, paper size detection, skew correction, and orientation for all of the most common use cases.
And if you want even more from your scanner? Simply scan documents directly into cloud storage such as Dropbox and Google Drive where they're easily accessed from any device.
Vupoint Solutions Magic Wand Portable Scanner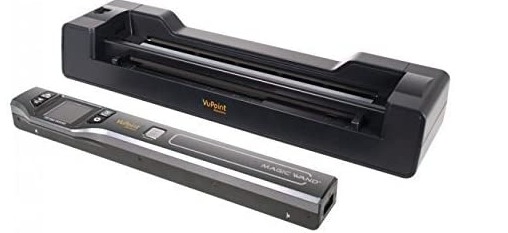 The Vupoint Solutions Magic Wand Portable Scanner is your best friend to easily scan, archive and organize files. With the ability to store up to 32GB of scans, save time and money! You'll wonder how you lived without it.
It provides fast, high quality scans in 1200 DPI with an approximate 1-inch class color LCD panel for previewing scans.
Uses rechargeable Lithium Polymer battery which starts from about 2 hours of continuous scanning on full charge; 8.5-inch x (Scanning length) up to 125-inch, automatic two-sided scanning.
Doxie Go SE Wi-Fi – The Smarter Wi-Fi Scanner

Doxie Go SE Wi-Fi is the ultimate on-the-go scanner that lets you scan anytime, anywhere – no computer required. With a rechargeable battery and USB cable included, you can travel worry free knowing Doxie will always be ready to go when you are.
These lightweight scanners come in an easy to tuck away size and syncs with your Mac, PC, iPhone, or iPad. It's simple to swap paper for this high quality wireless scanner capable of scanning up to 400 pages per charge at up to 600dp; even more impressive is scanning speed that takes just 8 seconds for no loading time between sheets!
You're also able to store up to 4,000 scans before needing a sync which means less time plugged into a power source and more freedom when it comes to taking those paperless notes! It's as tiny as an issue of Rolling Stone magazine so you can tuck away some scanner wherever you roam!