Some people like to go on adventures with their friends and family, but there are some of us who prefer to take a more hands-on approach. When you're the one behind the wheel, you can decide where to eat lunch or stop for gas, so why not try your hand at navigating too? There are plenty of portable GPS navigation systems out there that will help make this process a lot easier. In this blog post we'll be talking about 3 of our favorite portable GPS navigation systems for cars.
There are still a few companies manufacturing high-quality handheld GPS devices, which also make great companions when traveling. Sometimes rental car companies don't include them or charge an additional fee to rent one and if you dislike having to use your smartphone while driving, packing one of these units makes life much easier!
What are Portable Car GPS Navigation Systems?
Portable Car GPS Navigation Systems are a must-have for any driver these days. They can be used in a variety of scenarios, whether you're on an adventure or just commuting to work.
A portable navigation system is the perfect way to keep your driving safe and efficient. It could even save your life if it warns you about upcoming dangers such as red light cameras or speeding zones! Plus, they are super handy when looking for directions because they have built-in maps that will help guide you along the right path every time with voice prompts and turn-by-turn directions – no need to stop at gas stations anymore!
Why is the gadget preferred to mobile phone?
GPS navigation systems are more accurate than mobile phone apps.
Navigation systems can be used offline, without a data connection.
You don't need to buy and download a map for your navigation system.
GPS navigation systems have better voice recognition capabilities than most mobile phones.
The screen on the navigator is bigger and easier to read than a small smartphone screen.
Navigation systems are less distracting because you're not looking at your phone while driving.
3 Best Portable Car GPS Navigation Systems
Garmin Nuvi 2589LMT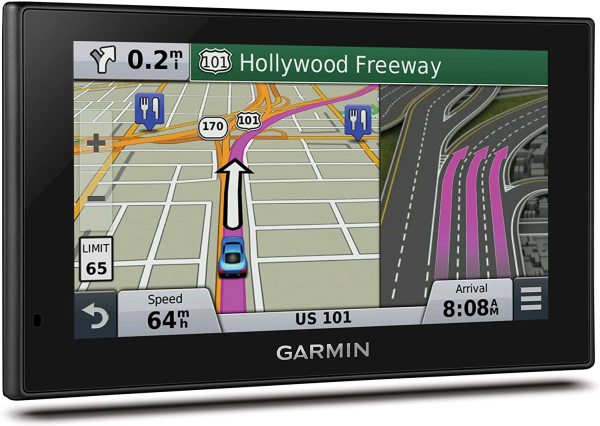 Garmin Nuvi 2589LMT is the world's best-selling navigator. With exclusive features like Foursquare, Direct Access and Lifetime Updates, this product can offer routes to all of your destinations with confidence.
The Garmin Nuvi 2589LMT is ideal for navigating complex destinations like malls and airports. This GPS device comes with 5-, and 6-inch displays. It features a glass, pinch to zoom touch display with dual-orientation capabilities so you can read your information in portrait or landscape mode. The unit is designed for the long trips as well since it comes with lifetimes map updates that help keep the maps up to date.
The Bluetooth capability has voice activated navigation and smartphone link compatibility so you will not have any problems using this mountable battery powered handheld navigator; just speak commands into your car's speakers or headset
Hailed by Cars.com as "one of the very coolest tech innovations in the automotive industry" for its innovative navigation features and intuitive user interface, this navigation system is perfect for anyone that spends a lot of time in their car or wants an enhanced experience driving through complex freeways and intersections. Handset folds nearly 180 degrees enabling easy viewing even when tucked into your dashboard!
Garmin Drive 50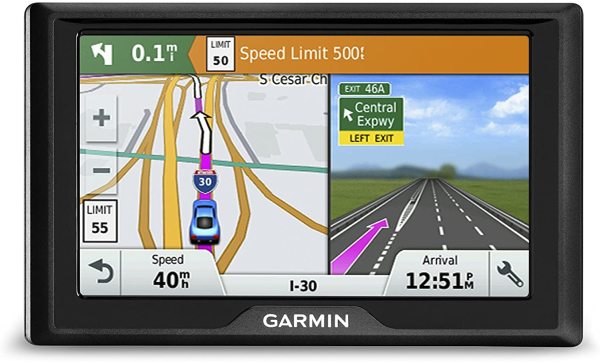 The Drive 50 is a helpful navigator with lifetime traffic avoidance that simplifies difficult routes by letting you select complex destinations. It has comprehensive display options, which includes on-screen map guidance and directions in the spot where it matters most: on your windshield.
The Drive 50 also offers pedestrian mode to guide you when walking so you can carry it along on your travels without having to worry about losing connection or battery life.
The Drive 50 even incorporates audible alerts for upcoming sharp curves, speed changes, school zones, red light cameras near at hand and fatigue warnings as an extra safeguard against ill driving habits—not to mention never running out of juice thanks to its lithium ion rechargeable battery.
The Garmin Drive 50 has an autopilot feature which notifies if it has been inactive for a certain time frame. This product comes loaded on vibrant 4.4″ display and has bright white backlight that is easy to read anywhere and at any condition. Instant turn by turn directions from the simple touch of a button.
This device comes with free lifetime traffic avoidance alerts for a stress free driving experience.
TomTom Via 1525SE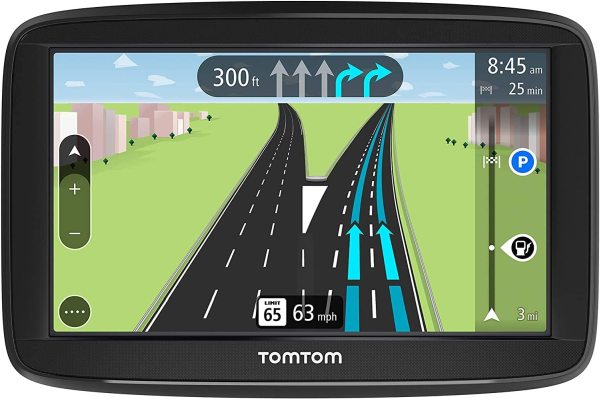 You can navigate the fastest and fairest routes with live, on-the-go traffic updates. The TomTom Via 1525SE's navigational system synchronizes your current location with real-time data from the map to show you a variety of routes in different colors—ranging from green for most optimal to red for least optimal. Once selected, highlighted lanes guide you effortlessly along your way and automatically adjust based on your next turn or exit. For added convenience while driving, each route includes its expected travel time (ETA).
Offering free software updates and maps ensures that this GPS is never obsolete. Access online map data and database; no more pesky CD/DVD purchase needed! And if that wasn't enough, it can speak instructions.
The TomTom Via 1525SE offers everything you need for traffic updates to keep you moving smoothly, free map updates of the United States with all the latest changes in junction views, and a 5-inch touchscreen display that is perfect for touch control navigation features.
Regardless of your travel plans being road trips across the country or simply around town, this GPS will guide you effortlessly with spoken instructions in more than 30 languages! Need something entertaining while traveling? You can split screen junctions to see different routes at a split second glance.