If you are looking for a controller that can help you play shooting and fighting games better, this article will help you find a suitable one.
Game Controllers for Shooting Games
Hori Pad FPS Plus
The new Hori Pad FPS Plus from Hori will be a new controller for FPS gamers looking for a precision and control. It offers not only touchpad capability but also a wide range of value added features which are dedicated for shooting game.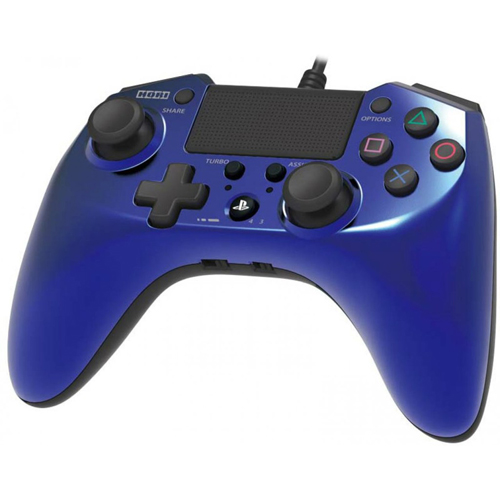 Similar to its original Hori Pad FPS, the Hori Pad FPS Plus still keeps the asymmetrical thumb stick placement similar to the Xbox controller's. And the controller has a sophisticated metallic finish.
Hori Pad FPS Plus Features:
– Sensitivity toggle button. It allows player to change up to 3 levels of stick's sensitivity. This controller's sticks already apply a constant pressure feedback lending to precise aim and control already but sensitivity toggle button will help push aiming accuracy.
– Turbo feature for Face/D-pad/Trigger buttons.
– Custom button mapping support.
The only con is that the light bar, motion sensor, and headphone jack are missing.
The Hori Pad FPS Plus is compatible with both the PS3 and PS4. It comes with a 3 meter length wired cable. The black version was released in Japan in July, the blue & red version will come out on October 1st, 2015. if you are finding a PS4 controller for FPS games, this controller is a good replacement for PS4's Dualshock.
Tactical Assault Commander 4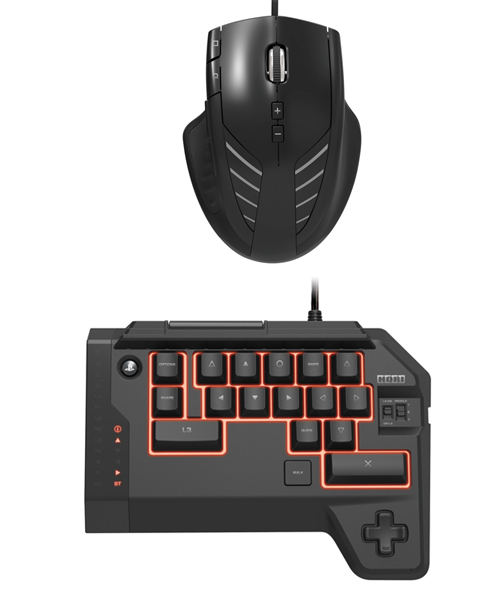 Tactical Assault Commander is a combo of a mouse and a keyboard. It offers some features which are dedicated to FPS. One feature everyone will love is snipe mode, it decreases the responsiveness of the mouse while aiming for an easier headshot. The Tactical Assault Commander is not cheap at all.
Game Controllers for Fighting Games
HORI Real Arcade Pro 4 Premium VLX KURO Fighting Stick
Although the new generation games are massively taking over, and proving to be some of the most popular franchises today, almost every gamer has built their foundation on the classic arcade games we all know too well. If you are a big fan of the Japanese arcade games, there's nothing better to go with than the HORI Real Arcade Pro 4 Premium VLX KURO Fighting Stick.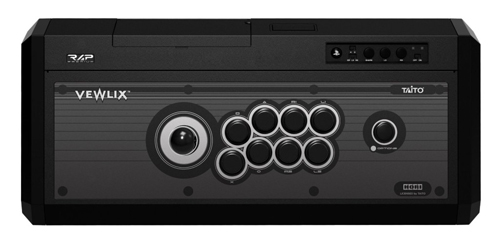 Features:
Perfectly replicated and based on the original Taito VEWLIX arcade cabinets of Japan
Original HAYABUSA stick lever and KURO buttons, both currently used on Japanese arcades.
Remove three screws to easily access internal parts and perform maintenance
Comes with a touch pad and programmable buttons to help customize your arcade experience
Pros:
Spitting image replica of the original VEWLIX arcade
Smooth and comfortable design
Perfectly emulates a Japanese arcade experience
Officially licensed by SCEA and Taito
Compatible with both PS3 and PS4
This is a premium edition, state-of-the-art fighting stick for those who are big fans of Japanese arcades, and eager players can now finally bring this entire experience to their very home. For every committed fan of the franchise, this is a sure hit and an item that is definitely not supposed to be missed.
HORI Fighting Commander 4
For those of you who enjoy fighting games, you must know it all too well that it gets fairly hard to find a perfect kind of a controller. HORI might have been able to notice this issue and fully address it with its Fighting Commander 4 Controller. This controller is compatible with both PS3 and PS4 platforms. Coming along with six front facing buttons, as well as the top triggers, L1, L2, L3 and R3, it can be programmed to map special moves for fighting games. For players who regularly enjoy this genre, this controller is everything you will need.
Features:
Rotatable D pad for better control
Given access to 8 buttons with your right hand
Turbo pad
Fully adjustable D pad sensitivity to suit each player
Officially licensed by SCEA
Wired controller to bypass input lag issues
Reinforced rubber membranes to boost durability
Compatible with PS4 and PS3, as well as PCs
Pros:
Lightweight and extremely durable
Perfect for fighting games
Total adjustability for the controls
No input lag
All in all, this is an affordable and handy little controller that might just do a splendid job in fighting games. Other than that, its lack of analog input makes it pretty much useless for any sorts of games that require the analog sticks to be present. Its comfortable design and lightweight construction are certainly going to make it very easy to get used to, so if you are on the market for a new controller, this is certainly a great option to take into consideration.
Hori Fighting Stick Mini 4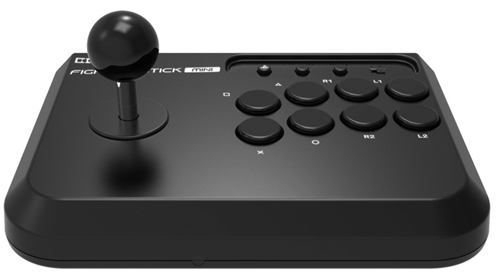 The fighting stick has compact design but it still has all the features of a normal arcade stick controller. It still keeps 8-button layout and micro switch activated joystick and features Turbo functions. Even though it is compact, the Hori Fighting Stick Mini is comortable and has enough room to rest your wrist. Its rubberized feet grip firmly to smooth surfaces so it is really stable.