Yoga teacher certifications are becoming popular as your daily schedules get hectic and busier. Online training is a remarkable choice that provides the student with the whole thing needed in order to complete the training at a flexible and less expensive rate. This also gives you the freedom to use resources, which work best for personal practice and, in some cases, provide a greater period of time to work in all the material. If you want to earn a certificate in Yoga, here are the best yoga training teacher courses you need to consider.
10 Best Online Yoga Courses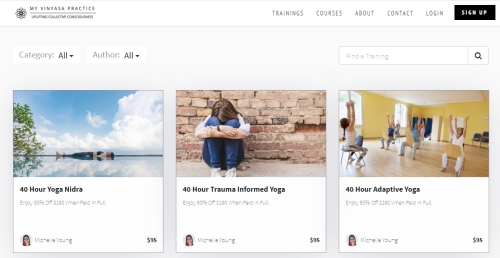 This is a remarkable course made of a boutique yoga school in Texas. Developed by Michelle Young, a renowned Yogi, her courses offer a cheap alternative to an in-studio yoga training teaching while offering the instruction and feedback required for the students to graduate with the confidence to start the journey in teaching yoga. This is totally a self-paced course.
Uplifted Yoga is one of the best yoga teaching courses that offers many perks and is perhaps the most high-touch yoga certification available online. There are lots of live video conferencing, and will be a part of the yoga community.
Radiant Warrior Online Yoga Teacher Training offered by Yoga Farm Ithaca sets apart from the rest due to its high engagement with the students who soon to be teachers and also due to the addition of mindfulness into the program.
The Online Yoga School is Yoga Alliance registered, offering a yoga teacher training certification online inclusive of 200 hours. This is cost-effective and also provides the flexibility of an online or anywhere course.
Another remarkable yoga teacher training course is Kaivalya Yoga Course that was built and supervised by Allana Kaivalya, PhD.T. The course takes account of 6-month access to three training modules, over 200 hours of higher education in Yoga, and individualized feedback from elite mentors.
YogaRenew is a remarkable yoga course to become a certified yoga instructor. This course gives the chance to intensely enrich the yoga practice as well as an understanding.
Another remarkable online course for the best of in-person training. Yoga International made an online training course which will be the pilot for intended online offerings.
This is considered the most energy-lifting, thorough, fun as well as internationally connected courses accessible when you want to pursue an online certification for yoga teacher.
Created by Sunny Richards, this Online Yoga Teacher Training by Santosha enables you to practice at your own pace to suit your situation and your lifestyle as well.
YogaFit course is a yoga teacher training for 200 ­hours that offers the basics in becoming a qualified yoga teacher or take the practice to a higher level. This is perfect for advanced yoga practitioners as well as yoga enthusiasts, group exercise instructors, personal trainers as well as yoga curios out there.