When it comes to office supplies, there are a lot of things that can be used for all sorts of purposes. Laminating machines are one of those items. They range in price and size, but each has its own purpose and benefits to offer. One might be better suited than the other depending on your needs or expectations. In this article, I will review five different laminating machines with pros and cons for each so you can make an informed decision about which one is best for you!
Why Do I Need a Laminator?
A laminator is a device that heats up an enclosed piece of plastic and then presses it against the paper or images to be laminated. The process creates one cohesive unit with a glossy, protective finish.
One reason you might need this machine is if you have kids in your family who are constantly making crafts and projects in school. You can laminate the pieces of paper they use so those memories don't fade or get ripped up from years of use.
Another reason you might need one is if you are a business owner who does presentations often for clients, customers, or employees. If you make large posters that have important information on them, laminating it will give it a nice finish while keeping your work safe and protected against wear-and-tear over time.
If these two scenarios sound like something that would be helpful to you as well then this article has five great options for laminating machines!
5 Best Laminating Machines
Amazon Basics 9-Inch Thermal Laminator Machine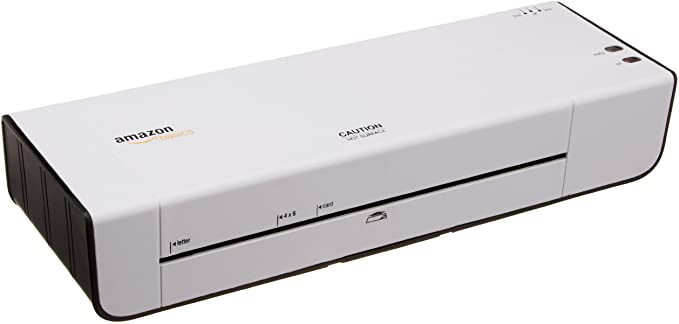 The AmazonBasics Laminator is a simple and easy-to-use device. Put your favorite family memories or office paperwork on the lamination pouches, remove air bubbles, then run them through the machine for an instant quality finish. The device has two heat settings: 3 mil (best for normal documents, photos, et cetera) or 5 min (best for more delicate papers).
The Amazon Basics 9-Inch Thermal Laminator Machine has a quick 4 minute warm up and can laminate your documents up to 9 inches wide. This laminator works with any 3 mil or 5 mil laminating pouch, and is either 2 or 10mil thick when you choose the setting based on the thickness of your document.
Scotch Thermal Laminator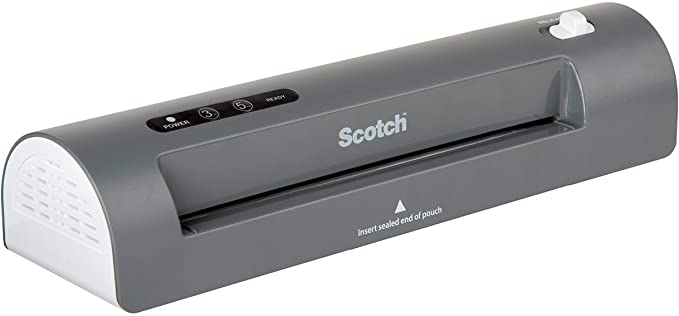 The Scotch Thermal Laminator is a great way to heat up, seal, and add durability to items like photos or pouches so you can preserve what matters most. With two settings that make it safe for use on pictures of family members or important documents, plus an easy roll feed system that makes sealing quicker than ever before- the Scotch Thermal Laminator is your go-to for keeping your favorite memories around forever.
The Scotch Thermal Laminator will have you laminating like mad with its two heated rollers that offer high quality, wrinkle-free protection on your photos and documents up to 9 inches wide using your USB. Plus, this printer uses pouches made from materials from as little as 3 mil thickness up to 5 mil thickness. Best of all, no matter what material you use or how thick the pouch is, The thermal laminator comes with starter pack set containing a thermal laminator and two letter size (8.9″ x 11.4″) starter pouches so you can get started straight out of the box!
Crenova A4 Laminator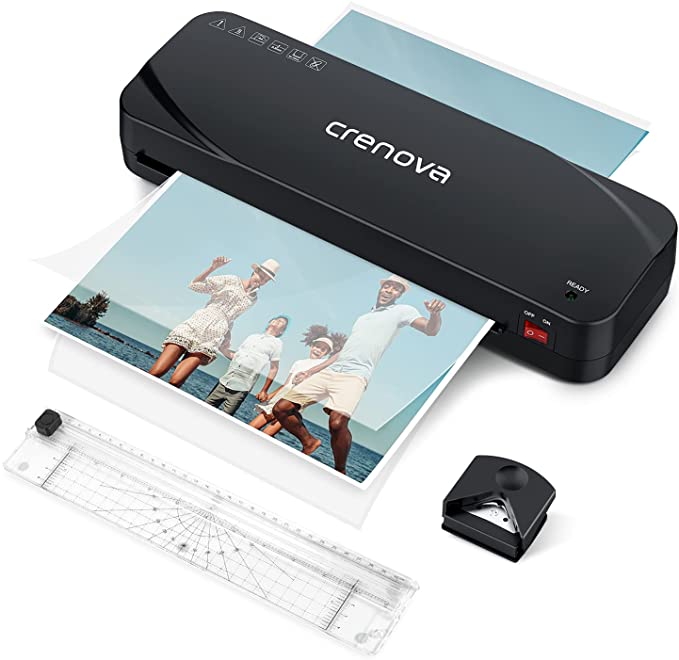 This A4 laminator is perfect for those looking to get started without investing in a larger machine. Expect to laminate 50 sheets per hour and 3-5 minutes of preheat time. An added benefit: The Crenova A4 Laminator comes with a corner rounder, paper trimmer, and 20 laming pouches so you can start right away.
Based on the 2 in 1 machine design, it has a paper trimmer and corner rounder to help you create professional looking presentations and reports. Furthermore, it takes only 3-5 minutes of preheating time before laminating up to 50 A4s per hour. The Crenova A4 Laminator is light yet powerful for its features Ð perfect for any desktop!
GBC Laminator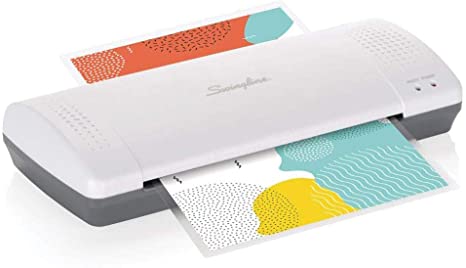 GBC Laminator is the perfect addition to any home or office. Its compact design and simple, user-friendly set up fit beautifully in tight spaces, but it also has plenty of features for the more demanding projects.
Compatible with a variety of 9″ lamination widths and rollers that help your items stay wrinkle free as you laminate them at a maximum speed of 9 Inches per minute. Designed specially for those looking for quality results with an easy installation process—GBC Laminator will meet all your needs without taking up too much space in your home or office!
UALAU 9 Inches Laminator Machine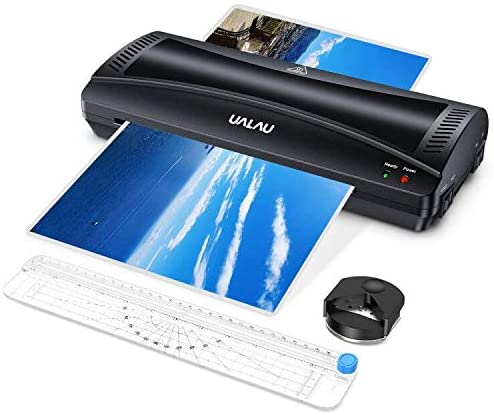 The UALAU OL280 4-in-1 Laminator is a versatile device that features a lamination machine, 20 handy laminating pouches. the trimmer and corner rounder. The result is an up to 9 inch wide document or photo which can be stored in this exceptional item for years to come with clarity intact. It also features Paper release ABS button inserted and no paper jam while reducing curl on coated papers from 0% to 10%.
Utilizing this product enables you to take care of your home, school or office needs with one convenient purchase and provides protection for years to come against water, dust, air pollution ect..
The OL280 laminator is compatible with laminating pouches from business card size to A4 paper, making it excellent for various different document sizes. The laminator can be used in home, school and office functions.
Bonus: 3M Laminator Kit With Every Size Laminating Pouch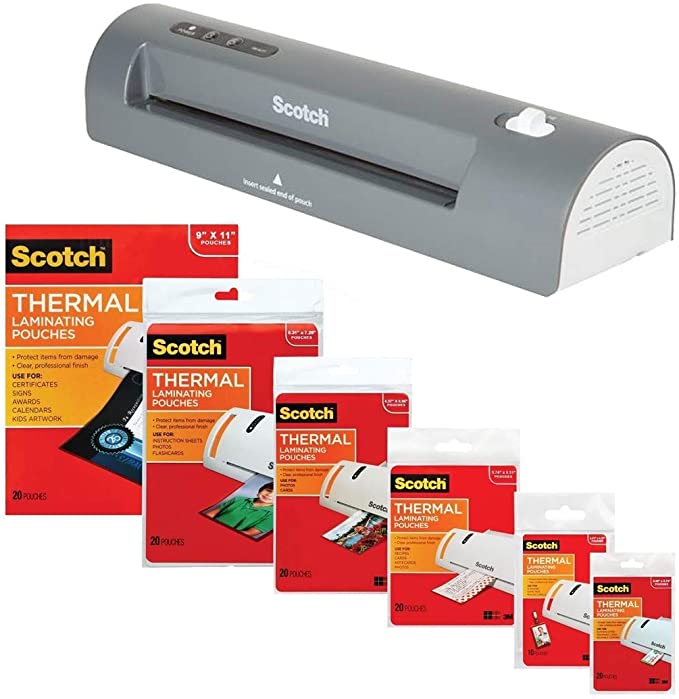 Quickly laminate photos, documents, presentations, or artwork with this 3M Laminator. It's great for home or office use and the range of laminating pouch sizes ensures you can find one that fits your needs.
3M takes pride in making an industrial-grade laminator that will pay for itself sooner than you know it – after all, in this day and age of social media and electronic everything, so much needs to be laminated that just isn't safe on computers anymore. Now any document or photo can be preserved as though it were printed on paper thanks to the gentle warmth of heated polyester film always conveniently at your fingertips thanks to our convenient pouch sizes!