The L-shaped desk is a popular choice for those looking to create an efficient workstation. The design of the desk allows you to have multiple monitors and an ergonomic position while still having space for your keyboard, mouse, and other equipment. In this artivle, we will introduce 5 of the best L-shaped desks that will fit any budget!
Factors to Consider When Choosing a L-Shaped Gaming Desk?
Durability: When it comes to durability, the key is in material choice. You'll want a desk frame made of steel or at least one with an aluminum exterior.
Design: The design of your L-shaped gaming desk will vary depending on what you're looking for and how much space you have available. Generally speaking, desks offer more than just sitting down and working. They also allow you to play games, watch TV or movies, and more!
Price: The price of your L-shaped gaming desk will depend on many factors such as what design it offers and the size of the work surface. Generally speaking, an average L-shaped desk can cost anywhere from $200-$600 for a quality build with advanced features.
Overall Consideration: When choosing an L-Shaped Gaming Desk, there are many different things to consider including design, durability, space available in your home or office building (if you're looking for something professional), and budget. These considerations will help guide which desk is best suited for you!
5 Best L-Shaped Gaming Desks
Le Crozz L-Shaped Desk Gaming Desk Corner Computer Table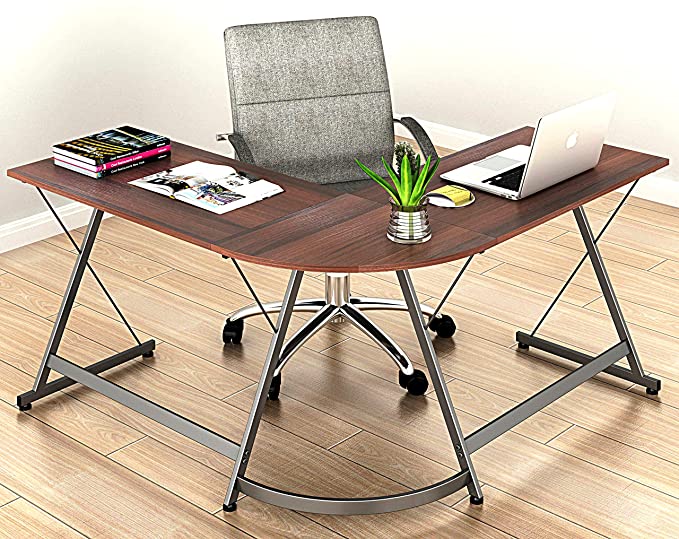 Le Crozz L-Shaped Desk Gaming Desk Corner Computer Table has a lot to offer, but it isn't your typical work surfaces. Not only does it have an incredible design that saves spaces in crowded rooms, but its footrest bar is perfect for those long stretches of time spent on this magical surface!
The first thing you'll notice about this desk is its innovative design. The interesting cutout corners allow you to fit this 3-piece unit into tiny corners where other desks would never go; space that was once wasted can now easily be taken up by one of these beautiful tables and chairs units manufactured just like it! No more wasted spaces and bulky furniture, it's time to make your house or apartment more practical!
Coleshome 61″ Super Large L Shaped Desk Gaming Desk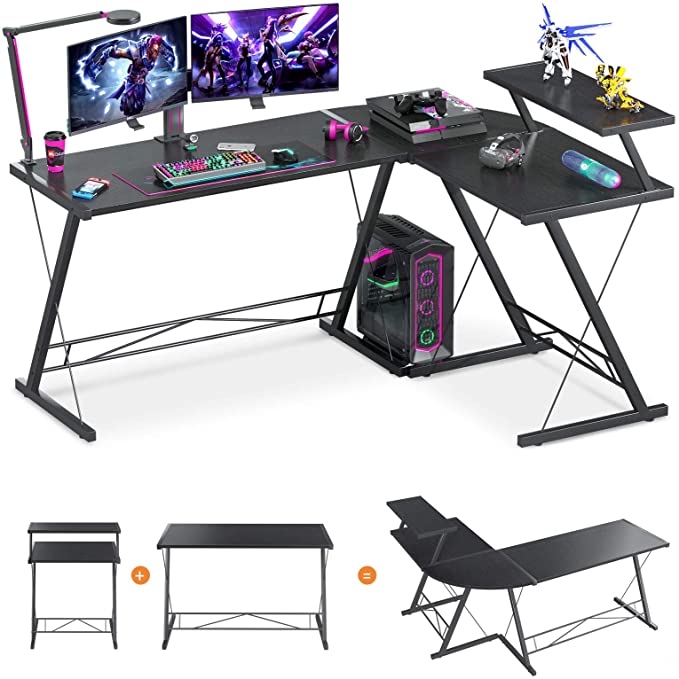 Coleshome 61″ Super Large L Shaped Desk provides a large gaming space. It is easily transformable and versatile because of it's 2-in-1 design. Compared to other gaming desks, this desk must be the most comfortable one with its stable construction and support for 3 monitors without wobbling. All tools needed for assembly are included so that you may start enjoying your new desk as soon as possible!
The Coleshome 61″ Super Large L Shaped Desk is the perfect desk to meet all your gaming needs. Whether you are looking for a larger workspace or need more space on your screen, this desk will exceed your expectations!
Walker Edison Ellis Modern Glass Top L Shaped Corner Gaming Desk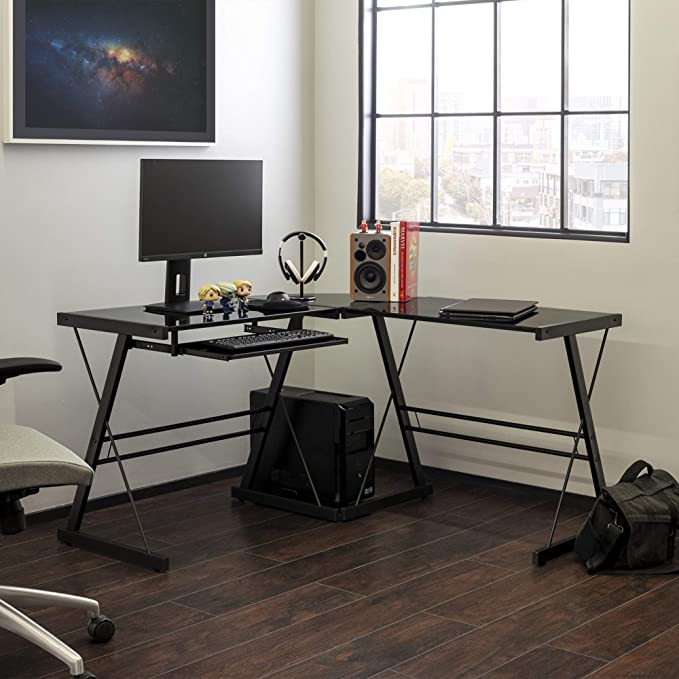 Anyone that's been wanting to make the most out of their desk space knows just how invaluable wall-to-wall desks are. Get ahead in your game with new features like this Walker Edison Ellis Modern Glass Top L Shaped Corner Gaming Desk, with its bike shoulders and glass top.
When you get the urge to be a little more competitive, or if you're looking for an escape from your finals stress, all it takes is a few minutes on Overwatch (or another distraction of choice) to hit pause on the rest of the world for awhile and take care of business. The desk comes complete with detailed instructions for easy assembly – but don't worry, we've got you covered! It also comes equipped with 2 adjustable side surfaces, a side shelf, and an interior keyboard tray to make sure you have everything at your fingertips.
VASAGLE Computer Desk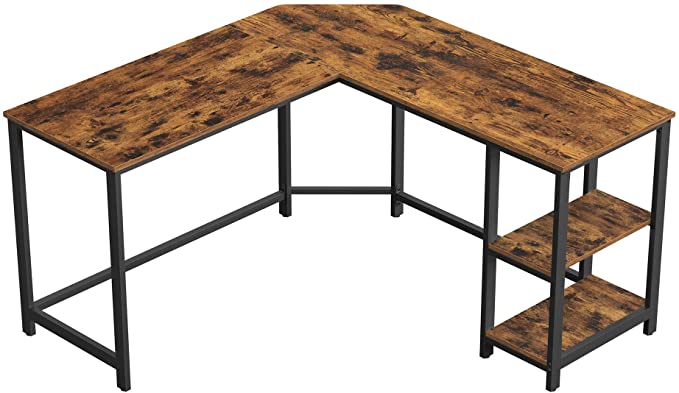 The VASAGLE Computer Desk is the perfect study desk with a 2 shelves to keep things close at hand and within arm's reach. This appealing, durable L-shaped computer desk has rustic brown table top that blends well in any home office environment.
Keep everything you need right where it needs to be on this helpful, all-in-one corner desk securely holding your work surface and cables. The backcorner of the VASAGLE Computer Desk is cut off for optimal space saving while managing cords from consoles nearby.
GreenForest L Shaped Office Desk 58.1″ Home Corner Gaming Desk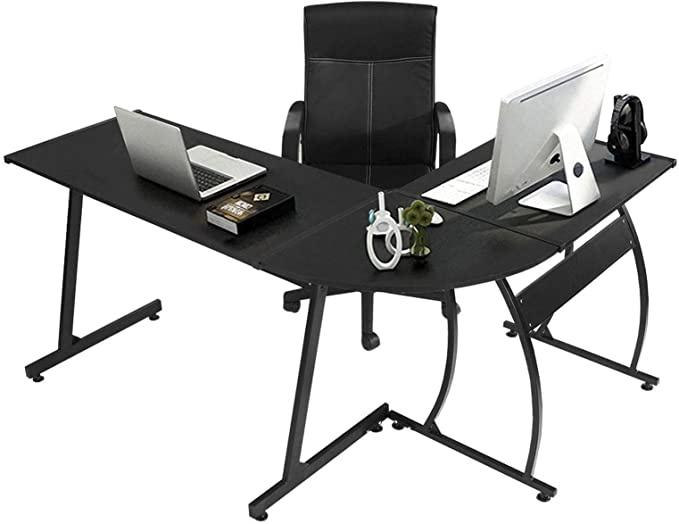 The GreenForest L Shaped Desk can be installed with the long board placed on either side for more flexible use. The long board size is 39 inches*18.9 inches and the small panel size is 25.2*18.9inches, which are easy to assemble even without using any previous experience whatsoever and thus saves time for you!
What makes this desk special are its two reversible panels that can fit in a corner saving space within your limited space of room! What's more? You will also receive 2 different length boards depending on how you want it to look because we at greenforest believe that there isn't just one way to do things when it comes to completing tasks or playing games such as office work, gaming and learning fro yourm school work.