JQuery Data Table plugins is a data table that will enhance plugins for JavaScript library. With the help of JQuery data table, sorting, filtering, and paging abilities will be executed with minimum efforts in HTML tables. JQuery Data Table provides users with several options on how the data should be displayed and obtained to make it simple and easy for users to sort and filter data. Using JQuery Data Table makes action to be taken such as sorting, filtration, paging, etc. smooth and fast for users.
Some of the most light-weighted jQuery Plugins available are listed below: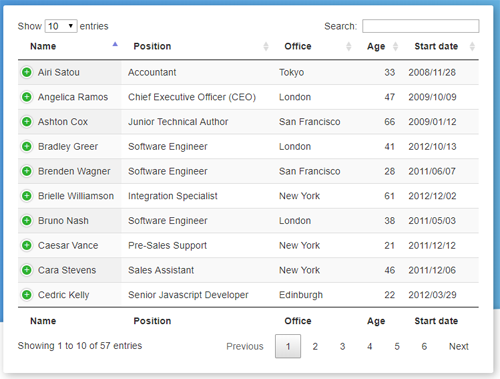 Data Table is a very flexible tool for jQuery. It adds all the advanced features of the HTML tables beside being a flexible tool to enhance and build p the progressive enhancements. It also allows users to add interactive controls to the HTML tables. It is a fully interactive data table. It provides easy to read information for users to be able to understand patterns.
Bootgrid is an excellent and intuitive grid control specially designed for jQuery Bootstrap Data table plugins. The jQuery Bootgrid allows the clients to easily tables and edits them without any hassle. Users can add any fonts and icons using the Fontawesome app. A Bootgrid plugin is also an excellent tool for those looking for extended plugin features that offer options a such as radio, checkbox, extensions, etc. the Bootgrid Plugins are available for free, anyone can download and install the plugins with ease.
jsGrid is another best example of lightweight jQuery data table plugins. It is a lightweight client-side data grid control that is based on jQuery. The jsGrid supports essential functions such as inserting, filtering, deleting, editing, sorting, paging and validating. One advantage of jsGrid is that it is turnable and also allows users to customize the appearance and components.
Like other jQuery Plugins, ParamQuery is an open plugin that also will enable users to sort, filter, and edit data. Using ParamQuery also allows users to export data grids from the excel sheets to the CSV files. It provides advanced features in addition to the essential functions. The advanced features include column grouping, nesting, batch editing, row grouping, multiple selections, export to Excel, and CSV and also allow full keyboard navigation.
Besides offering the standard features of plugins such as sorting, filtering, paging, and formatting of data, WATable performs these tasks in a super fast speed. It is also popularly known as the Swiss knife for its multi-functionality.