More and more people are looking for new fanless mini computers. They are powerful, compact and the latest models are affordable as well. Yes, there are a lot of different models out there, but we managed to find 5 of them that will likely be on your list as well. They are the best of the best.
Top 5 Fanless Mini PCs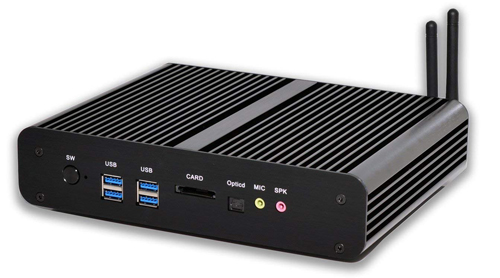 There are a lot of reasons why we believe this is the best fanless model. The main one is the processor implemented into the PC. It is the 5th generation i7 unit which offers impressive performances and makes this small PC more than just fast while operating. The working frequency is 2.4 GHz, but there is a turbo mod that will boost the speed up to 3.0 GHz.
The tested model came with 16GB of RAM memory and Intel HD 5500 graphics. The 3840*2160 pixel resolution paired with 2 HDMI ports is an advantage for itself. We should add that a version with 8GB of RAM is available as well. The last but not least, you will get 128GB of SSD, which speeds up a PC by 10 times compared to conventional HDD.
Additional features that should be mentioned include a card reader, built in Wi-Fi transmitter and audio ports. With this particular model, future owners will get a warranty of 3 years. The last but not least, the operating system is Windows 10 Pro.
Pros:
Great processor
SSD drive
Superb screen resolution
Card reader
Warranty
Cons:
Expensive
16 GB of RAM may be insufficient for some of you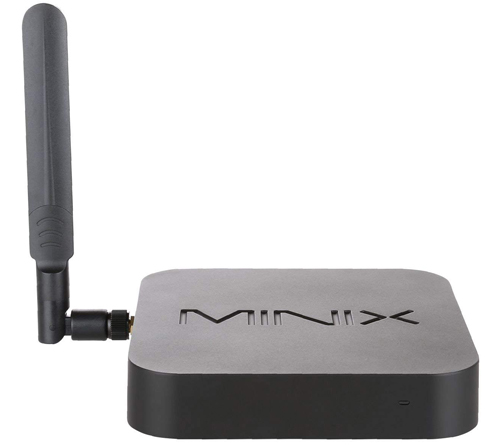 While the previous model was expensive, this one is more than just affordable. As a matter of fact, it is more affordable than some, conventional PCs. The main purpose is a commercial application or by the users who will use it for internet surfing, social media and etc.
The processor you are going to get is Intel Atom. It operates at 1.9 GHz, which isn't much, but for the just mentioned applications is just perfect. The RAM memory is 4GB and the storage space is 32GB. Maybe this doesn't sound much, but don't forget that it is almost 4 times more affordable than the first model on the list.
There are a lot of positive sides as well. For example, you will appreciate the sturdy and strong design, advanced Wi-Fi capabilities, Intel HD graphics, and SSD drive. Of course, the drive can be replaced for a bigger unit, after the warranty is expired.
Pros:
Very affordable
Intel HD graphics
SSD drive
Comes with Windows 10 Pro and Microsoft Office
Cons:
Low amount of RAM
32 GB storage capacity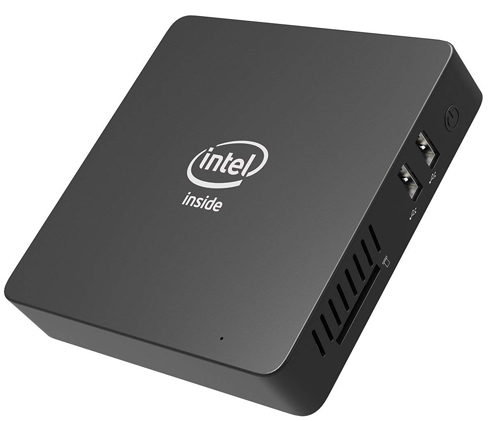 Here we have one interesting fanless PC. In reality, it is sufficient for most applications you are going to use ever. We also liked the fact this unit is available in 6 different versions. The thing we liked the most is compatibility for two screens. You can use HDMI and VGA ports. Obviously, Intel HD graphics is responsible for the feature in question.
The processor is Intel X Cherry Trail, with an operating frequency of 1.9 GHz. It is reasonably fast and it will operate perfectly for most, minor and medium requirements. The operating system is Windows 10 Pro. The RAM memory is 2GB, but there are available versions with 4 and 6GB of RAM. If you are planning to use it for more demanding operations, we advise you to go for 6GB RAM. The price difference is major, but you also get a better processor and more storage space.
The storage space in the PC is 32GB. However, an interesting fact is that you can use an SD card to increase the storage capacity up to 128 GB. It is an affordable and smart storage space upgrade that must be taken into consideration.
Pros:
Affordable
SD card support
Dual screen ports
Quality
Cons: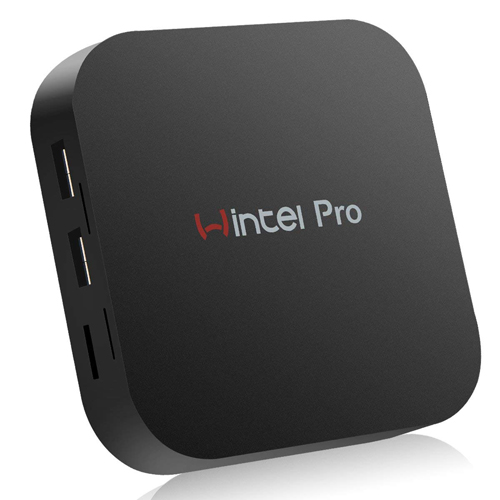 The ACEPC T8 is more than just capable of meeting most of the requirements you have on your mind. The PC is small, compact and based on the latest technology. We liked the fact it offers full 4K compatibility and it is paired with mic and headphone interface.
The Atom Intel processor operates at 1.42 GHz which is decent, you get 2GB of RAM and 32GB of storage. Don't forget that for increasing the storage you can use memory SD card. The maximum supported capacity is 128GB.
Ports are available and the PC includes HDMI, USB (3.0), USB 2.0, Ethernet and etc. You will also appreciate the ability it comes with Wi-Fi which makes the computer even more practical and more appealing to use.
Pros:
Supports 4K
Memory card storage space extension
Wi-Fi
64 bit Windows operating system
Cons:
4 GHz of processor frequency
Attention to details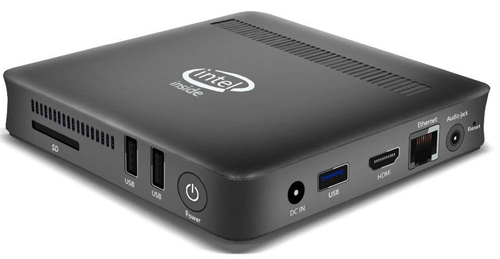 The last model on our list is equally impressive. You also get Atom processor with an operating frequency of 2.2 GHz and 2M of cache. The PC is energy efficient as well and Windows 10 Home Edition comes pre-installed. Obviously, two screens and HDMI port are supported as well.
The 4GB of RAM is sufficient and the storage space of 64GB is better than similar models have to offer. Once again, you can use the memory SD card to increase the storage space. In a nutshell, this PC has it all you are going to need and something even more.
All future owners get 1 month, money-back guarantee and one year warranty. Customer support is decent as well and you won't have any issues here. There is no need in adding that the PC supports Wi-Fi and 4K resolution.
Pros:
Energy efficient
4K resolution
Small and compact
Plenty of ports
Cons:
Can't be used with other operating systems (isn't recommended)
Poor user manual
Conclusion
As you are able to see, these were the best fanless PCs on the market available right now. For us, the best unit is the Ucaca Intel 5th Generation i7 Broad Well CPU NUC, due to the most powerful configuration and advanced features. But for you, any other PC from the list may be the best choice.