Weed eaters are a necessary tool for any gardener. Whether you're cutting around your flower beds, trimming overgrown weeds in the lawn or clearing out brush from an old trail, it's important to have the right weed eater for the job. There are many different types of weed eaters on the market – gas powered, electric and even battery-powered if you don't want to deal with a cord! In this article we'll break down five of our favorite models and help you decide which one is best for your needs.
Factors to Consider When Choosing Electric Weed Eaters?
An electric weed eater is the perfect choice for those of us who need a machine that's lightweight, easy on fuel and doesn't make noise. Here are some things to consider before you purchase an electric weed eater:
What kind of terrain will I be working with?
If your lawn has thick weeds or brush in it then you're going to want something heavier duty than if all you'll be doing is trimming around flower beds.
Is this just a one time job or do I plan on using my new weed trimmer often?
The more intensive the use, the more expensive (and powerful) your new tool should be!
Does weight matter?
Electric models tend to have less power behind them so they're lighter.
How much noise do I want?
Electric models are typically quieter, but gas powered weed eaters have a lot more power behind them!
5 Best Electric Weed Eaters
BLACK+DECKER LST140C String Trimmer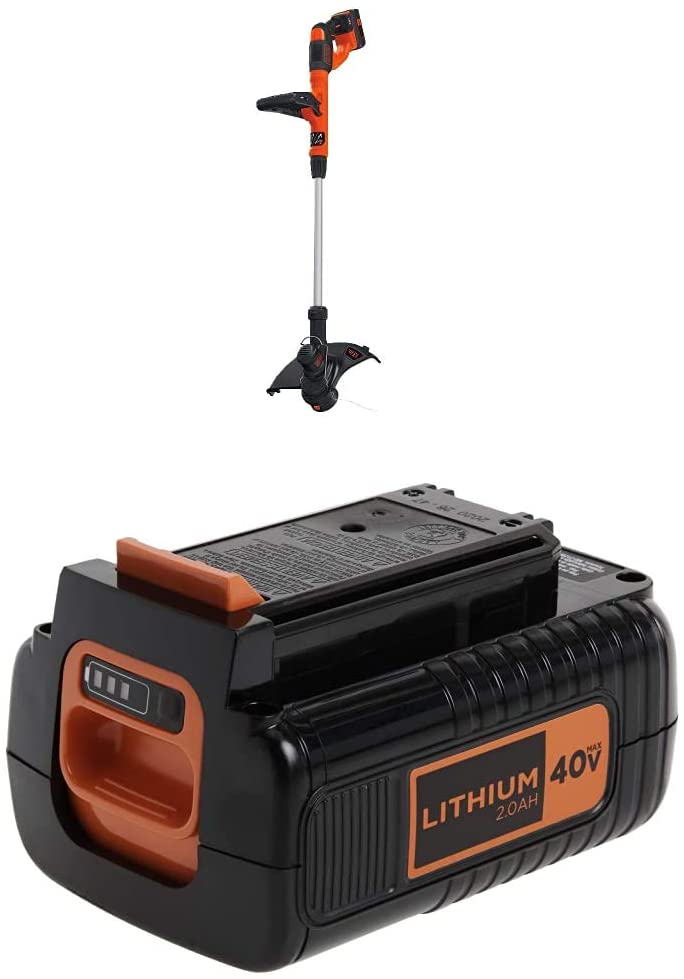 Do you love a good trim? With the LST140C String Trimmer, get everything cleared away with clean, fast cuts. It converts from trimmer to edger in seconds, and it comes loaded with state-of-the-art features like high torque power drive and an automatic feed spool that makes your other yard jobs even easier.
Plus, this 40V max string trimmer is compatible with multiple 36V and 40V MAX outdoor tools for versatile charging (check out our weed whackers!), so you're always powered up when you need it most.
Pole hedge trimmers are all about convenience – they're lightweight enough to be easy to use, but powerful enough to handle anything you throw at them. They're perfect for clearing out old bushes or trimming up shrubbery around the house.
EGO Power+ 15-Inch 56-Volt Lithium-Ion Cordless Brushless String Trimmer

The EGO POWER+ 15 in. String Trimmer is the next, big step up in power and convenience for cordless string trimmers. The POWER+ 56-Volt Lithium-Ion battery and a new, high-efficiency brushless motor deliver the performance of gas without the noise, fuss and fumes.
This advanced dual feed twist line will make trimming easier than ever before with its highest quality cut of 0.095″ diameter hi-performance line that will last more than twice as long. Dual feed twist line coupled with variable speed trigger makes tackling tougher vegetation as simple as pushing a button below this lightweight and agile device that weighs just 8 pounds. Get tight spaces tamed with the 150 degree rotating head and start whipping away weeds soon enough!
Most other cordless lawn equipment on the market struggles with cutting tall grass or wet leaves—top problems encountered by any user on their property every year. But the Power+ 15-Inch 56V Cordless String Trimmer/Edger is up to any task!
WORX WG163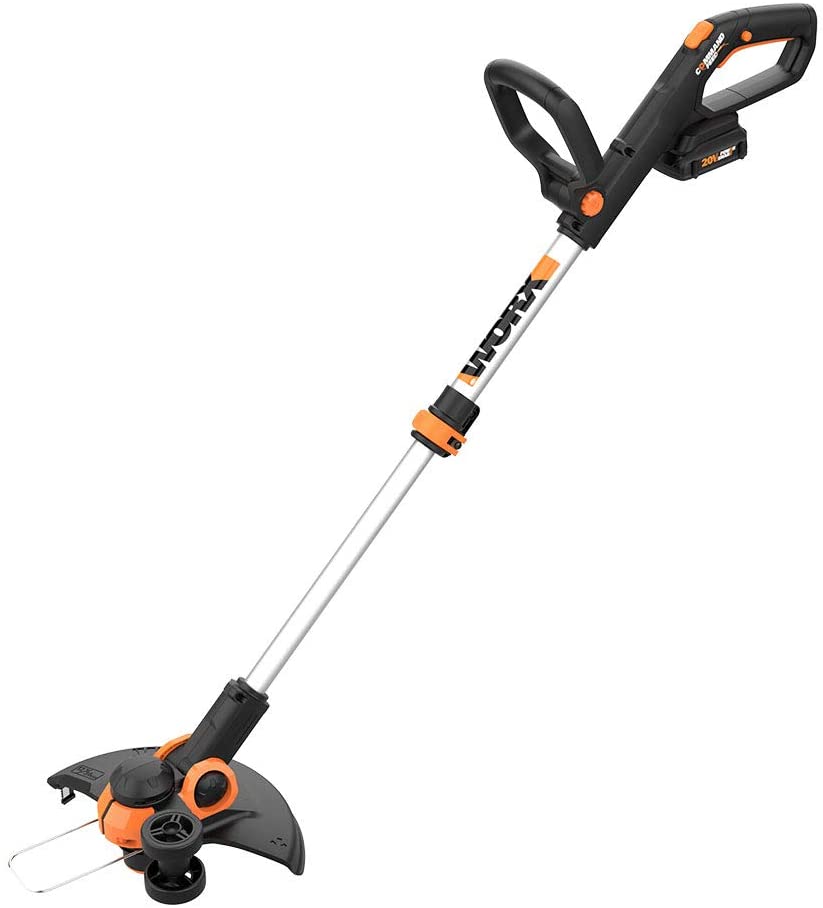 Worx the #1 brand for power tools, outdoor products and lifestyle goods is pleased to announce its new WH20V String Trimmer/ Wheeled Edger. Built with a free spool system for instant line feeding, this 2-in-1 tool can convert from an edger to a trimmer in only seconds!
With dual rotating blades that create clean lines on any edge you need, Worx Power Share is compatible with all WORX 20v and 40v tools providing hours of worry-free trimming with plenty of battery life.
Worx Power Share compatibility means you can switch batteries between any other tools in the family. Use the included battery with your last tool or use available ones with this one to take all your gardening/yard projects outside & on weekends too, without needing an outlet.
DEWALT 20V MAX String Trimmer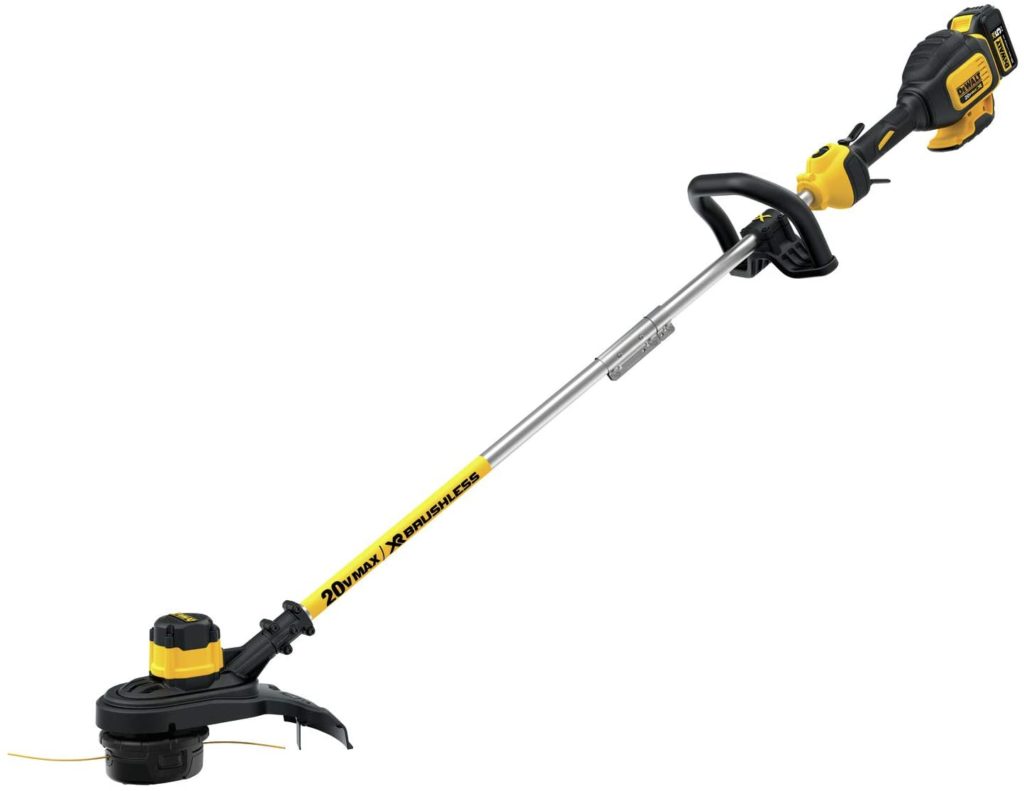 You want to trim the edge of your lawn, but you don't have a cord anymore? The DEWALT 20V MAX String Trimmer has you covered. It's powerful, lightweight design blends comfort and power for those who prefer piece over fight with their landscaping.
This hedge trimmer's patented gear drive design powers through tough overgrowth, the cordless grass trimmer provides a 13-inch cutting swath with 0.080-inch line, and its lightweight and ergonomic design will ensure your arm won't tire.
Its high efficiency brushless motor maximizes run time under heavy use for up to 45 minutes per charge so you can trim dense foliage or maintain large areas of land. Two speed settings are perfect for maximizing efficiency in any situation: choose from high-speed cuts or increased run time when work needs to be done right.
Greenworks 4Amp 13-Inch Corded String Trimmer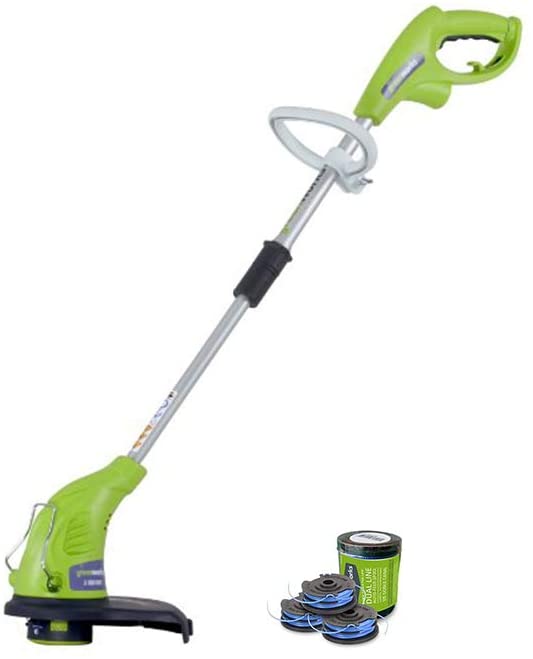 The Greenworks Corded String Trimmer is a powerful, well-made tool to help give your yard that perfect trim. With its 4 amp motor and 13″ cutting path, you can tackle any size weed in the yard with ease.
This string trimmer also includes an auto feed head for the line so you never run out of line while working–a nifty feature we wish all cordless products had! It's shaft even rotates for accurate edging around landscaping or sidewalks too! Its adjustable telescoping shaft makes it easy to find the right height for anyone while their power source – electric corded – means no hassle of recharging or exhausted batteries.
Plus it comes backed by a 3 Year Limited Warranty plus one year free service contract from GreenWorks.