Electric skateboards are the newest way to get around. They are faster than a bike, more powerful than a scooter, and they don't have any of the hassles that come with owning an electric car! Electric skateboard kits can be hard to find because there are so many different models on the market. However, we've found 5 best electric skateboard kits for you in this blog post.
The DIY method has grown exponentially popular among tinkerers and hobbyists around the world. Because for many, the process of building a board is just as fun as riding one! Want something smaller? Try a penny board cruiser – perfect for showing off those tricks you've been working on while taking your skateboard to new heights with the right electric skateboard kit.
Electric skateboard kits have made skating easier for all skill levels, and with so many options on the market it can be hard to choose. We've put together a buyer's guide that includes five different kits and in-depth reviews of each one – hopefully this will help you find your perfect match!
5 Best Electric Skateboard Kits
WonVon DIY Electric Skateboard ESC Kit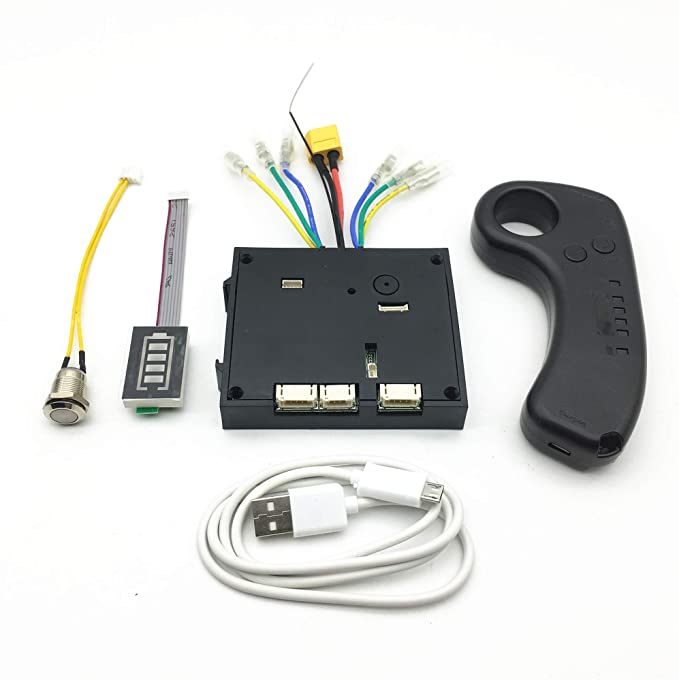 The WonVon DIY Electric Skateboard ESC Kit is the perfect kit to create your own electric skateboard! It's a sine wave scheme to make it more stable than the individual ESC and it's not easy for the controller to burn out. With tons of low-speed but high torque, the max load capacity is 120kg. Two-way communication lets you easily check how much power your board has. You'll also appreciate protective features such as: low voltage alarm, under voltage, and power failure protections so that you can take comfort in knowing that your ride will be safe at all times! Whether you're riding this on asphalt, rough ground or sand dunes, the WonVon DIY Electric Skateboard ESC Kit fit thes bill!
The all-inclusive package is lightweight and very easy to install, so it's perfect for those who want a quick project.
vanpro DIY Electric Skateboard 83MM 90MM 97MM PU Wheel Pulleys Kit Set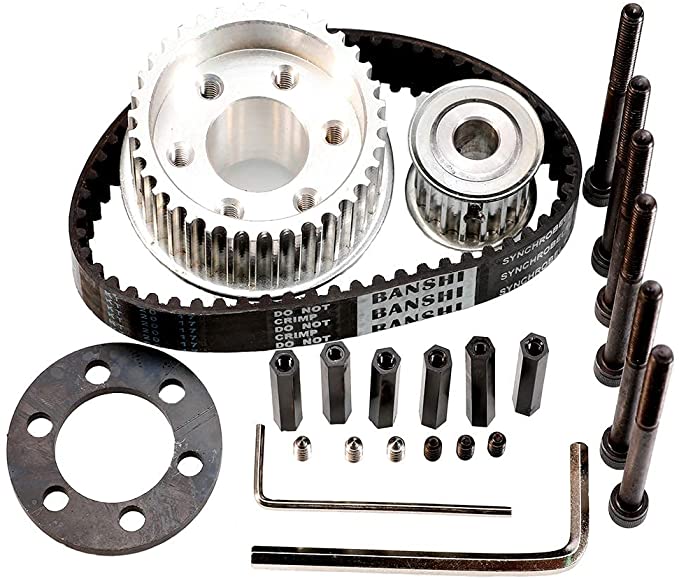 This is the perfect kit to use when building your own electric skateboard, cruiser, or longboard. The vanpro DIY Electric Skateboard 83MM 90MM 97MM PU Wheel Pulleys Kit Set comes with many parts needed for creating a variety of different boards. This kit includes 6 rectangular-style pu wheel which are made to work with Flywheel wheels and Cruiser clone.
It also includes a pulley set that will give you various options for different heights and distances between the motor bracket and belt joint. You can choose whether you want your height between 280mm – 320mm or 285mm ± 10 mm; this kit utilizes 5M HTD (high tensile) double edged braided belts with width size 15mms to keep it durable and long-lasting.
XCSOURCE DIY Electric Skateboard Longboard Kit Parts Pulleys and Motor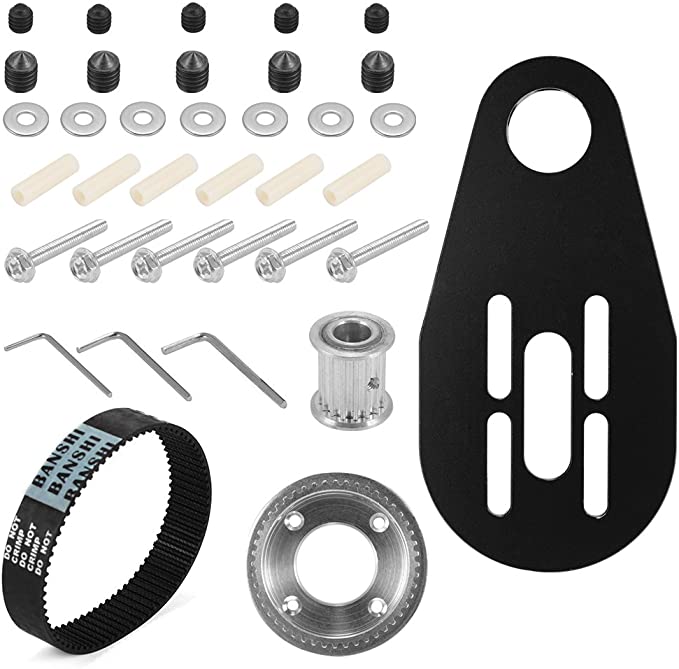 It's the newest twist on an old, beloved staple. This DIY mount kit for skateboards is durable and reliable – it lasts a long time and rarely breaks. It's also easy to maintain, so your project will always be running smoothly. The key thing you need to know about this product: it has a constant transmission ratio that limits slippage and noise while keeping acceleration consistent over various surfaces and terrains. Plus, with its buffer shocks, bumps are less of an issue!
maxfind New Electric Skateboard DIY Kit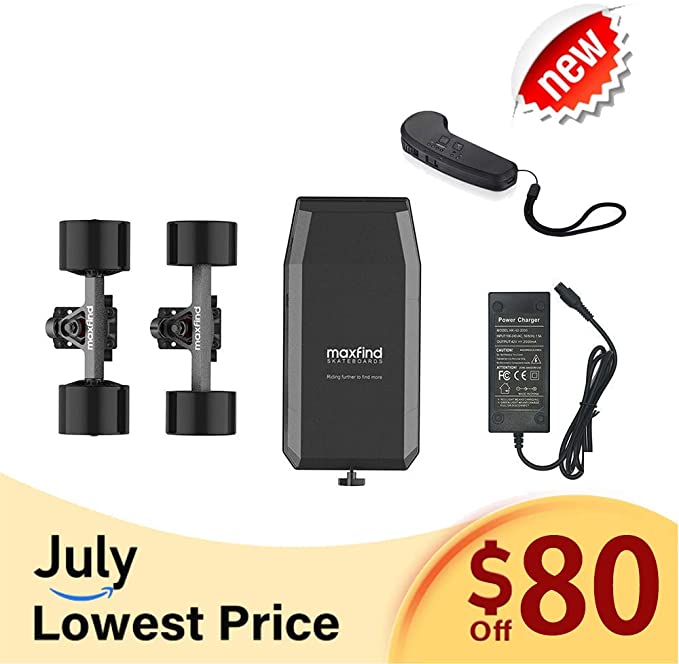 It's a powerful and affordable maxfind new electric skateboard. What makes this board stand out is its dual inwheel motors, battery swaps without any tools needed, and the remote that can be hooked up to your phone. maxfind also has electric skateboards in their lineup with hub motors or belt drive motors but these are not for beginners and only suitable for experienced users who want to go fast on rugged roads. Check out the videos of standard riders going slowly on rich surfaces: it looks like fun!
Pwshymi Electric Skateboard ESC Kit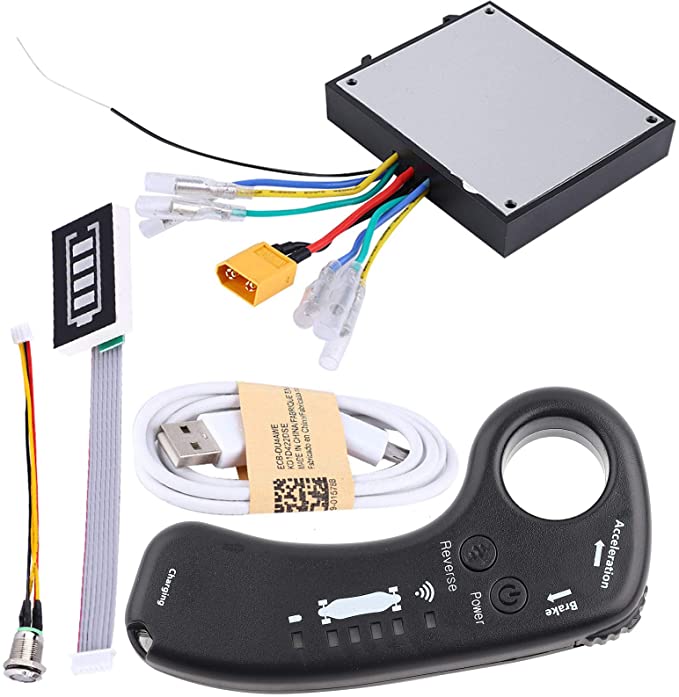 The Pwshymi Electric Skateboard ESC Kit is the essentials of every electric skateboard. The Kit includes an ESC kit, and portable remote control controller to give you total command of your electric skateboard!
There are 4 different speed modes with an ergonomic design that's easy to hold for prolonged periods of time. Modes include high-speed sport mode, high-speed economy mode, middle speed mode and low speed mode…perfect for many different types of riders.