The benefits of commuting by bike have been well documented. You get to enjoy the fresh air, free exercise and reduce your carbon footprint on the environment. There are many types of bikes that you can choose from when you decide to make cycling a part of your daily commute, but it is important to know which one will work best for your needs before making a purchase. In this post, we'll review five great commuter bikes that will help take some of the hassles out of getting to work in style!
What to Consider Before Buying an Electric Commuter Bike
Here are some of the things that you will want to think about when you decide to buy an electric commuter bike:
What type of terrain do you ride on most often?
The type of terrain you ride on the most will have a large impact on your decision of what kind of bike to buy. Flat, smooth surfaces are easy to navigate and usually make the best choice.
If you are riding on uneven terrain, or around obstacles, such as many bike commuters in New York City do, then you'll be better off with something with more suspension and tread on the tires. The brakes on any kind of bike make a huge difference too because they differ depending on what level of traction you need for your specific situation.
Where is your destination and how long is the commute?
The length of time you spend in transit on your bicycle and the distance to your destination both play a major role in choosing which commuter bike will suit you best.
Generally, bikes with more gears are good for longer commutes because they can speed up the ride during those times when you're not trying to go up a hill or if the wind is against you. That being said, electric bikes have been shown to be really helpful for commuters no matter where they live because they take some of the effort out of riding in hilly areas or strong headwinds.
Will the bike be used for off-road or on-road use?
If you're in a tough neighborhood where you'll need to ride on sidewalks, over curbs and around obstacles, it is a good idea to get a bike that has more suspension and tread on the tires.
The brakes are also important because they will vary depending on whether you need more traction for your situation.
It's always good to have a bike with gears so you can speed up when going uphill or into the wind, but if you've got an electric commuter bike, these worries are taken care of for you.
How much storage space will the bike need when locked up at work or home?
Storage space is another important factor to consider when deciding on a bike. If you plan to lock your bike up at work or home, make sure that it will fit in the storage spaces you have available.
If you live in a big city with lots of people and cars, then it's best to choose a bike with front and rear lights for increased visibility and safety.
It's also important to know what the regulations are for bikes where you'll be locking your bicycle up at work or home. Some places have specific regulations for things like racks whereas other places won't care as long as you lock your bike up securely.
5 Best Electric Commuter Bikes
Schwinn Hinge Adult Folding Bike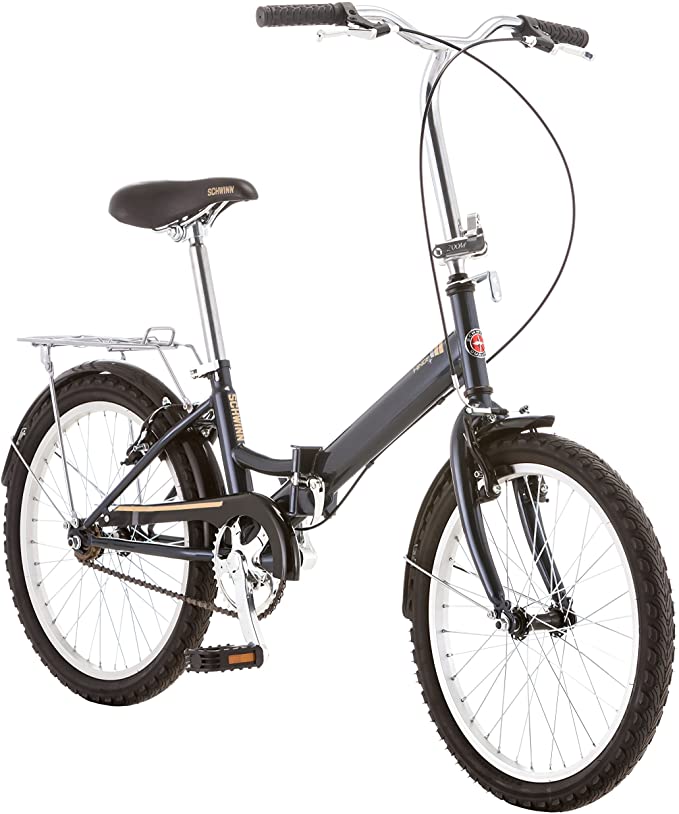 Consider a stress-free commute with the Schwinn Hinge Adult Folding Bike! This sturdy and easily foldable bike is perfect for commuting or grabbing a quick ride around town. Coming at an affordable price, this convenient, easy to carry folding bike includes full wrap fenders to keep you clean and dry while riding.
It also comes with one standard pedal so that it can be easier stored when folded down. At only 30″ x 32″ x 11″, this single speed machine is not only packable but efficient. The 1-speed drivetrain allows you to coast whenever you need a break from pedaling on hilly terrain or heavy traffic. And for added convenience, the folding bike includes both pedals – one normal pedal as well as one folding.
Aceshin 26" Electric Bike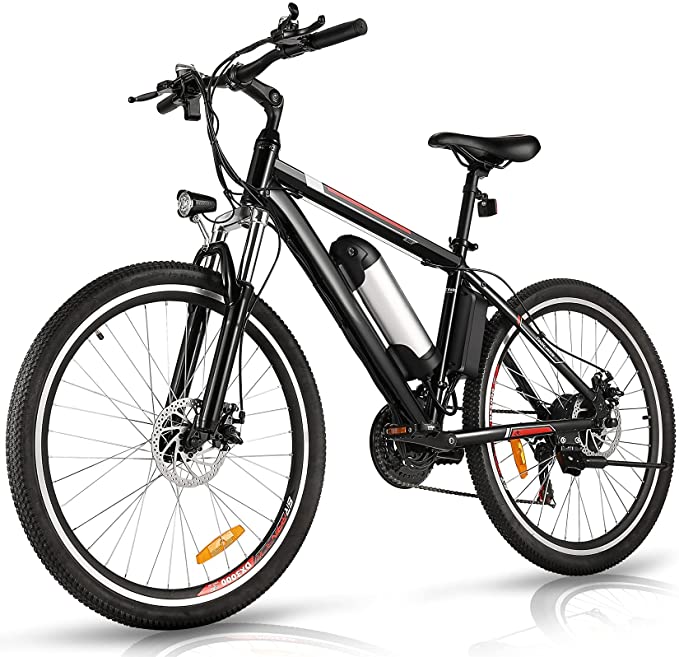 The Aceshin 26" Electric Bike is lightweight and comfortable. It has a 250 Watt motor that supports up to 50 kilometers on one charge with the added option of pedal power assistance. The high quality aluminum alloy frame ensures a comfortable ride all day, while the front fork is made of high-strength carbon steel for better shock absorption. With double layer aluminum alloy wheels, this bike can handle any terrain you might encounter.
Allowing your mornings to be safer and less strenuous for your body while planning glorious evening excursions or just enjoying the outdoors.!
This bike is equipped to take you all around wherever you want, thanks to its high quality structure made of a durable aluminum alloy frame with a carbon steel front fork can withstand intense terrain without denting in. The easy grip handles make balance feel effortless so long as there is pressure applied by either foot pedal used when using this versatile machine for your desired purposes!
elifine 26 inch Folding Electric Mountain Bike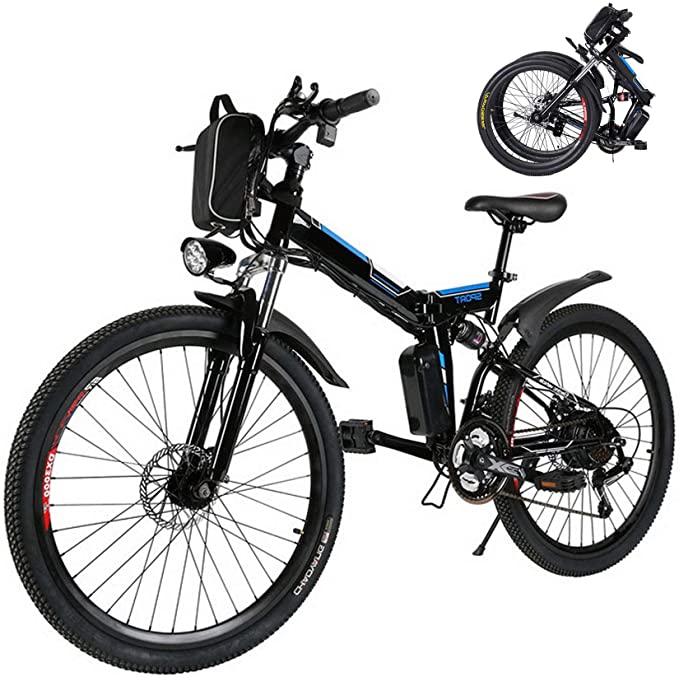 When it comes to physical fitness, elifine 26 inch Folding Electric Mountain Bike is the best choice. With a 330-pound weight limit this bicycle can be ridden by almost anyone! The wheels are made of high-strength carbon steel and packed with premium comfort shock absorption so even when you ride over rougher terrain craters won't shake you loose from your seat. For those days that require more than just one type of transportation, the front wheel on this bike conveniently folds up for easy carrying and is only 25 kilos in weight for easy loading into any vehicle or office space.
Sailnovo 14" Electric Bike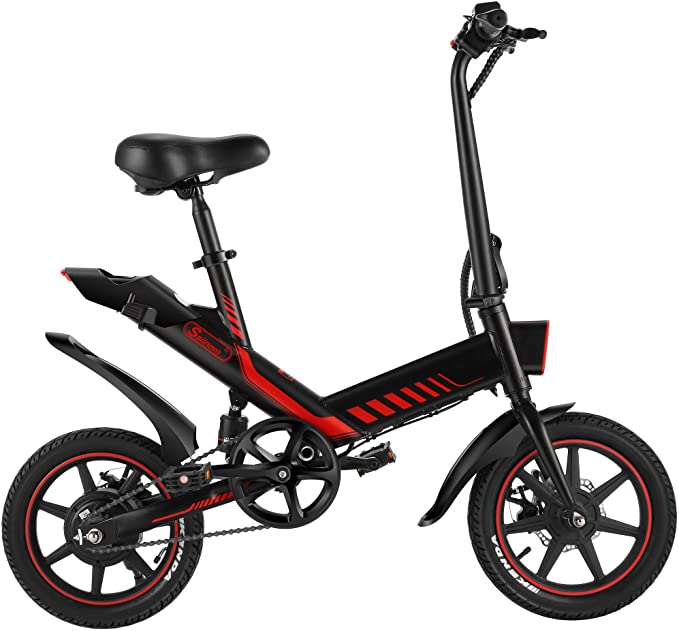 For those who hit traffic jams on your way to work and school, the Sailnovo 14″ Electric Bike is an excellent choice for you. The bike provides 3 modes for rider's needs – electric bike mode, pedal assistant mode and traditional mode. With a 36V 10.4AH lithium battery electricbike, it has a max speed of 18.6MPH(30KM/H), up to 18.6 miles (30km) on one charge with 20-28 mile (40-45km) mileage per houraccording to rider weight Under normal circumstances this battery will last over 2 years before needing replacement! And oddly enough it even comes with an LCD control panel that displays vital information such as speed and battery level.
Swagtron EB-6 Bandit E-Bike 350W Motor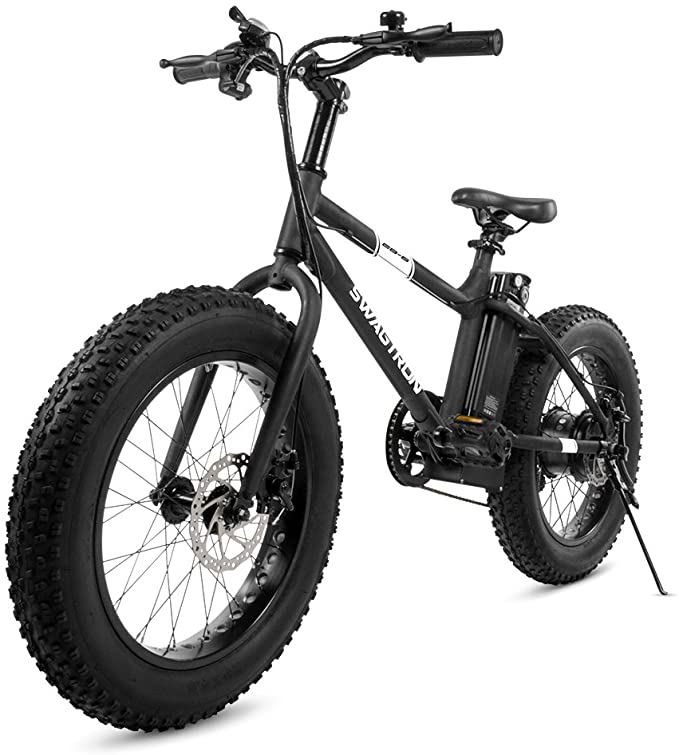 The Swagtron EB-6 Bandit E-Bike 350W Motor is the perfect choice for your little one's next bike purchase. Boasting an impressive lightweight 6061 aluminum alloy frame with a suspension fork and durable components, brave trails have never been so much fun.
You don't need to worry about them running out of battery power because this electric bike has the option of being manually pedaled or you can continue using the e-motor after they've grown tired from riding it.
This speed machine features seven gear shifts and high volume 4″ mountain tires that make conquering tough terrain easy and comfortable thanks to its five point quick release seat post clamp and superior quality rubber grips on its SR Suntour HLO 27.