In today's world, there are many devices that require a Bluetooth connection. Whether you need to connect your phone to a speaker, or use it in your car for hands-free calling, Bluetooth is the way to go. However, not all transmitters are created equal – some have better range and battery life than others. That's why we've compiled this list of 5 best Bluetooth Transmitters on the market right now!
What to Look For in a Bluetooth Transmitter?
When you're shopping for your next Bluetooth transmitter, it can be difficult to differentiate between the good and bad ones. But there are a few things that should stand out when considering one:
Range of connection – how far away from the receiver will this device transmit? Is it restricted to just a room or does it work throughout an entire house (or even through walls)? The more range, the better!
Battery life – if you need something with a long battery life, check out some models that have replaceable batteries. This way, you only have to plug in once every week or so rather than constantly charging up your unit; these types of units also tend to last longer on each charge too.
Interchangeable devices – If using multiple devices, is there a way to switch between them? Or if you have a favorite device, can it be charged with the transmitter?
Price – This is always an important consideration when deciding on what to buy. There are many different models available and some of them are more expensive than others; in order to find out which model falls within your budget range, take a look at the price difference between all of them before making any purchase decisions.
5 Best Bluetooth Transmitters
TECBOSS Long Range Bluetooth Transmitter Receiver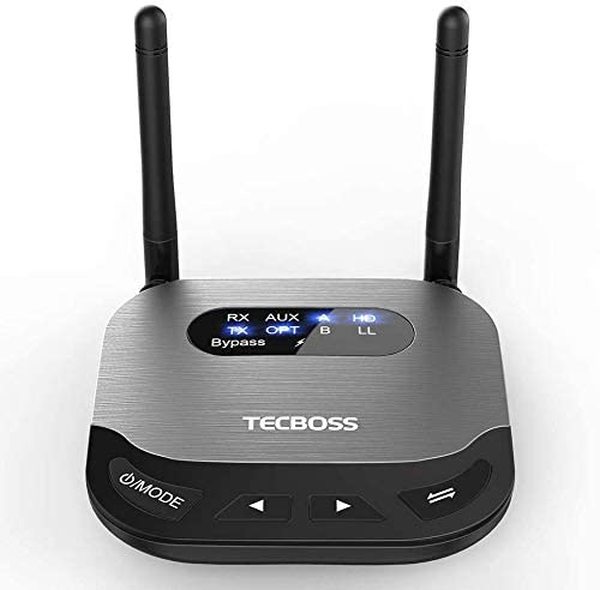 The TECBOSS Bluetooth transmitter for TV lets you wirelessly stream sounds, pictures and videos to your Big Screen at distances of up to 262 feet! You can now take your laptop or iPad (or any number of mobile devices) anywhere in the house.
TECBOSS have the best transmitter receiver with Analog and Digital inputs/outputs for your TV, which gives you more flexibility to connect to your audio system. And the long-range Bluetooth adapter up to 262ft in open air can reach from one end of a house or office to another. It also has an 80ft (25m) operating range indoors susceptible by external interference such as walls, furniture, corners etc..
What's key is that this device not only enables but goes beyond – transmitting high fidelity sound over distances that used transmitters could never even hope for! To put it simply: TECBOSS provides hours upon hours of wireless enjoyment while expecting nothing in return – other than your commitment.
Avantree Oasis Plus Transmitter Receiver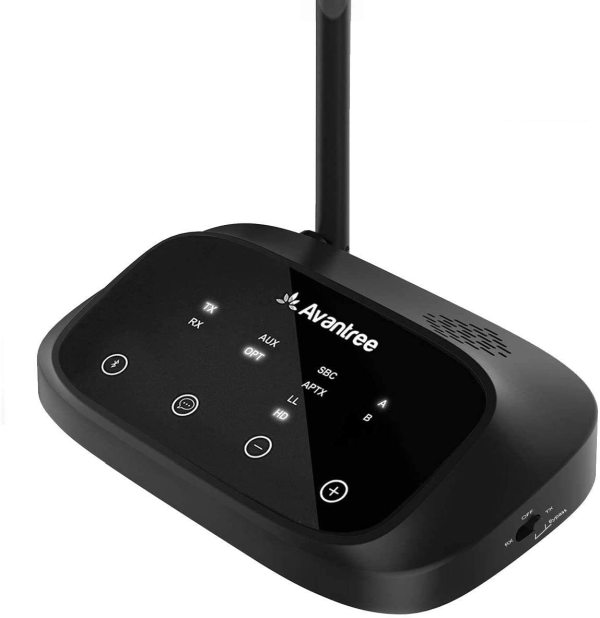 Avantree is the most reliable and powerful TV transmitter on the market! Never miss a moment of your favorite show, or hear it turn up and down if you have to take an unexpected phone call. Let Avantree take care of the sound for you with their Oasis Plus Transmitter Receiver.
The product never has to cut out – even when you walk throughout your house at any time – because they use Qualcomm aptX HD Audio Technology that ensures compatible Bluetooth devices deliver high definition (HD) audio without latency*.
What's to love about this lightweight, but mighty device? How about great range of amplified wireless audio without any interference from your WiFi or TV signal and simple setup that requires less than 5 minutes.
Hear the sound you want, where you want with zero lag time with Avantree Oasis Plus Transmitter Receiver for TVs! The product is compact enough to take on the go and pairs well with any Bluetooth speaker.
With a 295ft range for Audition Pro headphones auditioned in open air testing conditions; 328ft when used as a transmitter/receiver pair in line-ofsight due, it will handle all your needs regardless if they are home entertainment or mobility related.
TROND Bluetooth V5.0 Transmitter Receiver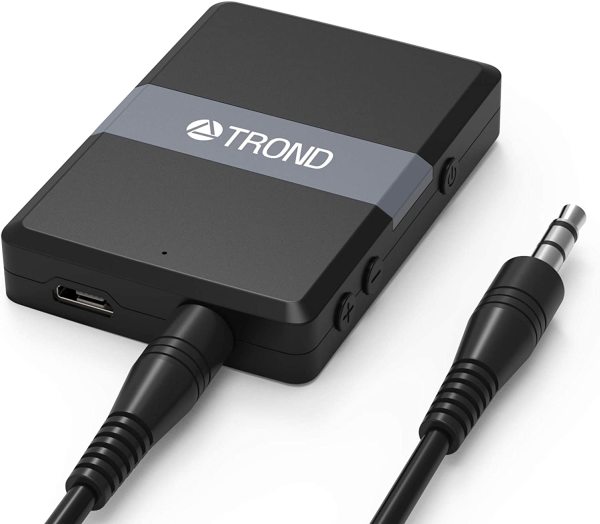 TROND Bluetooth V5.0 Transmitter Receiver is the only audio device with both aptX and low-latency technology, so you can enjoy high quality music wirelessly from a non-Bluetooth source while making sure that no one will wake up when listening to late night TV or audiobook on your headphones.
For friends of advanced tabletop gaming who hectic, TROND BT-DUO S not only allows you to listen to crisp crystal clear sound in games without being tethered by cables but also lets two players chat each other simultaneously. In TX mode, TROND BT-DUO S could pair simultaneously to two Bluetooth headsets and stream audio at same time for full enjoyment even when away from home.
By plugging the TROND BT-DUO S to TV, iPod or Kindle e-book reader with passive speakers, it acts as a Bluetooth Transmitter to stream high quality Audio Content on any Bluetooth headphones or speaker paired from its receiver side for limitless music listening experience. You can also pair two Bluetooth Headphones simultaneously with TROND BT-DUO S in TX Mode: one can enjoy your music whilst the other could set hear different songs at the same time!
Monoprice Premium Bluetooth 5 Transmitter & Receiver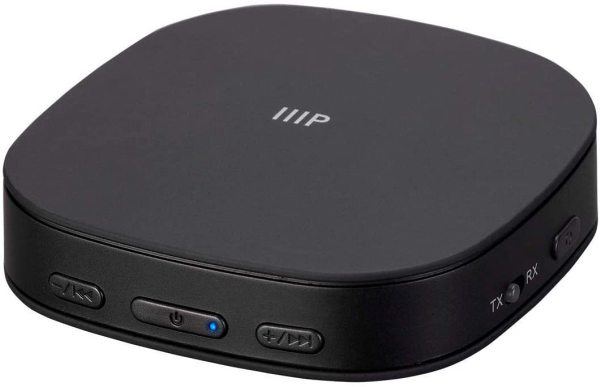 Let's connect with Monoprice Premium Bluetooth 5 Transmitter & Receiver – a high-tech device that delivers truly immersive wireless sound! Rich, clear sound can be wirelessly transmitted between two devices.
But this is only the beginning: aptX HD and Low Latency audio means you'll get lag-free multi-channel streaming in sync with your favorite movies or video games on Visual Media Devices. And because we know there are other ways to enjoy music whether it's from your phone by plugging in some headphones amp/subwoofer or home theater system, our transmitter has another trick up its sleeve: it can convert wired signals into high quality wireless ones with ease. This way, it stays connected no matter how you listen to digital music.
Plugging in just one cord and setting up has never been easier. Place it close to your device for optimum results (but not too close). Plug it in using either aux cables from devices like an iPod, iPhone, iPad or Android device for mobile streaming as well as a 3.5mm audio cable for wired headphones/speakers if available.
Nulaxy HD Long Range Bluetooth Transmitter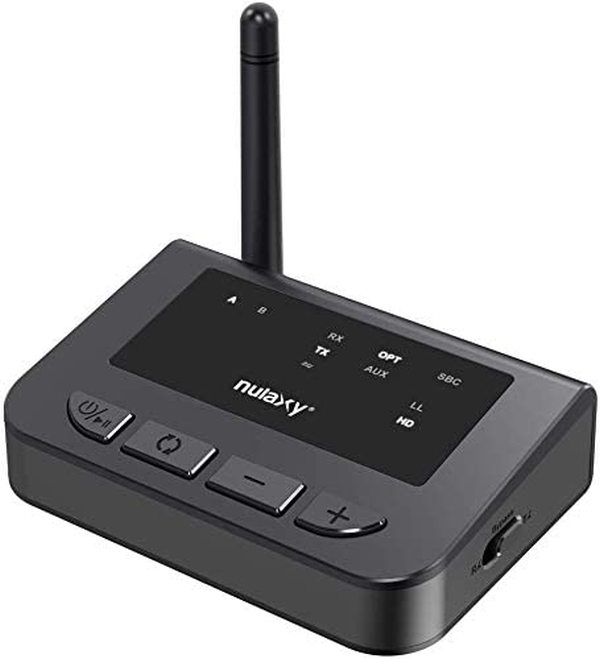 How about some wireless sound for your home or outdoor space? Hear that garage band in the basement without having to go down there, make sure you're catching your favorite show in the midst of cooking dinner, or keeping up with sports on TV while mowing the lawn.
Relax knowing you can stream quality Bluetooth audio through our Nulaxy HD Long Range Bluetooth Transmitter and experience uninterrupted plays all around your house. A range up to 295 feet outside means never worrying where a signal will be cut off! With wireless freedom and crystal-clear sound streaming from any bluetooth compatible device, getting entertainment throughout the household is effortless!
The Nulaxy (BX04) is an easy-to-use wireless transmitter for TV/movie viewing on the go. For a convenient and enjoyable experience, aim your pairing device at the Nulaxy to provide a clear signal, or pair wirelessly with Bluetooth 5.0 technology up to 80-110ft indoors or 295ft outdoors. Low latency audio assures seamless audio quality, perfect for watching movies on your tablet or TV without that pesky lag delays we are all familiar with!