While Microsoft and Apple are the big fish that dominate the market, there are Android devices that are taking over the world with a bang. The best Android tablets under $100 offer more than just a tablet. They provide entertainment, productivity, and fun for the whole family! The purchase of an Android tablet can be daunting because there are so many options available on the market.
Not all good things are heavy on the pocket, and tablets don't have to cost an arm and a leg. Hence, here are the best Android tablets that are light on the pocket and come under $100:
Factors to Consider When Choosing a Cheap Android Tablet
Display Screen Size
Display screen size can vary depending on what exactly you want out of your tablet experience. If you're looking for a larger display then we recommend opting for a higher resolution with more pixels per inch (PPI). There will be less strain on our eyes when reading from this type of display versus one that has lower PPI. A good rule of thumb is 300+ PPI or 1280×800+ resolutions displays screens only in order to get a good reading experience.
Display Screen Resolution
This is how many pixels per inch (PPI) the tablet has, which determines its screen resolution quality and clarity. A higher PPI means greater detail on the display screens with better graphics performance overall.
Processor Speed
The processor speed quoted by manufacturers will be in megahertz (MHz). There are other considerations to take into account like cores and clock speeds as well while browsing for an Android tablet under $100 that meets your needs or budget best, but it's important to know what you're working with first when trying to select one of these tablets from Amazon or another retailer online.
Battery Life
Battery life is usually determined by lithium ion battery technology so they'll have to be replaced every so often. It's best to choose an Android tablet that has a battery life of at least eight hours or more, which would get you through the day without recharging.
RAM
The RAM on any given device is usually correlated with its overall performance and responsiveness while using it. To put this into perspective for those looking for an Android tablet under $100 that can do multitasking like running multiple apps simultaneously, one should look for devices with at least two gigabytes (GB) of RAM.
7 Best Android Tablets Under $100
Lenovo Tab M8 Tablet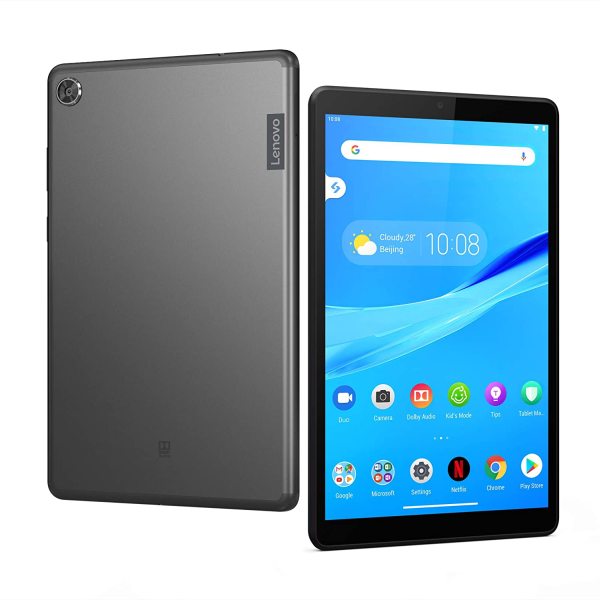 This stunning Lenovo Tab M8 Tablet is built for the modern, fast-paced user. Its solid contemporary design and high performance with a Quad-Core 2.0 GHz processor, Android 9 Pie, and WiFi make this tablet an excellent choice.
This colossal Android tablet is beautifully crafted and delivers powerful performance, making it perfect for work and play. The HD display provides rich visuals in a crisp 16:10 format, while the octa-core chipset inside strikes the perfect balance between raw speed and energy conservation – allowing you to do more things at once without running out of juice before bedtime.
The 8″ HD screen provides a clear picture whether viewing your favorite shows or capturing that amazing moment with its front + rear cameras.
With Bluetooth 5.0 and A/B/G/N/AC Wi-Fi capabilities, this handheld device will keep you connected wherever you go while providing exceptional battery life so you don't have to worry about running out of power while on the go!
Fire HD 8 tablet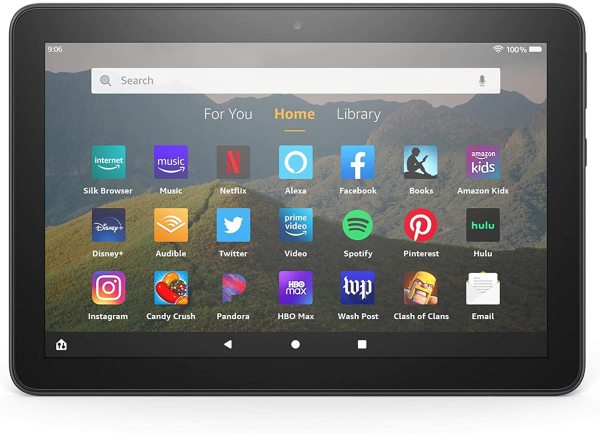 The Fire HD 8 tablet is a great fit for binge-watchers, downloaders, gamers, and eBook readers. Say goodbye to slow speed with the powerful new 2.0 GHz quad-core processor. Upgraded included storage at 32 or 64 GB of internal storage coupled with an up to 1 TB microSD card gives you plenty space for your favorite movies/tv shows/podcasts and more!
Get enough battery life (up to 12 hours) to spend anytime on YouTube videos you have been meaning to catch up on or entertaining yourself through captivating books starts without ever needing electricity again. Not only does the tablet come preloaded with so many apps that'll get you started right away like Hulu+, Facebook Messenger, Instagram+, but it also comes with a wireless mouse and keyboard for all your PC-like needs.
Samsung Galaxy Tab E Lite 7″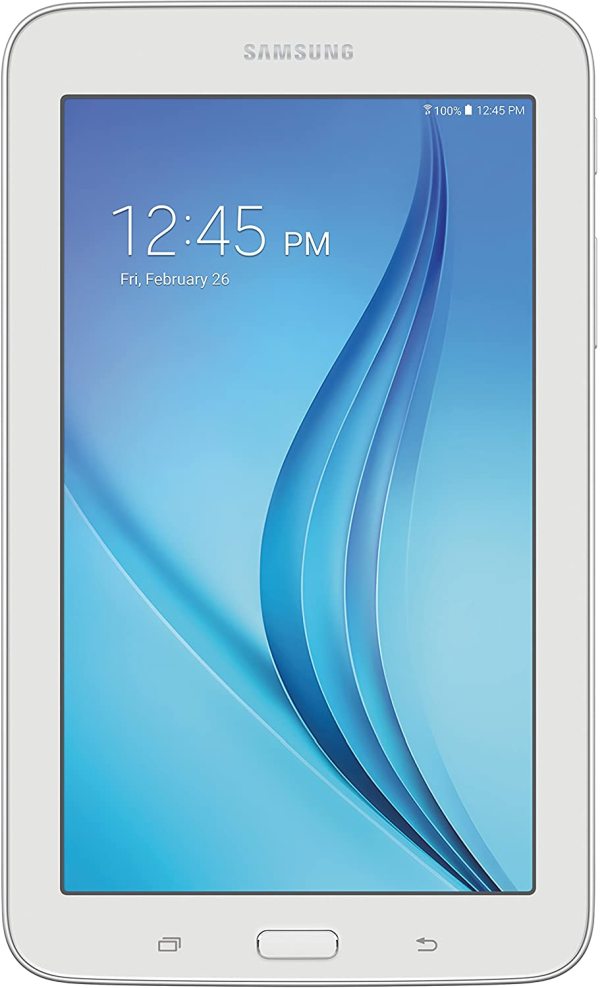 The Galaxy Tab E Lite is the perfect tool for all your reading, browsing and gaming needs in compact form. With with up to 9 hours of battery life on a single charge, this portable device will keep you entertained for hours! Empower your child's learning capabilities by downloading educational content from characters they love onto their tablet.
Get ready to not be stuck at home anymore with this lightweight, easy-to-hold tablet weighing only .73 pounds! The 7 inch colorful screen will display all your movies or games beautifully without being too hard on your eyes.
Capture every detail perfectly with its advanced camera modes and get professional results from its HD front and rear facing camera. With its parental control capabilities, you can take charge of what your kids are being exposed to by blocking unwanted content.
An additional 32GB of memory can be added thanks to the microSD card slot in order to make your memories last even longer.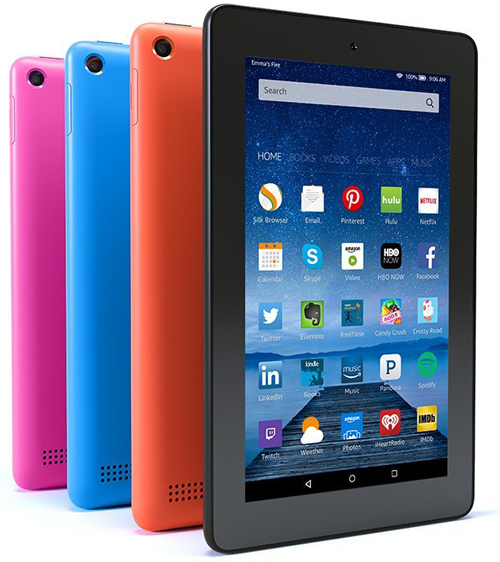 Available in 4 fascinating colors, the Fire tablet features a 7-inch IPS display and offers bright, vivid colors with its 1024 x 600-pixel resolution and 171 ppi. The four high-performance 1.3 GHz cores in the quad-core processor give the device a good speed with fast app launching and excellent responsiveness.
The tablet also features Alexa. You can talk to your virtual assistance and instruct it to do whatever you wish on your tablet. With a battery life of 7 hours plus built-in 8 or 16 GB memory and an additional microSD card slot for extra storage of 200 GB, you can enjoy numerable movies, songs, eBooks, and apps.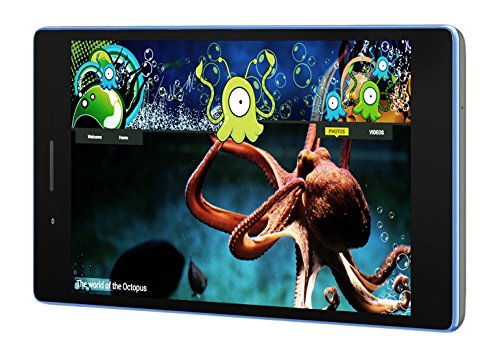 It has a sharp, clear and bright display, which is due to the 7-inch high-resolution IPS display technology with a slim touchscreen. The Adaptive Display technology keeps audio and video in automatic control, adjusting the duo as per the app being used. A custom setting is also available to maximize personalization and comfort.
The tablet is specifically designed keeping in mind all your family as it allows everybody to run their separate, personal profile and apps. Also, a kid's mode is designed for the little ones.
It's got 8 hours of battery life and 1.3 GHz quad-core processor. If you accidently drop the tablet in water or a splash hits it, you don't have to worry as your tablet is armored with the unique P2i nano-coating technology for water protection.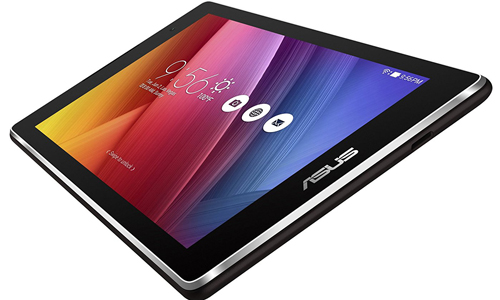 Featuring quad-core Intel Atom x3-C3200 with 1.2 GHz, Android Lollipop with 1 GB RAM and 16 GB onboard storage, this tablet is another talk of the town that comes under $100.
The Asus ZenPad has a 7-inch IPS display and paired with the ASUS TruVivid technology, it offers an amazing visual experience. Also, the device minimizes eye fatigue by filtering blue light emission from the screen without disturbing the colors. In this way, the tablet maximizes your viewing experience.
Moreover, the gadget is lightweight, weighing only 256 grams. It's also slim with a measurement of only 8.4 millimeters.
Chuwi Hi8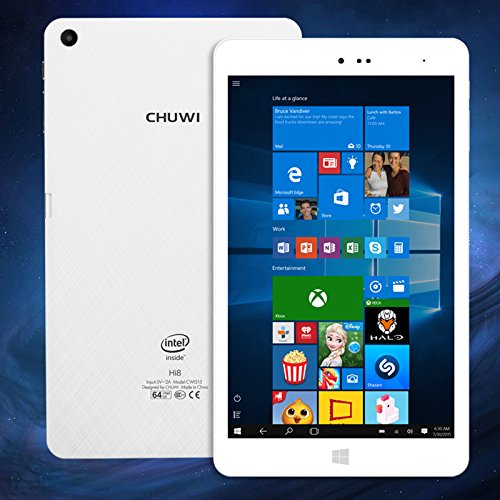 Use the one-key switch to enjoy the best of both worlds by swiftly swiping between Windows 10 and Android 4.4 KitKat.
With 1920 x 1200-pixel resolution and 283.02 ppi on an 8-inch Full HD screen, you can enjoy a variety of apps and movies on its 5 hours of battery life. The tablet runs on quad-core Intel Z3736F.
Additional amazing features include USB ports, Bluetooth 4.0, Wi-Fi, a high-quality microphone and dual cameras of 0.3 MP and 2 MP. And there's no worries with the one-year warranty by your side.