In the past few years, the progress made in the field of technology is enough to leave one dumbfounded if he stops to think about it. Who would have thought that a time would come when you would be able to shop with a gadget that is the size of the palm of your hands from places that are miles away? A few would have deemed it to be possible that one could carry details of all his business transactions and similar information in his pocket. The idea that you could watch your favorite movies or stream music on a small gadget is not one that would have crossed the minds of many. However, in the past few years, all this has become a reality and one such gadget which has attained immense popularity and appreciation in the past year is that of Android media players.
It was in 2000 that media boxes were introduced in the market. During that time, the boxes were capable of streaming music to your television and were quite expensive too. However, times have changed. Android media players have now come a long way from where they had started. They have reached a stage where they can be considered as an alternative to home theater PCs. With the help of these Android media players, one can ensure that he is able to watch his favorite movie and show while sitting comfortably on his couch. You can even play games and use social media with these devices. Indeed, there is a lot that you can achieve with these little gadgets. If you have one of these, you can be assured that boredom will never trouble you.
The media players have indeed a lot to offer and that too at a price which is affordable for most. Thus, they are found to be more appealing than other gadgets out there. The feature of streaming videos to television and the ability to browse the internet, play games and use other functions of the gadget tilt the balance in its favor.
What to Look For When Buying Android Media Players
Android Version: One of the most important things to look for when buying an Android media player is the operating system. There are a number of different Android operating systems, and not all of them are compatible with all media players. Be sure to check that the media player you're interested in is compatible with the Android operating system you're using.
Storage Capacity: Most Android media players come with either 8GB or 16GB of internal storage, but some models offer more. If you plan on storing a lot of music, videos, or other files on your media player, be sure to choose a model with plenty of storage space.
Battery Life: Battery life is another important consideration when choosing an Android media player. Most media players will offer around 5 hours of battery life, but some models may offer more or less.
Display Quality: Display quality is also an important factor to consider when choosing an Android media player. Some models have high-resolution displays that offer great picture quality, while others have lower-resolution displays that can save on battery life.
Supported File Formats: Be sure to check the supported file formats for the Android media player you're considering buying. Most media players will support common file formats such as MP3, WAV, and MPEG-4, but some models may support additional file formats
5 Best Affordable Android Media Players
Amazon Fire TV with 4K Ultra HD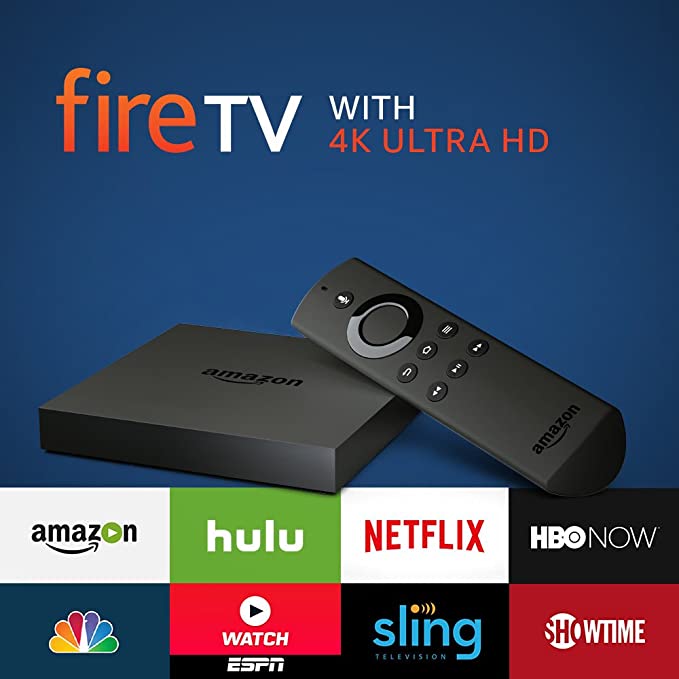 Amazon Fire TV with 4K Ultra HD is the ultimate way to experience streaming memories at home. You will never miss out on high-definition, 1080p streaming content from applications such as Amazon Video, Netflix, YouTube, and Hulu – all without needing to own a 4K TV.
Plus, you will have the added convenience of being able to utilize over 15,000 apps, games, and Alexa skills, allowing easy access to over 300000 TV episodes and movies on Netflix and more! When you want something specific just tell your Alexa Voice Remote what you would like – it's that simple.
Select one of your favorite shows or movies with a single voice command. Don't have cable or satellite? No worries! With this device, you can watch AMC, HGTV, ESPN, and FOX live sports, and primetime shows with CBS All Access subscriptions – all in the comfort of your own home!
Ematic 4K Ultra HD Android TV Box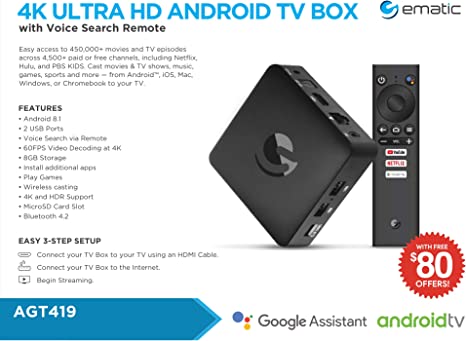 The Ematic 4K Ultra HD Android TV Box with built-in Chromecast and Netflix is the perfect way to upgrade your television. This model offers a host of features for great entertainment, including dual-band Wi-Fi, 8 GB storage, Bluetooth 4.0, two USB ports, and a microSD card slot.
Plus, you'll have access to over 450,000 movies and TV shows through Google Assistant and 4,500+ paid or free channels like Netflix, Hulu, or PBS Kids. The resolution of this device is an impressive four times the average 1080P HDTV that you would normally find in the average home.
It also comes with 60fps video as well as other spectacular visual capabilities. These incredible features are all conveniently controlled with just one remote that is included with your purchase! You'll be amazed at how revolutionary this TV box is compared to what used to come standard in previous generations.
Mecool KM1 Android TV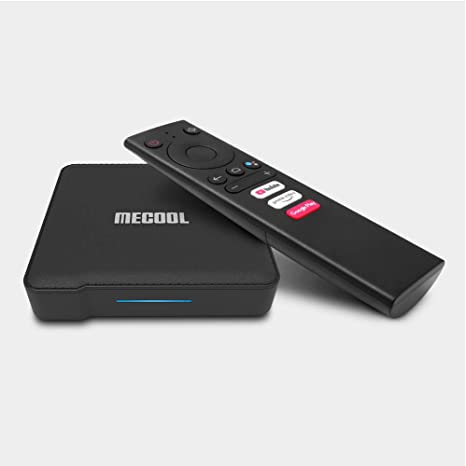 The Mecool KM1 Android TV is an all-in-one solution for those looking to enjoy high-quality media content without upgrading their entire home entertainment system. With support for 4K resolution and HDR, this tiny box packs a big punch.
It features an Amlogic S905X3 64-bit quad-core ARM Cortex A55 CPU, a G31 MP2 GPU processor, and full Google approval. Plus, it's powered by Google's Android 10.0 operating system, so you know your favorite streaming services are just a few clicks away. You can control the box with either an included wireless keyboard or via any mouse or game controller you already have lying around.
Best of all, the Mecool KM1 has built-in Wi-Fi with dual antennas for both 2.4 GHz and 5 GHz frequencies, ensuring a stable connection no matter how far from your router you may be. And if that wasn't enough, it also includes 100M Ethernet LAN so you can connect directly to your modem for even faster speeds if needed.
Fire TV Stick Lite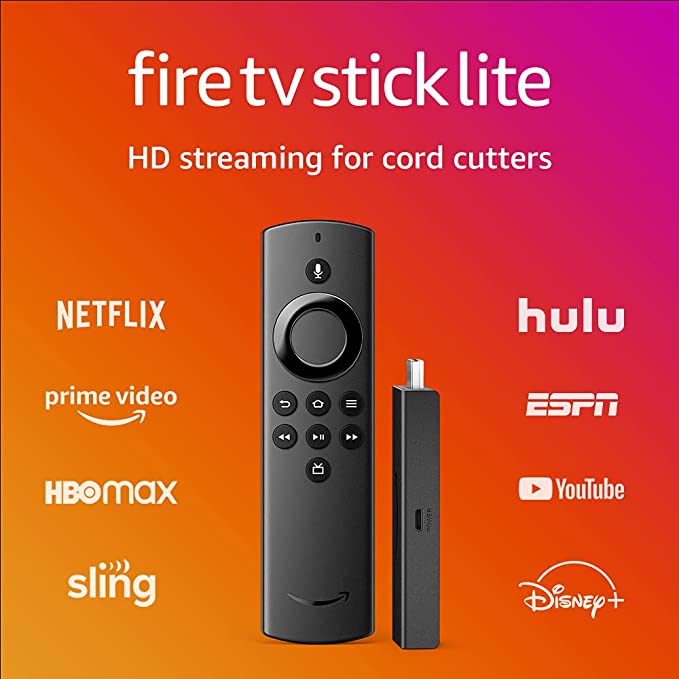 The Fire TV Stick Lite is an affordable solution to effortlessly stream our favorite shows, movies, and music in stunning full HD. Its affordability makes it ideal for budget-minded consumers, as well as first time Fire TV users.
Setting up takes close to no effort – simply plug it behind your TV and turn on the TV – and you'll be ready to start streaming right away. With Alexa Voice Remote Lite, everything is just a press or ask away; easily search through multiple apps and launch them with your voice.
You'll have access to hundreds of thousands of free movies, TV episodes from popular providers like IMDb TV and Pluto TV, along with unlimited entertainment options from Netflix, Prime Video, Disney+, Peacock and more.
And if live television is more your thing, check out popular third-party subscriptions like SLING or YouTubeTV for all the latest news and sports updates.
TiVo Stream 4K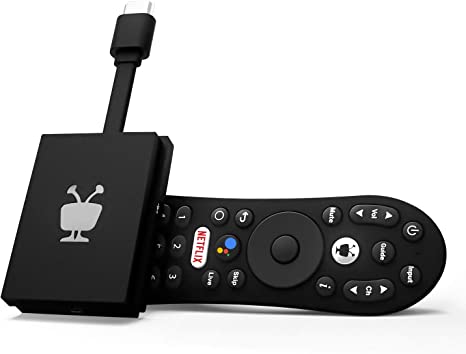 TiVo Stream 4K is a revolutionary streaming device that makes it easy to find your favorite shows and movies. It eliminates the need for app-switching and creates a centralized place where you can search, browse, and create watch lists across different apps. All this without sacrificing any of the quality of the content – TiVo offers recommendations based on what you love, no matter where it lives.
Plus, you can use voice control and Google Assistant to launch apps, dim the lights and more with just the power of your voice! But that's not all: TiVo stream also included Netflix, Prime Video, Disney+, Peacock plus many more so you know you're getting only the best selection available. It's no wonder why Time Magazine named TiVo Stream 4K as one of "2020 Best Inventions, Special Mention"