Certainly one of the most popular cell phones of 2014, the OnePlus One pretty much came out of nowhere to go toe to toe with the flagship smart phones offered by Samsung, HTC, Google, and Apple – with millions around the world finding the OnePlus One to be the best device out there.

Combine that with the fact that it enjoys a $299 price tag (hundreds of dollars less than any other flagship phone) while still packing killer hardware and specifications, and you're looking at a pretty mean piece of technology.
Obviously, you'll want to protect your OnePlus One cell phone – which is exactly where these top OnePlus One accessories come in handy!
Best OnePlus One Cases and Covers
Nillkin Frosted Matte Hard Case Shell Pack of Screen Protector Film Compatible for OnePlus One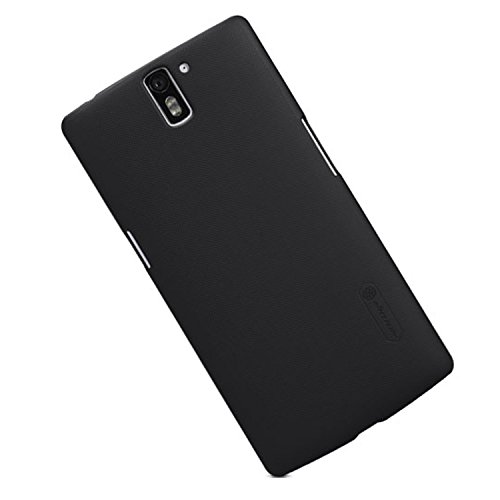 One of the most popular OnePlus One cell phone accessories on Amazon today, this particular cell phone case uses a polycarbonate hardshell protective barrier with an included screen protector to make sure that your cell phone stays in closed in a "protective bubble" without losing any functionality.
A little bit on the bulky side of things, you'll get used to the extra weight and the trade-off is definitely worth it when you have complete peace of mind knowing in that your devices safe.
IMAK Transparent Crystal Clear Hard Cover Case Shell Compatible for OnePlus One
A transparent hardshell made out of crystal plastic, this cover is a "snap on" solution that you can quickly and effortlessly attach to your new OnePlus One to add an extra layer of protection to the back and sides. The front of your device (the screen) will not be protected, but you'll be able to enjoy all of the design aspects of this phone thanks to the crystal-clear poly solution used.
DAYJOY Luxury Ultra Thin Aluminum Alloy metal protective bumper Frame case cover Shield Shell
As far as dropdead gorgeous cell phone cases are concerned, it's hard to find anything that looks any better than this one.
Using thinly milled aluminum alloy as a "bumper" that goes all across the perimeter of your OnePlus One, it doesn't offer the same kind of "force field" like protection that some of the other cases do – but it offers just enough on the weakest parts of the phone to keep it safe from most dents, dings, and other day-to-day damage.
Walsontop™ 360 Degree Protection Flip Leather Case Cover For OnePlus One
Finally, if protection isn't exactly your number one concern but fashion is, this is the case you'll want to go with.
It's hard to beat the all-natural leather feel of this particular case, and the clean lines and expert craftsmanship are definitely going to set it apart from all others.
Best OnePlus One Screen Protector
ArmorSuit MilitaryShield – OnePlus One Screen Protector Anti-Bubble Ultra HD
If, on the other hand, you're looking for a "military grade" cell phone protector for your new smart phone, this is the choice you're going to want to go with.
Not only are you going to leverage a slide on polycarbonate case that can take a beating without showing any signs of wear or tear, but you're also going to be able to take advantage of anti-bubble ultra high definition military grade screen protectors – the same screen protectors that are used on military electronics in war zones all over the world.