Portable dishwashers are designed for people who want the convenience of having a dishwasher but don't have room in their kitchen. The best 24-inch portable dishwashers will save you time and money by making your dishes sparkle without taking up too much space. If you're looking for the perfect appliance to fit into any small space, then this article is just what you need!
Factors to Consider When Buying 24-inch Portable Dishwashers
There are many factors to consider when buying a dishwasher, including the size of your kitchen and the layout. Here is a list of some other considerations:
Capacity : up to 25 dishes per cycle or 40 quarts capacity; dryer tray included with every model for drying wet items such as glasses and silverware before loading into dishwasher . If you need more space for large pots and pans there's an option for that too! Some models come equipped with two racks on top so you can fit more dishes in the dishwasher.
Features: Some models come with features such as a digital display, touchpad controls or an interior light to help you find items inside of your dishwasher. You can also get a model with adjustable racks if you need them for different size plates and cups
Noise Level: some are quieter than others – it's worth looking into what noise level is typical from each manufacturer before making a purchase decision since this may be important to you . There are many who prefer a quiet machine so they can easily talk on their phone while doing other things like preparing dinner without having to worry about being interrupted by loud noises coming out of the kitchen!
Warranties: not all dishwashers come with a warranty, so it's best to do your research before purchasing.
5 Best 24-inch Portable Dishwashers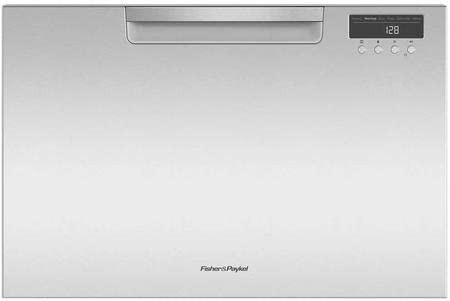 Fisher Paykel has built its reputation on built-in dishwashers, but many of its products fall in the middle category. The DD23SAX9 unit can be both built-in and portable. While it does not have wheels, it is quite compact at 22.5×23.5×16.13 inches and can even go on your countertop without too much hassle.
The dishwasher comes with seven place settings, as well as six different cleaning cycles. It is Energy Star certified and features the popular DishDrawer technology. Other than that, it is freestanding and puts out 45dB, so it is quieter than smaller units in this range.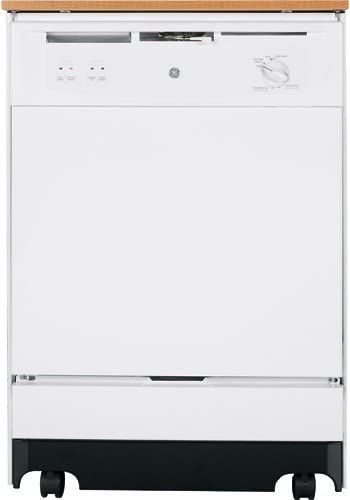 General Electric's 24-inch portable dishwasher will not let you down. While quite heavy at 150 pounds, it comes with four caster wheels to make transportation a breeze – you can literally pull or push it anywhere. It comes with an innovative pot and pan cycle that can remove baked food.
Other than that, the machine has TouchTap controls – ease to use and quite modern. The top has a laminate feeling – both attractive and durable. Other than that, the wash system has a five-level PowerScrub and full water filtration with the ExtraFine filter. All in all, General Electric has taken technology to another level.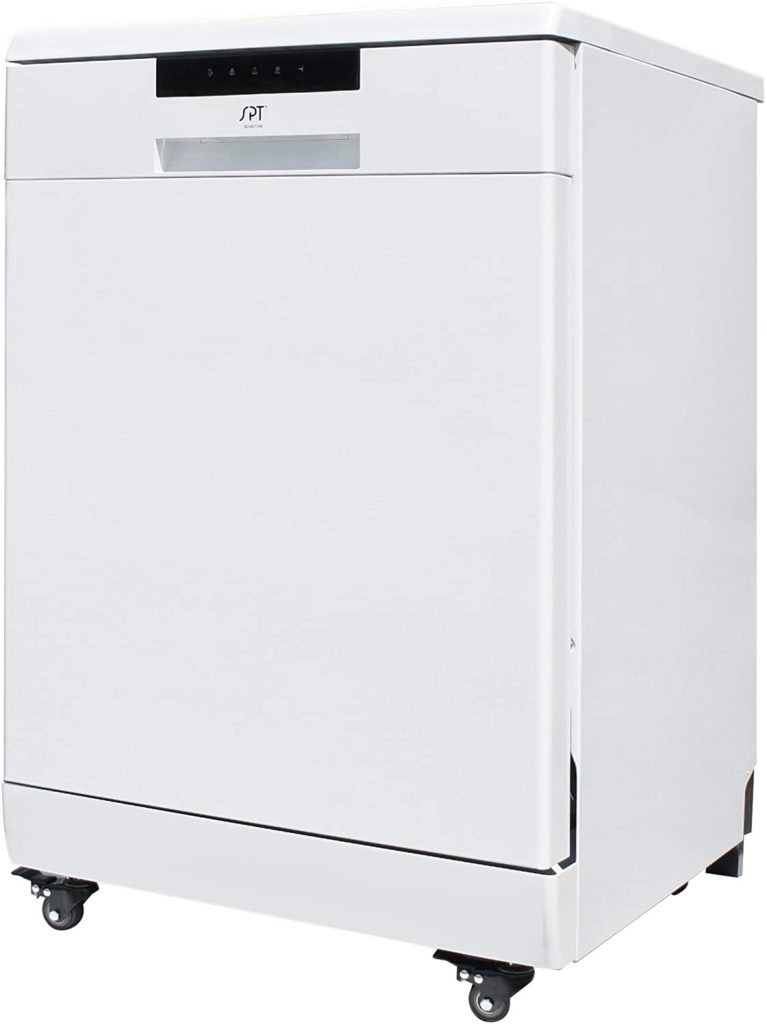 You just cannot go wrong with SPT's portable dishwasher. It has a time delay feature to organize the washing around your lifestyle, as well as a rinse aid warning indicator – the washer literally looks after itself. The interior is based on stainless steel – a primary choice when looking for a new dishwasher.
Despite the size, the unit is easy to move around due to its four caster wheels. It runs quietly at 52dB only and has up to 10 classic plate settings. There are six different washing programs and a couple of racks. As if all these were not enough, automatic dispensers kick in to make your life easier.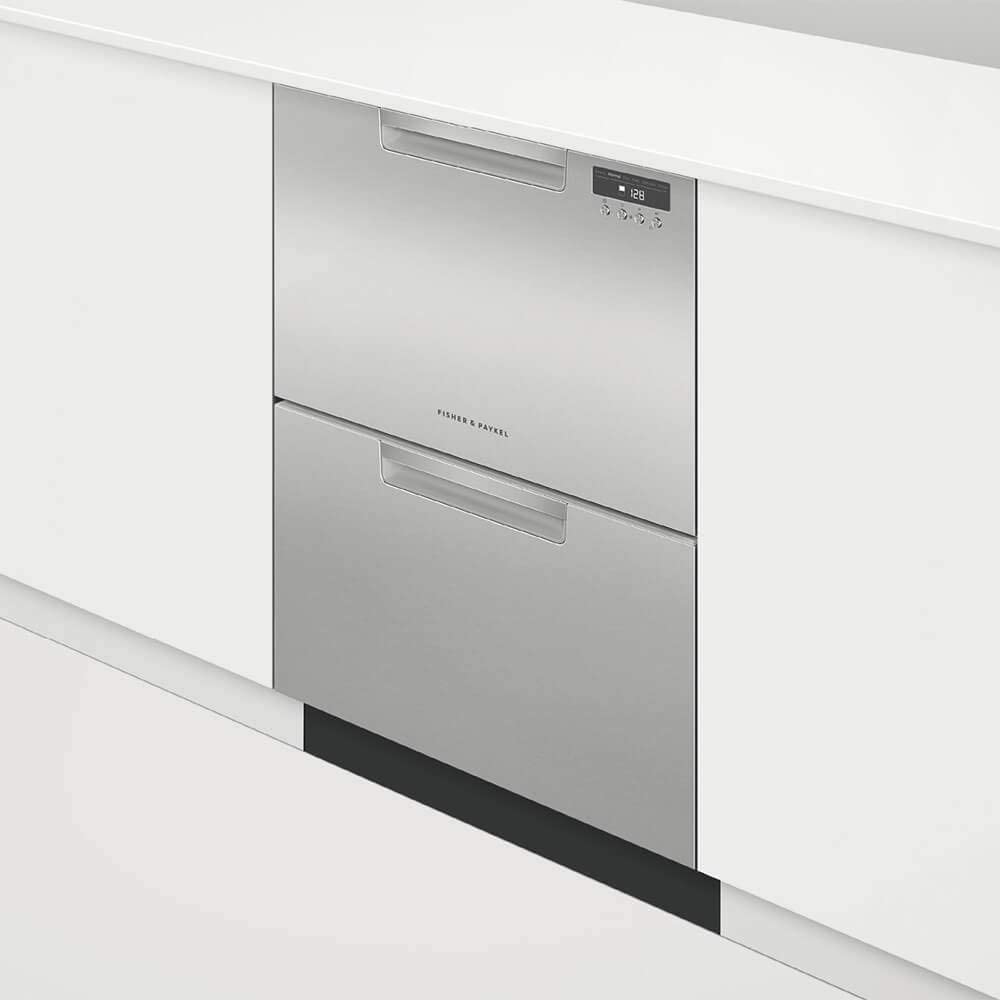 The DD24DAX9N 24 inch dishwasher from Fisher Paykel is the larger version of the DD23SAX9 model. It weighs 124 pounds and while portable, you might need someone to help you out with it. However, it is still compact and makes a good choice for small kitchens or RVs.
Based on stainless steel, it will last for ages. It has 14 different place settings and an independent wash function. Racking can fold down if you want to wash larger pots or pans. As for the cycles, there are six different options – classic.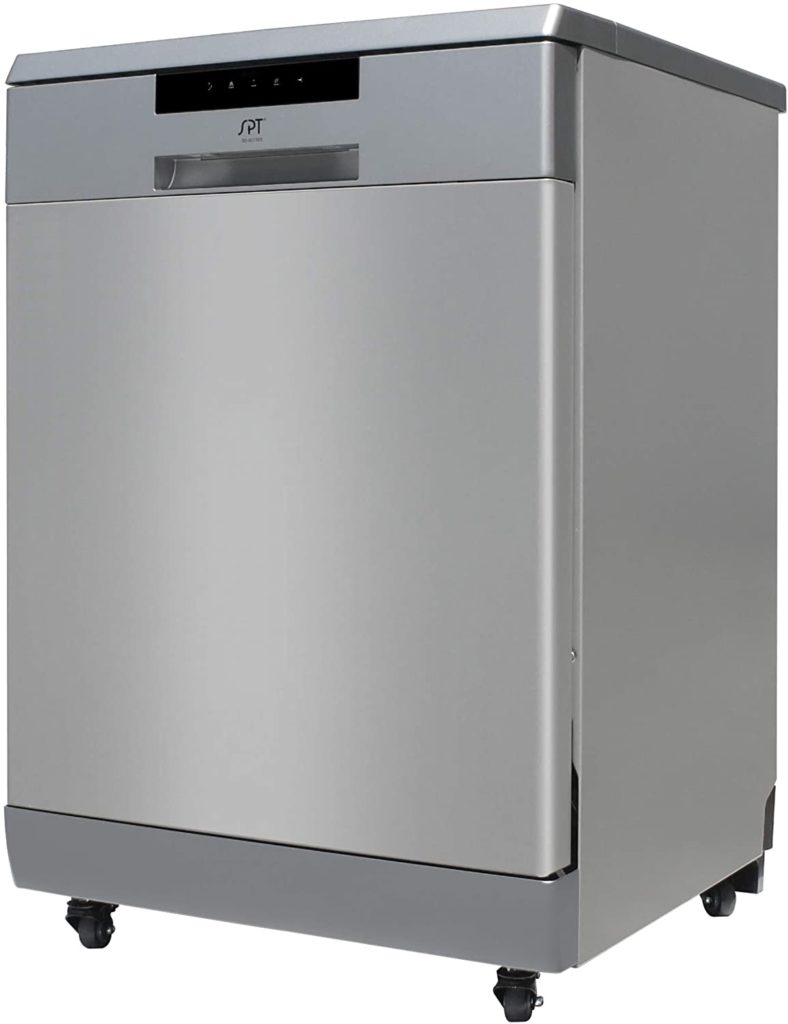 At a first glance, SPT's 24 inch portable dishwasher may seem quite heavy. After all, it weighs 172 pounds. However, the caster wheels are smooth and will allow you moving or dragging it anywhere with no problems at all. Despite its size, it is relatively quiet at 52dB.
The dishwasher comes with automatic dispensers. In terms of capacity, it has up to 10 classic plate settings. There are six different cycles too, not to mention the rinse aid indicator or the error alarm. In terms of quality, the stainless steel interior will last for ages.
Conclusion: So what are you waiting for? Stop wasting time and energy with hand-washing dishes. Get your hands on a portable dishwasher today! Portable dishwashers save water, electricity, space in the kitchen (and our backs), money on utilities…need we say more?! If you're ready to find out which 24 inch model is right for you, just scroll up.