When you are looking for a dishwasher, it is important to consider what size will work best. There are many different types of dishwashers available on the market today, including 18 inch portable dishwashers. If you need something that can fit through your door and into your kitchen without taking up too much space, then this is the type for you! We have collected 5 of the best 18 inch portable dishwashers on the market today so that you can easily make a decision about which one would be right for your home.
What to Look For in a 18 Inch Portable Dishwasher?
When you are buying a 18 inch portable dishwasher it is important to think about the size of your kitchen, doorways, and any other obstacles. You will want to measure everything out so that you know what type would work best for your space. Even though the dishwashers in this list are portable which can fit anywhere you place, it is best to measure all available space first
You also need to make sure all of the items in our list can fit inside before making a purchase! There are many different features available on these devices which may be something you have been considering while looking at them.
Features like auto-sense technology or rinse hold cycles might be something worth investing in when purchasing this appliance because they provide new opportunities for washing dishes quickly and easily with just the push of a button!
Some people find themselves hesitant to buy one due to some common myths about them. For example, some people think it just doesn't clean the dishes well enough or that it isn't worth your money to buy an 18 inch dishwasher but this couldn't be farther from the truth!
5 Best 18 Inch Portable Dishwashers
RCA RDW1809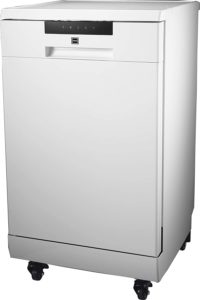 RCA's 18-inch portable dishwasher comes with four wheels and can be moved anywhere around your home. You can keep it hidden if there is not too much room, then take it out when you need to clean dishes. It has a low water consumption and can connect to literally any kitchen tap out there.
The interior is based on stainless steel, so durability will never be an issue. It is compact enough to fit under most cabinets in the kitchen. As for the interior, there are eight standard place settings. Given its wheels, you will not have to lift it anywhere, but just drag it around.
SPT SD-9263W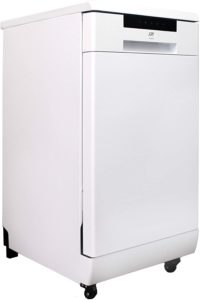 SPT has gained lots of reputation with its dishwasher and the SD-9263W will pleasantly surprise you. It is Energy Star rated and comes with eight classic place settings. It has eight wheels for easy portability, so you can push it anywhere. It is only available in white.
On the inside, you will find stainless steel everywhere, so durability will not be an issue for you. There are six different wash programs and the rinse aid warning indicator will tell you when to refill. Simply put, this efficient dishwasher looks after you as well.
Danby DDW1805EWP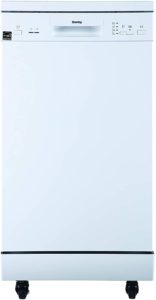 Danby has created one of the most cost-efficient 18 inch portable dishwashers on the market – value for money will never be an issue here. It has a clear white appearance and quick connect features. It is compatible with most faucets out there. It is ideal for camper vans or small kitchens due to its size too.
On the inside, you will find a stainless steel spray arm – the interior features the same style. It is durable and well put together. You also have eight place settings, as well as a basket for silverware. Electronic controls are easy to get used to, while the four washing cycles will give you lots of options.
SPT SD-9263SS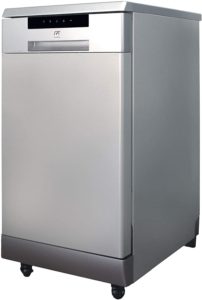 SPT's SD-9263SS dishwasher is stainless steel all over. It has a steel appearance and relies on stainless steel for the interior and arm. It will last for ages if well looked after. It is a freestanding unit with four caster wheels – decently weighed, but you will not have to lift it to move it around anyway.
The unit has eight classic place settings for dishes. There is lots of room to handle the dishes after a full family dinner. The control panel is easy to get used to – everything above the door. Other than that, it runs at 52dB, so you can still have a conversation while it runs.
Costway Dishwasher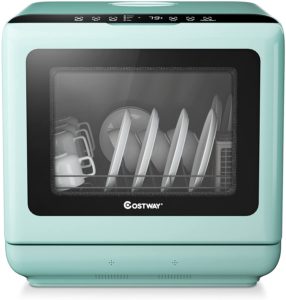 Costway's dishwasher measures 18×17.5×18 inches. It is portable and designed to go on the countertop, yet you can virtually install it anywhere. It has five different washing programs, while the water temperature can go up to 149 degrees F.
There are two water supply modes – tank and faucet. You have a dry mode, as well as a delay function. The unit has all the accessories you may require, including the basket, rakes, measuring cup and pipes, among others. The transparent window also allows you to watch the cleaning process.
Conclusion: We hope that this article has helped you to make a decision about the type of dishwasher that will work best for your home and lifestyle. It is important to think through all of the different factors before making a final purchase, but once you find the right fit we guarantee it will be worth every penny! Ready to get started? Check out our list above and let us know which one (or two!) are your favorites. Happy shopping!