Dishwashers are a necessity in any home. They make the job of cleaning dishes much easier, and they also save us time. However, not all dishwashers are created equal. Different dishwashers have different features that will make your life easier or harder depending on what you need them for. In this blog post we'll take a look at some of the best 18-inch built-in dishwashers on the market today so you can find one that fits your needs!
Before buying an 18-inch built-in dishwasher, there are a few factors you should take into account.
First, the size of the dishwasher is important. You want to make sure that it has enough room for the dishes you need to wash.
Next, a good sensor can help get the dishes clean with just a little bit of water.
Finally, if you have small children at home or live in an apartment complex, noise level will be important to consider.
5 Best 18-inch Built-in Dishwashers
Danby DDW1804EW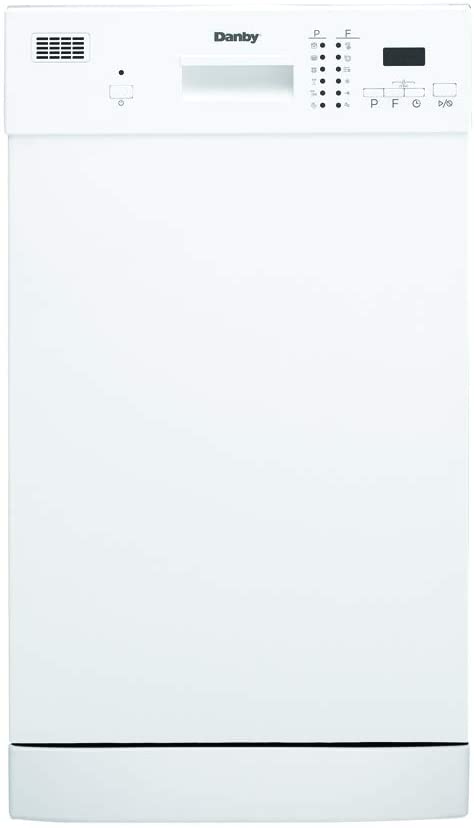 Danby's DDW1804EW 18-inch built-in dishwasher is a space-saving unit with eight place settings and a small basket for silverware. Its height is adjustable and can go up to just over 34 inches. It has an incredibly low water consumption and features electronic controls and a digital display.
The delay start feature is convenient as you can schedule washing around your lifestyle. There are also six different wash cycles and four water temperature settings – plus, a sanitize option. The inner tube is based on stainless steel for exquisite durability. Running at 52dB, it is quieter than most units in this range.
EdgeStar BIDW1802SS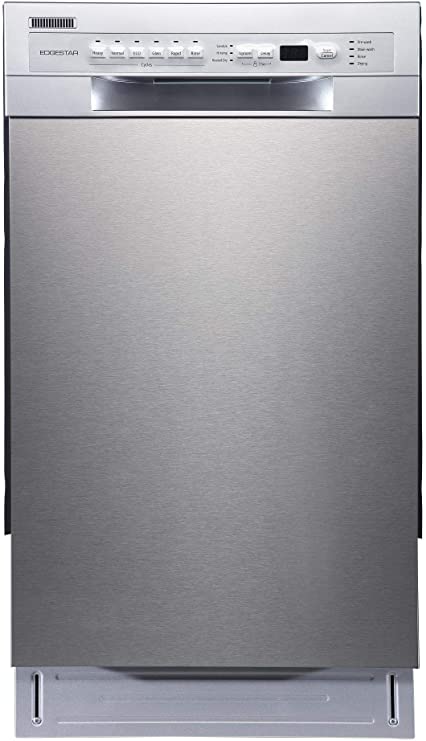 The BIDW1802SS 18-inch built-in dishwasher will provide access to a tray for cups, a basket for silverware and eight other place settings. Washing cycles are quite varied too – rinse, rapid, glass, eco, normal and heavy. There are also three different options to sanitize your dishes.
Given its compact size, the dishwasher can easily go anywhere. It has a few safety features too, such as a leaking sensor. If a leak is detected, the water flow will be shut by itself, preventing damage to your home. The unit is also quite light and can be installed without too much hassle – not to mention running at 52dB.
SPT SD-9254SS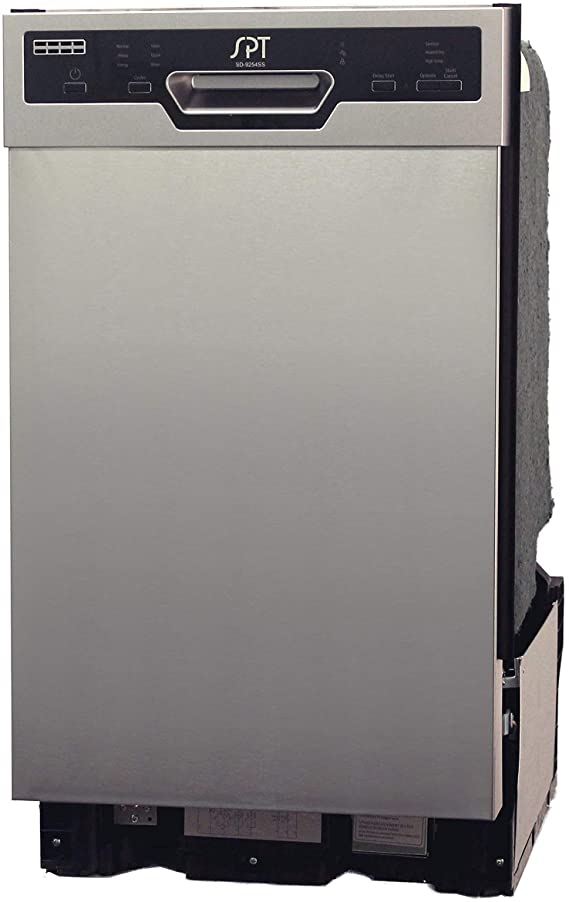 SPT's dishwasher is built-in and features a top mount construction. It has a sleek gray appearance and can match modern decors. The unit is based on stainless steel for good looks and durability. The tub is based on the same material to ensure a long-lasting operation.
There are more wash programs based on the dishes you need to clean – rinse, glass, energy, normal, quick and heavy. The drying cycle also comes with a heating function. All the features and settings are available in a front display control panel. The operation is intuitive and straightforward.
Frigidaire 18 in. ADA Compact Front Control Dishwasher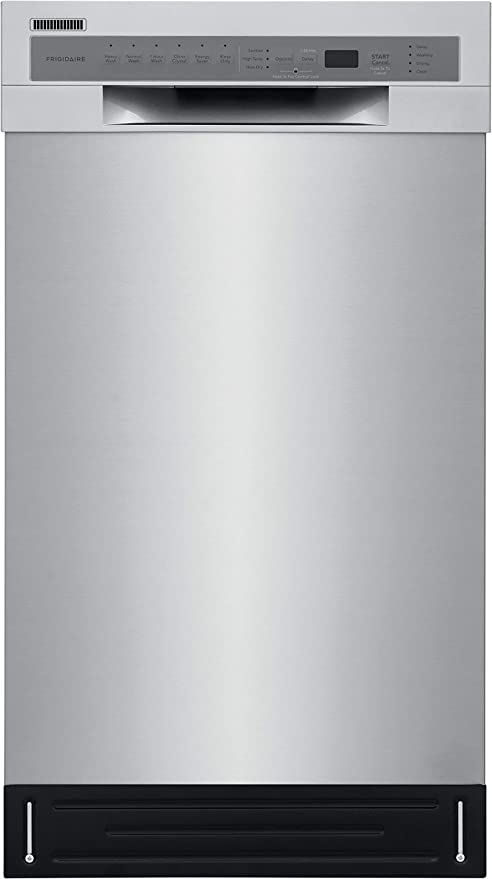 Available in black, white or stainless steel, Frigidaire's dishwasher will not disappoint. It comes with two spray arms for a thorough clean and no leftovers whatsoever. Moreover, once the washing is done, the sanitize cycle will ensure everything is safe to use. There are eight place settings you can use and a heated drying system.
Cycle options provide six different features – rinse, heavy or energy, among others. It has a quiet operation at 52dB and comes with Energy Star certifications. In other words, it will also save you some money on energy consumption.
Energy Star 18″ Built-In Dishwasher SPT SD-9254W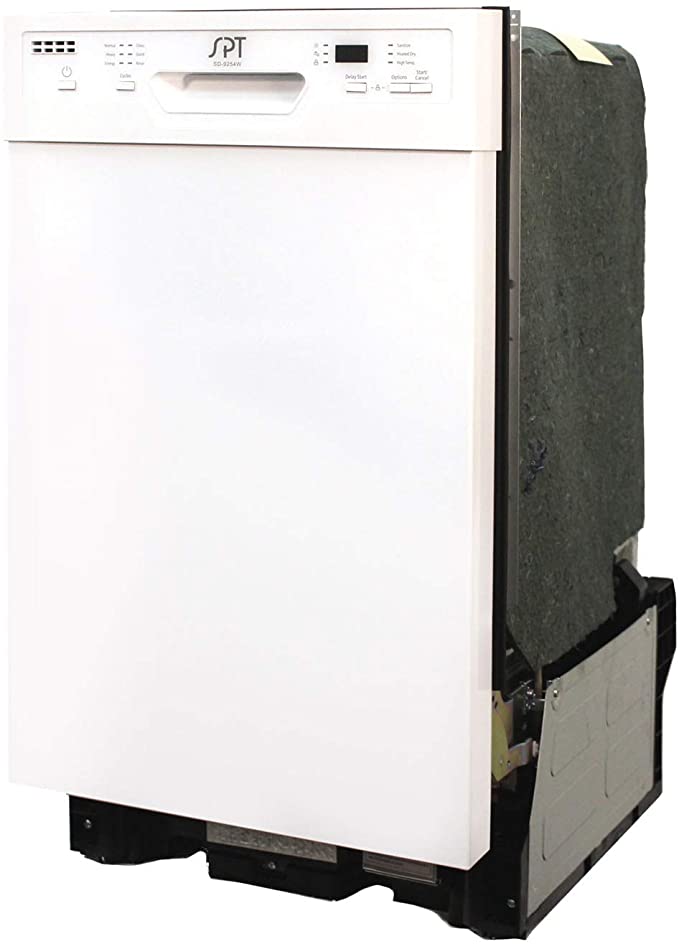 Weighing 54 only and coming in a compact design, this 18-inch built-in dishwasher from SPT has a classic appearance and an intuitive control panel on the top side. Even if you have never had a dishwasher before, you will get used to it in no time.
Pretty much everything is made of stainless steel for a solid and durable design. There are six different wash programs – all accessible through the control panel, as well as a heating function during the drying cycle. Just like other dishwashers in this range, it runs at 52dB and will still allow you to have a conversation in the same room.
With so many dishwashers on the market today it can be hard to know which one will work best for you. We've gone over some of our favorites, and we hope that this list has helped you find a dishwasher that is perfect for your needs!