BENGOO G9000 gaming headset is a great headphone, especially for gamers.
This easy plug and play headset bring a lifelike sound field, clarity, and sound-shock feelings. It has super soft over-ear pads made out of skin-friendly leather material which reduces heat sweat and makes it comfortable to use it for a long time. It is fairly snug and convenient with quality audio and stereo effects.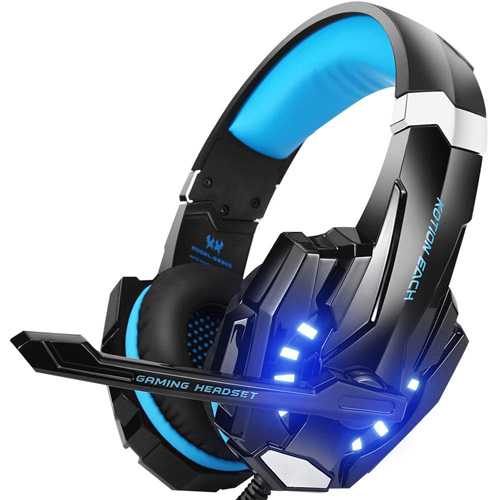 Why BENGOO gaming headset?
It is highly compatible; it supports PlayStation 4, Laptops, PSPs, Tablets, new Xbox one, Nintendo 3Ds, iPads, Computers, and mobile phones. Basically, it can be used in any electronic devices.
It gives you the best sound experience because the circumferential subwoofer has excellent quality sound and the arrangement of the acoustic accuracy beautify the intensity of the speaker.
It comes with impressive noise segregation and great adjustable mic to make it convenient for you to arrange the angle of the microphone. It can convey an excellent-quality transmission with its exceptional noise reduction feature and can take up sounds with high acuteness and eliminate the noise – enabling you to send or accept messages during a game.
It is designed to be user-friendly with cozy and excellent quality ear pads. Its compact structure with sturdy headset cords gives an appealing look that comes with lightweight. And it has a bright LED attached on the ear cups to highlight the atmosphere while gaming.
The one-key-mute feature is one of the attractive features of this headset. The USB cable can be untangled smoothly without much hassle, allowing you to control the volume effortlessly.
If you are searching for a budget-friendly headset, Bengoo G9000 is here to fulfill your demands. The Bengoo G9000, with its futuristic design, comes with an affordable price range and good quality sound. Usually, you don't get these two in the same package- it's either a cheap headset with low-quality sound or a good quality sound in a high range.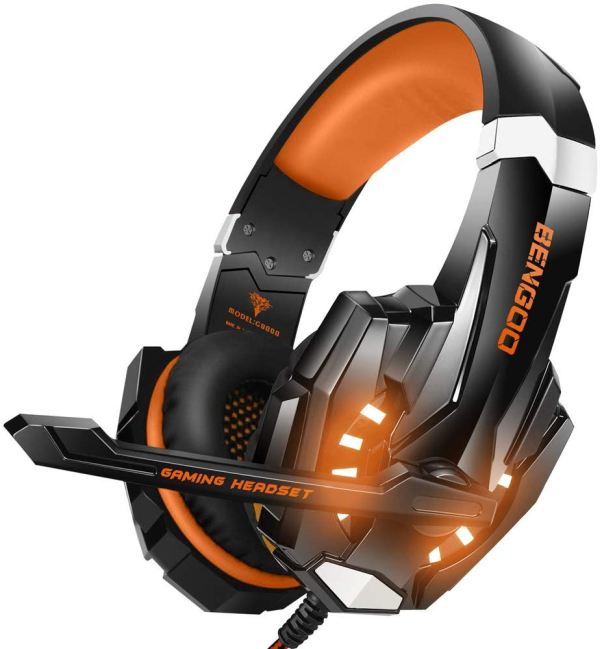 It has decent speaker/mic sound that serves the purpose for you to communicate, and a good quality cable that houses in-line mic, mute switch, and audio volume adjustment. It also sits comfortably on our head without any cramps or tight fits.
However, the Bengoo G9000 comes with its share of downsides such as super sensitive mic, and the USB port is only a power source for the LED lights. And while the LED lighting is a refreshing addition, it is entirely useless. And given that it is made out of plastic, it could break easily if you sit on it or play with it. It would not be able to withstand abuse at all due to the cheap construction. But its minor flaws are ignorable because it is almost impossible to get a budget-friendly headset with good quality sound. So, if your search is to buy a high-end headset with other fancy features, this is probably not the one for you, but Bengoo G9000 is hard to beat for the price for a novice gamer who wants a functional headset.