The 21.5-inch widescreen Acer SB220Q bi has a zero-frame design and stylish extra-thin enclosure. It is an excellent choice for many reasons. It comes with a high-quality HD resolution of 1920*1080 improved by IPS Display with vibrant color, incredibly crisp, and high-quality visuals which allows you to have the benefit of a high clarity experience in the comfort of your home.
However, small monitors like this are ideally suited for disorderly office desks. Acer SB220Q bi 21.5-inch is a primary monitor for daily use and gaming. It is an attractive monitor which has all the right features at the right price.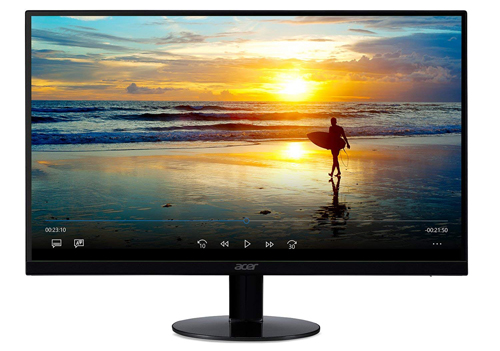 The Acer SB220Q bi with 21.5'" Widescreen which has an IPS Display provides quick visuals and allows you to see everything clearly from any angle. Despite being a 21.5-inch screen, Acer SB220Q bi offers a beautiful bezel-less screen with a very slim overall profile. This monitor fits perfectly in your home or office because of its extra-thin enclosure and Zero-Frame design that provides full HD with 1920*1080 widescreen resolutions.
This "Zero-Frame" design increases your screening experience and decreases visual chaos with a fabulous thin bezel that hardly gets noticed.  It has an unbelievable 100,000,000:1 contrast percentage and rapid responses time of 4ms which highlight the highly developed technology and its display is eco-friendly too.
The SB220Q monitor is a well-shaped monitor with outstandingly thin at only 0.24 inches which adds a fresh and incredible look to your home or your workplace and saves space. The Acer SB220Q bi is the Free Sync-enabled screen which solves the communication difficulty between the monitor and the processor.
It eliminates uneven images for smooth and eases gameplay. However, you should also have an advanced micro devices Freesync companionable graphics card. This Acer SB220Q bi monitor has a refresh rate of 75Hz which helps you to have smooth and even gameplay.
It also has VGA and HDMI port but does not have an HDMI cable.
Its specifications are:
IPS Display with 21.5″high-quality HD (1920*1080) Widescreen
Advanced micro device Radeon Free Sync Technology
75Hz Refresh Rate with HDMI Port
Ultra-Thin/ IPS Panel /4ms Response Time / Zero-Frame Design
One VGA port and one HDMI Port
Pros
It has a Zero-Frame design with an extra-thin enclosure which fits perfectly with any of your workshops.
Instead of the standard 60Hz, it has a refresh rate of 75Hz
It is easy to assemble and very easy to operate
It has a VGA and HDMI ports
It has a high-quality resolution
It automatically picks up the correct settings once the link is made
Cons
It does not have VESA wall attachment screw holes to mount on an arm or wall
It does not have a speaker
It is not enough for video editing and professional photography
It does not have an HDMI cable
There is no DP, DVI, or Audio out port.
Conclusion
Although technology is an ever-changing race and in time it is possible that other brands could come up with an excellent product than Acer SB220Q bi, however, currently, this is the best 21.5-inch display.  Although it lacks coordinated speakers, yet, it does so well in the rest of the facilities. They are not just affordable, but it saves space. They are affordable, so you can effortlessly get two for the price of one 24-inch monitor for a dual-screen setup.