ACEPC Mini PC Stick is a small device that can perform any task that a laptop or desktop can do. Today, mini PC sticks are becoming more popular as they are compact and can be used in HDMI display. The USB stab size mini PC stick can be plugged into any HDMI TV, and it will transform the screen into a smart TV. They usually come with preinstalled Window 10 which can change any HDMI TV into a smart media centre and perform any job that a computer with Window 10 can perform.
The ACEPC Mini PC Stick package includes one W5 Pro Mini PC, one HDMI cable, one power adapter and one user manual. The ACEPC Mini PC Stick is the size of a USB flash drive which can be easily carried around wherever you go and transform a dull HDMI display into an entertainment centre where you can stream movies, browse the internet, play games or listen to music. The small USB size Mini PC can change the way you use your standard HDMI display.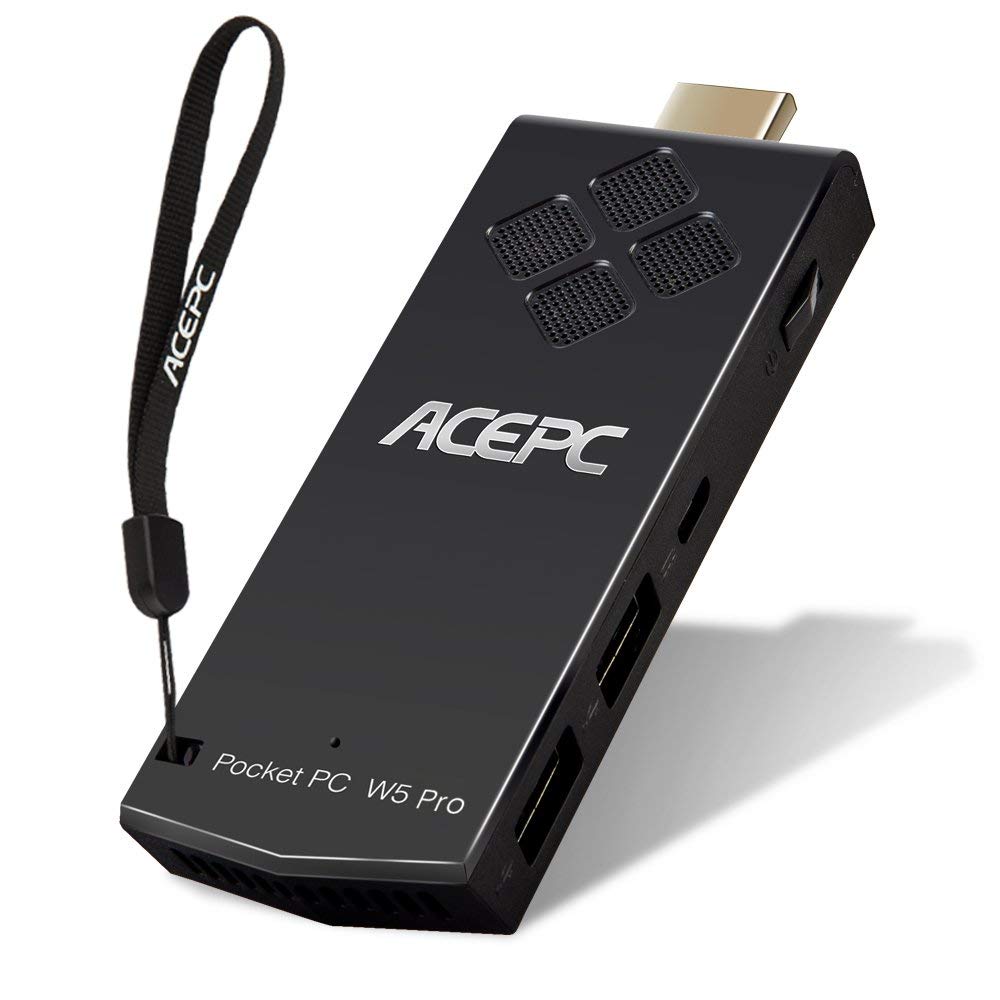 At the price of $95.99, ACEPC Mini PC stick is very affordable. It is powered by Intel Atom X5 Z8350 processor and at the speed of 1.92 GHz. It has a 2GB RAM size with 32 GB eMMC hard drive size and a microSD slot. The ACEPC Mini PC Stick is preinstalled with Window 10 (64-bit). The Mini PC also supports wireless devices; Wifi and Bluetooth. Integrated graphics support the Graphic Coprocessor. There are two USB ports and one micro USB port. The size of the Mini PC Stick is 3.9×1.5×0.5 inches.
The ACEPC Mini PC Stick has 64-bit Window 10 preinstalled, so when you first plugin, it will automatically work as any new Window 10 PC. The ACEPC Mini is able to perform most tasks that any Window laptop or desktop can perform. You can stream online movies, watch YouTube, browse the internet and play games. Although you cannot play those new games which are loaded with graphics, you can still adjust the settings to low graphics for a better gaming experience. This issue is, however, expected of a mini PC. It can also run both the 720p and 1080p videos without any problems.
The 32 GB memory may be too less for most avid users; however the microSD card can be used. You can also plug in an additional external hard drive for more storage. You can also use a keyboard and mouse as well. The inclusion of two USB ports is a plus point for this product as you can use them as a USB hub as well.
Considering the price and size of the Mini PC Stick, it is worth the money. It is especially suitable for those who travel a lot for businesses. It is a good portable office computer. However, for those who want to play graphics-rich games, it is not the device to choose. It is ideal for home entertainment and office work.