Have you ever taken a picture that was so good, it's worth sharing with the world? ACDSee is an app that does just what you need. ACDSee is the photo editing app that's here to take your photos to the next level. This app tackles image editing from all angles, with a variety of features ranging from quick fixes to perfecting quality. Edit out imperfections, highlight your best features, and make professional presentations – it's never been so easy.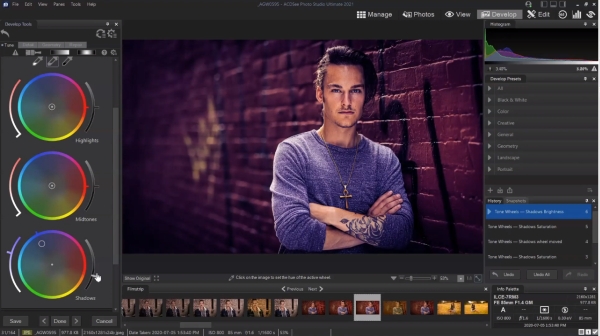 ACDSee has been used by professional photographers and amateurs alike for more than 20 years. It can be used to edit photos, create collages, retouch portraits, add text or other objects to the image, share images on social media sites like Facebook and Twitter in seconds with just a few clicks of your mouse.
Features
ACDSee has a one-click auto fix feature that can help you get rid of red eye, shadows, and other problems.
There are also features to make your photos more vibrant with the "vibrance" button or give them a vintage feel with the "saturation" slider.
You can create slideshows or video montages from your favorite photos in just three clicks!
Create photo albums by date, location, keyword tags, and more – all without leaving the app!
CDSee Photo Editor has hundreds of presets which help you to enhance the color of your images with just a few clicks by using one of the presets or manually adjusting it to achieve the desired effect.
Create stunning compositions out of ordinary pictures by adding text objects like bubbles, shapes and lines – all you need is imagination!
ACDSee allows you to share your memories on social media sites like Facebook and Twitter.
Easily order prints online right inside ACDSee for quick delivery!
Even if you're not a pro at photo editing, ACDSee Photo Editor can give your images the professional touch thanks to one-click filters like "Matte Painting," "Cartoon effect" or just plain old contrast enhancement and sharpening.
Hotkeys
| | |
| --- | --- |
| – | Zoom out |
| + | Zoom in |
| Alt + C | Copy the current item to a folder |
| Alt + M | Move the current item to a folder |
| Alt + R | Rename the current item to a folder |
| Alt + Enter | Show the properties pane |
| b | Display or hide the status bar |
| Ctrl + Shift + M | Display or hide the menu bar |
| Ctrl + E | Open the current image in the default editing application |
| Ctrl + F | Open the Convert File dialog box |
| Ctrl + Insert | Copy the selected portion of an image to the clipboard |
| Ctrl + J | Open the Rotate/Flip Images dialog box |
| Ctrl + L | Opens the current image in Edit Mode, and activate the Adjust Exposure tool |
| Ctrl + R | Open the current image in Edit Mode, and activate the Resize tool |
| Ctrl +Q | Clear the current selection |
| Ctrl + S | Save an image |
| Ctrl + W | Close the viewer windows |
| Ctrl + Alt + | Rotate the current image 90º clockwise |
| Ctrl + Shft + 1 | Change the image color depth to Black and White |
| Ctrl + Alt + B | Open the batch image processing menu |
| Shft + E | Opens the current file in the default system application |