When you are an avid gamer, you will certainly want to have the right controller on hand when you decide to get some serious playing. You need something that will allow you to feel the controls very well on your hand, one that has proper grip, and one that will certainly allow you to move in the game without any lags and freezes.
The bluetooth controller from 8Bitdo may be exactly what you are looking for. With a design reminiscent of the retro SNES, a lot of gamers will really love having this in their game room, ready to be picked up when they want to engage in some serious game play.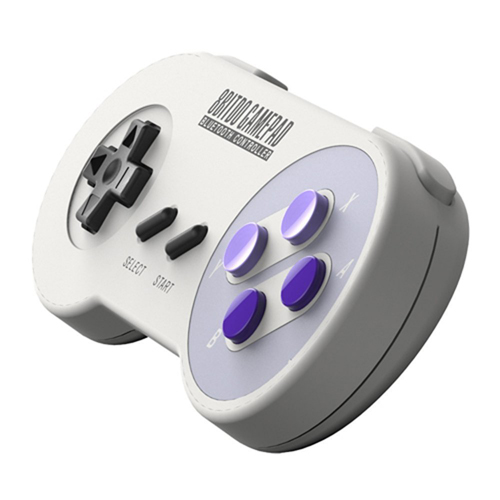 What make 8bitdo's SNES30 controller great
It is compatible with a number of devices.
This is a game controller that has high compatibility. It works with Android, iOS, Windows, as well as Mac OS. It is also able to support those devices that are under Android or iOS that have been rooted or jailbroken.
It does not require rooting or jailbreaking.
 The device is designed to be compatible with almost anything so rooting or jailbreaking is no longer necessary for it to work. It is also designed to support those games from iCade.
It has a built-in 480mAh battery pack.
 The li-on battery for the unit which has 480 mAh is certainly designed with long hours of use in mind. If you are the avid gamer that expects to spend a considerable length of time playing on these controllers. This is one choice that you will not be disappointed with.
Pros & cons
Pros 
Ergonomic feel – The controller is designed with ergonomics in mind. Users will notice how it has considerable responsiveness under their hands as they play. 
Cool, retro design – A lot of gamers these days will feel a little bit nostalgic upon seeing the controller thanks to its resemblance to the SNES of old. The design may be one of the things that will really draw older gamers to getting the controller. 
Longer play time – It has a li-on battery with a total of 480 mAh, which means longer continuous playing time. 
Bluetooth easy pairing – Many gamers often have a tough time finding the right controller that pairs well with their Bluetooth. This one does which makes it an even more ideal choice. 
Cons 
Not the SNES – A lot of people who are drawn to the product due to its resemblance to the retro SNES will likely end up disappointed when they find that this is not really like the old controller. It looks almost the same, but they function quite differently. Any avid gamer will be able to tell the difference which might disappoint them a little. 
Conclusion
This is handy controller for the avid gamer. With how it is designed to have high compatibility with any device, you are confident that I this going to work well with yours too. If you want to use it across several game platforms, then this is one game controller that will meet your expectations quite well.