The HTC One M8 is a sweet phone – and it needs a good accessories such as cases & covers to keep it safe from life.  Following are the best HTC One M8 accessories:
Cases & Covers
Try one of these cases to keep your phone happy and scratch free.
SUPCASE Unicorn Beetle Premium Hybrid Protective Case is a high-grade polyurethane soft interior, with a rigid polycarbonate exterior giving the phone ultra- protection from drops, scratches and bumps.  Precision cutouts give the user full access to the phone's features without having to remove the case.  The flash-resistant plastic even allows for photography without the annoying phone case glare.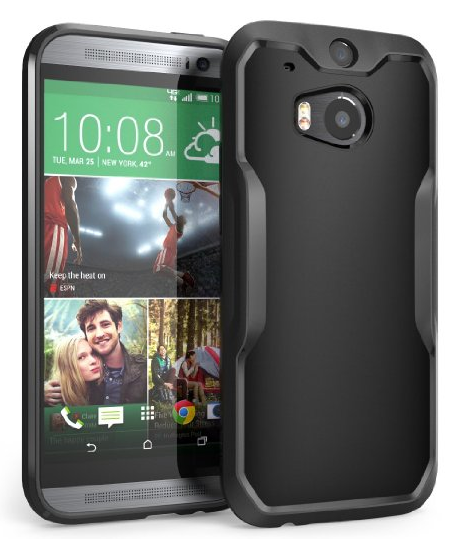 The Dot View Flip Case is a responsive, hard shelled case made out of polycarbonate plastic.  With special features that work with the phone, the case allows your phone to be "ready" every time the case is opened.  The flip back cover keeps the phone scratch free and safe while not in use.
Poetic's Rugged Hybrid Case with a built-in screen protector gives your phone two levels of protection with its rugged polycarbonate inner shell and the hybrid outer skin.  The screen protector offers water resistance and keeps your screen free from smudges and fingerprints, while maintaining your phone's responsiveness.  Cutout features allow you to use the phone without having to remove the case.
The Premium Wallet Leather Case by SUPCASE
The Premium Wallet Leather Case by SUPCASE is a full-use wallet that offers slots to hold credit cards and ID, while keeping your phone secure.  The cutouts give your phone full capabilities from within the case and the adjustable stand features of the case let you use your phone for viewing movies and video chatting.  Made of synthetic leather with a soft interior, this case will keep your phone free of smudges and scratches while tucked inside this secure case.
Prime Series Dual Layer Holster
i-Blason brings their Prime Series Dual Layer Holster to the HTC One M8 users with a rugged hard case that protects your phone from everything life throws at it – even your kids.  The hard case locks into a swivel belt holster, and cutouts allow your phone to work while in the case – so no wrestling your phone in and out of the case to take a picture. I hope this brand of case is available for my tablet as well.
Old School Retro Gameboy Phone Case
Take your phone back in time with an Old School Retro Gameboy Phone Case.  The sturdy case will protect your phone from dings and dents, while rocking a retro look.  The phone is completely accessible and is not covered by buttons or images.  So while it looks retro, it is fully modern.