Galaxy Note 3 is the best Android phablet in 2013. Give it more features by using the best Galaxy Note 3 accessories!
Cases and Covers
Looking for a case or cover for your Samsung Galaxy Note 3? No matter your style, there is a case for you.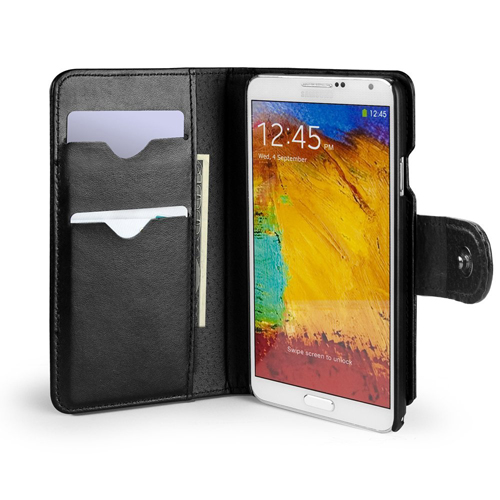 The Anker® PU Combo/Wallet Case is a synthetic leather case that will help protect your phone from the bumps and scratches that happen during everyday use.  With a textured exterior surface that keeps your phone safe from accidental drops and a matte finish interior that is fingerprint resistant, this snug case will hold onto your phone plus a couple credit cards and cash.

ULAK's Rugged Hard Case Cover
ULAK's Rugged Hard Case Cover with a Belt Clip Holster comes with a screen protector and a stylus, making this three piece case a complete phone protection system.  With a soft inside and a hard plastic outside case that is covered with rubberized coating, your phone is secure and easily accessible.  The clip converts easily into a stand for video messaging or watching videos.
Cellular360's Amy-Grade Protective Case and Holster
For a shock and drop proof case, check out Cellular360's Amy-Grade Protective Case and Holster.  This case is one of the most rugged cases available for your Note 3.  With face in/face out case use, your phone is able to be used within the case, and cutouts in the rugged casing let you access the functions you need.  The swivel clip can be used as a stand or a belt clip.
Top Seller Fashion Smart View Case
This sleek case has a plastic viewer window allowing you to see the phone's screen and make calls without having to open the case.  The rigid leather case protects your phone from scratches, while keeping the screen clean.  Available in a variety of colors, this case is perfect for any user of the Note 3.
DAYJOY's Metal Bumper Shell Case
DAYJOY's Metal Bumper Shell Case is shockproof, waterproof and dirt proof.  With Gorilla Glass and an ultra-slim size, this case lets you use your phone – anywhere and everywhere.  Take your phone swimming with you or out on the boat.  With this case, your phone is completely safe and secure from life's mishaps and is easily used no matter what the environment.
Navor's Book Style Folio
Navor's Book Style Folio with money slots and pockets has six slots to hold your credit cards, money and other personal effects while keeping your phone secure.  It comes with a clear screen protector and a stand to let you use your phone for viewing or video chatting.  Made of synthetic leather this case has a tab closure and is available in a variety of colors.