In the today's mobile world, your tablet is your office. Like an office, everything needs to work seamlessly and efficiently. A portable, wireless Bluetooth keyboard can turn your Android phone or tablet into a powerful mini-laptop. Android tablet keyboard is a must-have accessory. But which are the best bluetooth keyboards for Android tablet? Here are five of the top sellers.
Top 5 Bluetooth Keyboards for Android Tablet
Belkin YourType Bluetooth Keyboard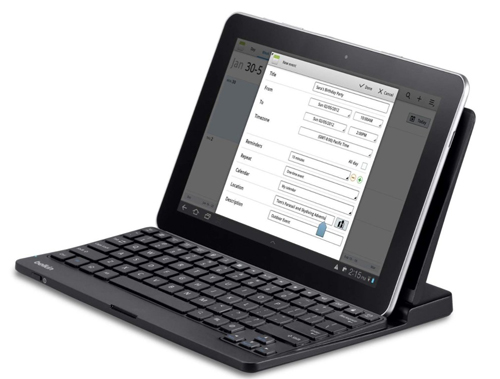 The Belkin YourType Bluetooth Keyboard and Stand for Android Tablets can comfortably accommodate tablets ranging in size from 7 inches to 10.1 inches. Using the tablet to write or edit documents is streamlined with the Copy, Cut and Paste keys on the keyboard's top row, and Android users will be pleased to find a Tab key on the Belkin YourType. The adjustable stand folds over to protect the screen and, when open, is adjustable for finding the right viewing angle. The keyboard is powered by 2 AAA batteries and lists for about $70, but is available for about $30.
>>> See Belkin YourType keyboard on Amazon.
Belkin QODE Universal Keyboard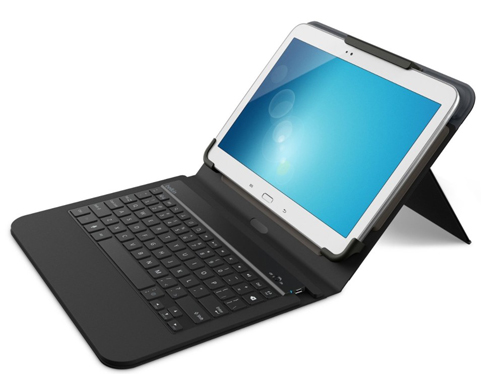 The Belkin QODE Universal Keyboard is designed for Galaxy 4, Galaxy Tab 3, Galaxy Tab 2, Galaxy Note, and Galaxy Tab S, all of which are 10-inch tablets. The tablet is kept in place by elastic corners that stretch to fit. The stand adjusts for several viewing angles and when you fold the whole thing up for storage, the case protects the screen. Also, a convenient flap folds up and down so you can use the camera without removing the stand. Bluetooth connects the keyboard to the tablet and there's a convenient pairing key. The keyboard's battery can last up to 60 hours before it needs charging with the USB-to-micro-USB-cable. It sells for under $100.
Kensington KeyFolio Expert Multi-Angle Folio/Bluetooth Keyboard Case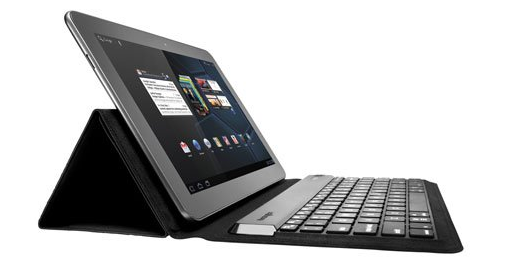 A keyboard option for 10-inch Android/Windowstablets is the Kensington KeyFolio Expert Multi-Angle Folio/Bluetooth Keyboard Case. Fast typists will appreciate the response from the tactile keyboard, which features hard-plastic keys instead of the rubbery gel-like kind. Long battery life keeps you working for hours and Bluetooth pairing is a breeze with just one button to push. The tablet is held in place with a sticky backing on the stand. Pick one up for less than $100.
Microsoft Universal Mobile Keyboard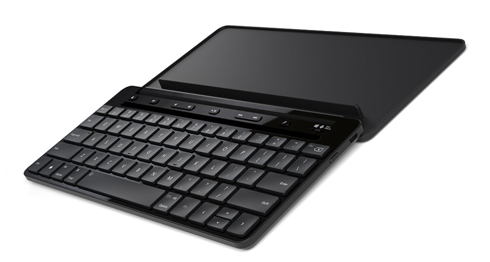 Multitasking on the go is possible with the Microsoft Universal Mobile Keyboard. It's compatible with iPad Air 1 and 2, iPad Mini 1 and 2 and also works with iPhones, Android devices and Windows tablets. Via Bluetooth, you can pair up to three different devices and seamlessly switch between them using this keyboard. The cover doubles as a stand, is removable and closing it activates the on and off function. The battery can last up to six months between charges. The Microsoft Universal Mobile Keyboard costs less than $75.
Logitech Bluetooth Multi-Device Keyboard K480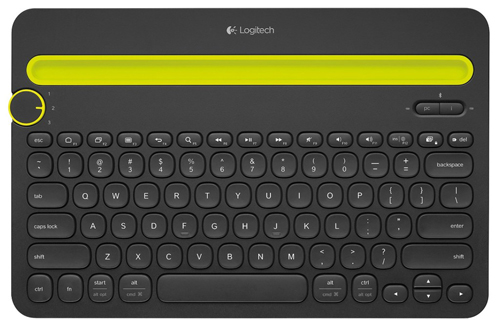 The Logitech Bluetooth Multi-Device Keyboard K480 gives users a lot of bang for the buck. Pair the keyboard with a home computer, a smartphone and a tablet all at the same time. Toggle between operating systems by turning a dial in the upper left-hand corner. Write on a Mac or PC, answer a text on a smartphone and check email on a tablet. The stylish keyboard features a slot to hold a smartphone and a tablet at just the right viewing angle, and there are both Windows and Mac quick keys. It's a keyboard for anything that is compatible with Windows 7 and 8 and Mac OS X or later. The keyboard operates on 2 AAA batteries, which are preinstalled. It sells for less than $50.
>>> Check out all of these bluetooth keyboard on Amazon <<<
5 Bluetooth Keyboards without Built-in Docking
Logitech 920 Tablet Keyboard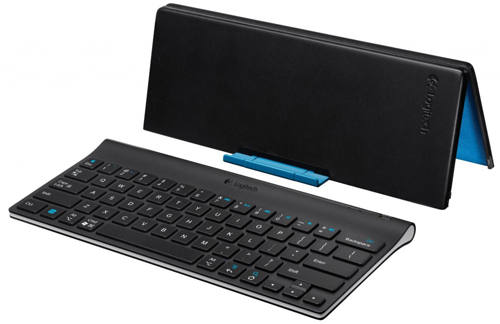 Backed by the 30 years of peripheral design, Logitech has created its 920 Bluetooth keyboard. It's compact and light, weighing less than a pound, which makes it easy to store and carry for portable use. Its stated wireless range through a Bluetooth connection is a whopping 30 feet although actual range varies design on where you are. It also comes with a stand that doubles as a carrying case for your tablet and protects the keyboard face at the same time. You also have the flexibility of using the stand in horizontal or vertical position to best fit your needs. Standard keyboard keys are included as well as play, pause and volume keys for videos or music.

SHARKK Ultra-Slim Wireless Keyboard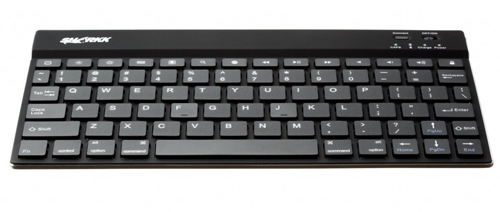 The key to the SHARKK Bluetooth keyboard is in the power. Featuring a built-in lithium battery, this keyboard gives you 140 hours of continuous use without the need to keep purchasing batteries. You simply recharge the keyboard once its built-in indicator shows that it is running low. It also has an auto sleep function built in so you won't waste battery when it's not in use. The SHARKK comes in a sturdy aluminum case, is just four millimeters thick and weighs only six ounces.
AmazonBasics Bluetooth Keyboard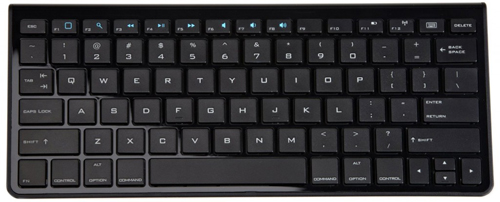 The AmazonBasics keyboard has scissor-switch keys, making them virtually noise-free when typing. It has an ergonomic design that tilts the keyboard slightly towards the user so your hands stay in optimal typing position. Its built-in connection indicator shows when you're synced with your Android tablet. In addition to Android, the keyboard also works with Kindle Fire devices.
QQ-Tech Mini Keyboard with Touchpad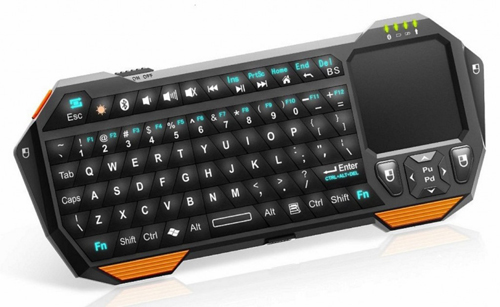 The QQ-Tech keyboard truly is a mini Bluetooth tool. It's small enough to use as a handheld keyboard but also features a multi-touch trackpad and a bar for scrolling. The track pad works with a variety of swiping motions that allow you to change screens, cut and paste and click with the touch of a finger. The keyboard also features a backlight so it can be used in low-light areas. It also boasts a rechargeable Lithium-ion battery and has an auto sleep function.
Anker Ultra Slim Mini Keyboard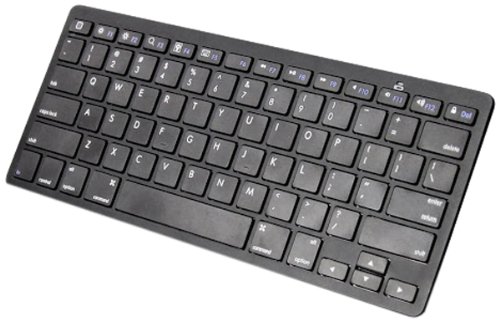 Anker's wireless Bluetooth 3.0 full keyboard is less than quarter inch thick and boasts keys that are nearly silent when typing. The keyboard also comes with standard Windows hot keys to allow single-touch control over brightness, volume, playback and more. The keyboard runs on two AAA batteries, which gives it as much as 700 hours of continuous use. This Bluetooth keyboard also has a sleep function that will automatically shut the keyboard down to conserve power when not being used.